In general, people like the idea of having something customized to their unique tastes or requirements. There is a reason why a custom-tailored suit or a custom-commissioned piece of art is such a desirable status symbol. It's the same reason why a global fast food burger chain proudly proclaims that its customers can, "have it their way."

Custom means that you don't need to compromise. It means that the product or service being received was made with you in mind and will fit your needs perfectly. Yet, if custom is so special and desirable, why is there a movement towards standardization in the data center industry? And why should data center customers want to see standardization being embraced by their data center provider?

Simply put, standardization is an important part of delivering some of the key characteristics that customers look for in their data center and their data center provider. While standardization may not sound as special as custom, it lends itself to what really matters – it means scalability, reliability and maintainability.

Why "standard" is special
In the data center world, implementing standardization means moving towards preconceived data center designs that have been built and tested for scalability, reliability and maintainability. By using these tried and true designs, data center providers can ensure their customers will have the stability and performance they require, attributes that are much harder to predict with a custom-built/first-time use facility.

The knowledge and experience gained by standardization mean any problems that might arise from a particular design have already been identified. Challenges from the systems that power, cool and secure the data center have been diagnosed, troubleshot and overcome.

In a standardized data center design, the individual devices and equipment that comprise essential systems are known entities to the data center provider. This means they know their warning signs and red flags, know how to keep them operating and proactively know when they need to be maintained, repaired or replaced. The data center provider also knows that the systems are interoperable and can work together effectively in the facility.

Ultimately, this knowledge and experience results in a data center that is incredibly reliable. And that is truly the most important factor for any data center customer since reliability is the difference between critical systems being available or being down.

But the benefits of a standardized approach to data center design aren't just limited to uptime and performance.

Standardization means faster speed to market
Much like how standardization results in effective, predictable and worry-free data centers for customers, it can also increase predictability for the data center provider. Having a standard design eliminates change orders. It also allows the data center provider to identify a specific design with elements that make it highly constructible.

Since the data center design is preconceived and has been built before, the data center operator knows that it's free of defects. The operator has eliminated design defects due to spatial correlation, resolved any design defects due to poor functional integration, and achieved perfect interfaces and integrations across all of the systems.

Together, these factors ensure that data centers are built quickly with fewer holdups and problems. This means the data center operator can deliver capacity to market faster in order to keep up with customer demand.

Standardized data centers also offer price and schedule predictability. A standardized data center design enables real-time schedule and cost analysis because it allows the data center provider to establish benchmarks and measure progress against them. With a standardized data center design, the data center provider knows what construction should cost. It also knows how long construction should take. This makes it easier to identify if construction is lagging behind or running over budget.

And while all of these benefits to the customers and the data center providers are positive, there are likely concerns among data center customers that standardization will mean that customization is a thing of the past. They may be worried that they're sacrificing scalability and flexibility for reliability. Luckily, that's not the case.

Modular building blocks deliver the best of both worlds
When Vantage Data Centers made the decision to standardize our data centers, we took an innovative approach that would deliver the reliability of a standardized data center yet offer flexibility to meet individual customer requirements.

This approach utilizes modular, standardized building blocks that can be configured to align with a customer's specifications. Instead of a "one size fits all" box that customers may only utilize a percentage of, these modular building blocks are swappable and customizable. They can be quickly changed, removed or added to, without having to completely renovate an entire building. This makes it possible for the data center to be flexible for meeting individual requirements, especially in a multi-tenant facility.
To ensure that the building blocks meet requirements and standards of excellence, we were extremely diligent and deliberate in their creation.

We conducted a virtual build utilizing cutting-edge Building Information Modeling (BIM) technology that enabled us to put parts and pieces together into one model to eliminate spatial issues and conflicts. We then brought together stakeholders from across the organization – from engineering to construction and operations – to identify best practices they've developed over their years of experience. We adapted those best practices so that they could be standardized and rolled out anywhere in the world. We also polled customers to better understand their preferences and requirements so that they could be considered in our "one design" approach.

The end result is a modular, standardized building block that can be adapted quickly to geography, location specifications and site layout. This modular building block also gives customers flexibility, while still delivering the reliability of a standardized data center.

When it comes to data centers, standardization doesn't have to mean commodity. While custom is often correlated with quality in other industries, that's simply not the case when it comes to data centers. Standard means reliability. It means predictability. It means stability. But finding a way to embrace standardization without sacrificing flexibility is necessary for today's data center customers. Our standardized modular building block model accomplishes just that.

To learn more about Vantage's data center campuses located throughout North America and Europe, click here.


Alaxandria von Hell
Serving as Vice President, Engineering and Design of Vantage Data Centers, Alaxandria von Hell leads the engineering and design teams and is responsible for delivering data centers from concept to commissioning by working with sales, operations and management. With more than 25 years of experience, von Hell is an accomplished leader in strategic planning and oversight of engineering projects.

Prior to joining Vantage, von Hell served as chief engineer and consultant for hyperscale and colocation data center development at Mission Critical where she was responsible for risk mitigation as well as research and development of new technologies and solutions. Before Mission Critical, von Hell was the founder and CEO of AX² Data Centers.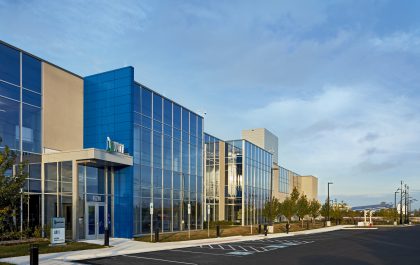 The Innovative Green Features of Vantage's VA1 Campus
In late October, Data Center Frontier kicked off a new content series called, "Greener Data," which is intended to explore the progress that data center…