Vantage Data Centers recently worked in partnership with market research firm Mozaic Group to conduct our annual customer satisfaction survey. This yearly survey monitors the sentiment and satisfaction level of our customers, identifies opportunities for improvement and explores the characteristics that hyperscalers look for in their data center partners.
The resulting research not only showed that the overwhelming majority of our customers are satisfied with their choice in Vantage, but also provided a valuable look behind the curtain into what is truly important to hyperscalers at a time when demand for digital services is at an all-time high, and data center requirements are skyrocketing.
Survey Results about Hyperscalers
According to the survey results, most of our customers are satisfied with the services they are receiving from us. We scored the highest on overall employee satisfaction, with 96 percent of respondents indicating they are satisfied/strongly satisfied. And, in a close second place, 93 percent of respondents indicated that they are satisfied/strongly satisfied with our data center campuses.
Equally important is our Net Promoter Score (NPS), which measures how likely customers are to recommend Vantage to others. This year's NPS stood at +70, which is considered excellent.
Yet what is even more interesting than the customer satisfaction numbers and statistics are the stories behind them. The customer satisfaction survey asked our customers to identify the qualities and characteristics that resulted in their positive experience with Vantage. And much can be learned about their priorities and data center requirements by analyzing the responses.
"A fantastic group of individuals, who together as a team achieve great achievements, all whilst building client relationships that last . . . truly a breath of fresh air to the industry and a pleasure to work with."
"People power" and dependability
According to one U.S. based Vantage customer, they've "never had a single outage in 5 years."
It should come as no surprise that more than 90 percent of surveyed customers shared that they found Vantage to be reliable. Reliability is, after all, one of the single most important attributes that any company is looking in a data center partner.
What was equally interesting is the importance and role of people in delivering customer satisfaction. Our people, and their interactions with customers, were among some of the most important reasons why customers were satisfied with our company. In fact, one customer surveyed called our employees, "A fantastic group of individuals, who together as a team achieve great achievements, all whilst building client relationships that last . . . truly a breath of fresh air to the industry and a pleasure to work with."
Another important quality to our customers is our dedication to serving as their trusted partner and advisor in their growth. A majority of respondents view us as a strategic partner in their business and stated that as a key differentiator for the company.
As one respondent explained, "The [Vantage] team takes the time to learn about your business and incorporates those learnings into how they engage, support and maintain the partnership and facilities. The Vantage team is incredibly responsive to all requests from site selection, design, build and operations. They're always professional and a pleasure to work with."
Not surprising is our customers' increased interest in environmental health and safety, as well as sustainability. These are areas that have become increasingly important for our customers within their own organizations. And they're looking for that same level of dedication to health, safety and sustainability in their data center partners, too.
This was one of our many inspirations for announcing that Vantage will achieve net zero carbon emissions globally by 2030.
Based on the data, our commitment to dependability, customer service, operational excellence and working hand-in-hand with customers as a strategic partner is driving retention and expansion. That tells us that hyperscalers want more than a landlord – they want a partner in their business that shares their values and is invested in their growth.
And those are areas where we shine.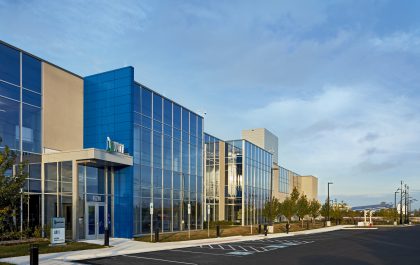 The Innovative Green Features of Vantage's VA1 Campus
In late October, Data Center Frontier kicked off a new content series called, "Greener Data," which is intended to explore the progress that data center...