From left to right: Josh Levi, Buddy Rizer, Sureel Choksi and Supervisor Suzanne Volpe.
In the last few years, data center demand from cloud users, hyperscalers and large enterprises has skyrocketed. During this time, Northern Virginia has become the largest data center market in the world, and it continues to grow. It was by no coincidence that this trend and Vantage's plans were aligned as we kicked off our first U.S. East Coast expansion in Northern Virginia's "Data Center Alley" a year and a half ago.
New Data Center in Ashburn, Virginia
Fast forward to last week when we hosted our official ribbon-cutting ceremony at our new Ashburn, Virginia, data center campus. It has been an amazing journey for our team. They have worked hard to enter the market with our state-of-the-art and true on-demand data center campus, which is built for high-growth companies and global enterprises looking to outsource their IT assets. This campus will be home to the Internet's most powerful hyperscalers, enterprises and cloud providers. Customers will experience the ultimate in efficiency, operational excellence, reliability and sustainability.
At the grand opening, attendees took tours of our newly-minted facility and feasted on hors d'oeuvres. Our own Sureel Choksi, president and CEO of Vantage, welcomed attendees and recognized the many people and partners who made the Virginia campus a reality.
"We're thrilled to officially open our newest campus in the largest and most important data center market in the world," said Sureel.
Following Sureel's opening remarks, we welcomed two influential leaders of Data Center Alley: Buddy Rizer, executive director of the Loudoun County Department of Economic Development, and Josh Levi, vice president of policy for Northern Virginia Technology Council (NVTC).
Buddy shared with listeners part of Loudoun County's history and success to date.
"There's a lot of work to continue to do," explained Buddy. "We all have a stake in making this a great place to live, work and play. But at the end of the day, I will tell you there is no other place I'd rather be right now than right here in Data Center Alley."
Josh then took the stage, discussing the future of data centers in the region. "As we stand today in the heart of our global technology center, I believe that we are afforded a good view, in fact, the best view, of our technology future. And much of the technology future of this region and our regional economy is data. Data transmission and sharing, data security and protection, data analytics and analysis, and of course, data storage," said Josh. "Vantage is investing in a county that helps drive our strong and diverse regional economy, and one that is rapidly transforming and growing."
It has been an amazing time for Vantage as we realize our vision to be a leading provider of wholesale data centers in North America. Throughout 2018 and into the beginning of 2019, we doubled our employee base and tripled the number of markets in which we do business – including Northern Virginia and Phoenix, along with Montreal and Quebec City through the strategic acquisition of 4Degrees Colocation. These deals were fueled by an amazing financing strategy that broke new ground in the market.
We will continue to innovate across all areas of our business to help our customers succeed. Thank you to all of those who celebrated with us in NoVa last week! This is just the beginning.
For more information or to schedule a tour of the Ashburn data center campus, please click here.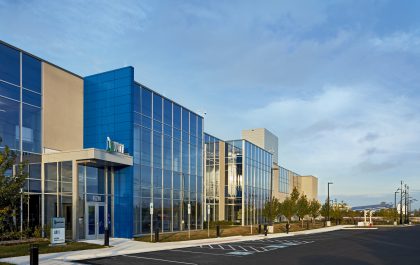 The Innovative Green Features of Vantage's VA1 Campus
In late October, Data Center Frontier kicked off a new content series called, "Greener Data," which is intended to explore the progress that data center...