Artificial intelligence (AI) and machine learning are among the most disruptive technologies in the marketplace today. With AI being such a powerful tool for analyzing data and drawing actionable insights from information, there are almost unlimited use cases for it across virtually every industry.
The Future of AI
Healthcare companies are turning to AI to analyze patient data, better diagnose medical conditions and identify treatments with the best outcomes. Marketers are considering AI to better target advertisements and offers to influence customer buying decisions. IT professionals are looking at AI as a tool in the battle against increasingly sophisticated hackers and other malicious actors. Leading innovators are leveraging AI to make monumental advances in autonomous driving. AI is even beginning to play a role in customer service – addressing simple customer concerns and requests so that customer service personnel can handle larger, more urgent issues.
In order to take advantage of AI and machine learning technologies, organizations need a significant amount of compute and processing power. This has sparked an innovation race to fuel the rapidly-increasing computational demands of modern AI. One company, NVIDIA, offers extremely powerful DGX AI systems. The NVIDIA DGX is purpose-built for the unique demands of AI in enterprises, and has been rapidly adopted by a wide range of organizations across the globe.
In fact, NVIDIA DGX systems, deployed as a DGX POD infrastructure solution, recently set six MLPerf AI performance records. The MLPerf benchmarks are the industry's first broad set of AI benchmarks. They measure a wide range of deep learning workloads and cover such areas as computer vision, language translation, personalized recommendations and reinforcement learning tasks.
However, as Data Center Knowledge recently discussed, while solutions like the NVIDIA DGX POD have made implementing AI and machine learning initiatives faster and easier for some companies, they also come with some advanced data center requirements that could put them out of reach for others whose facilities have not yet evolved in support of AI workloads.
More powerful machines need more powerful data centers

As organizations begin to embrace AI and machine learning programs, they oftentimes find that the hardware and high-density compute footprint of GPUs driving these capabilities have incredible power and cooling requirements. While many of the data centers that enterprises currently use may be able to handle these implementations in development and testing environments, they are unable to meet the cooling and power density requirements needed to move a program into full production.
This can be a significant challenge for many organizations – especially in industries such as healthcare – where IT is not core to their business. Many of these companies don't have modern data center facilities that can support accelerated computing operations. And, to solve that, they find themselves mired in the challenges of facilities planning instead of focusing on gaining insights from and innovating with their data.
Luckily, there is a solution that could make AI and machine learning initiatives easier for these organizations to implement.
Partnering to power AI programs

NVIDIA recently announced its DGX-Ready Data Center Colocation Program, making it easier than ever to deploy state-of-the-art AI data centers. Through colocation, customers can skip the challenges and costs associated with building data center facilities and instead focus on gaining insights and innovating with their data. NVIDIA has partnered with Vantage Data Centers and other colocation providers to give customers access to world-class, high-density data center services.
Through colocation, North American customers can deploy NVIDIA DGX systems and DGX POD reference architecture solutions from DDN, Dell EMC, IBM Storage, NetApp and Pure Storage, with speed, simplicity and an affordable op-ex model. The DGX-Ready program's data centers, operated by colocation companies such as Vantage Data Centers, are specially qualified to help organizations looking to get started with their AI initiatives and simplify deployment. In fact, the six MLPerf AI performance records set by NVIDIA DGX systems were all set within Vantage Data Centers' facilities.
By embracing colocation, there's no need for companies to retrofit an existing data center to meet the specialized requirements of these solutions. There's also no need to build a new data center just to gain access to the requisite infrastructure. Instead, organizations can quickly and effectively mine insights from their data without having to focus on something that's not central to their mission – building out data center facilities.
To learn more about the NVIDIA DGX-Ready Data Center Program and how to jumpstart your organization's AI initiatives, visit the NVIDIA DGX-Ready Data Center website. To learn more about Vantage's data centers located throughout North America, click HERE.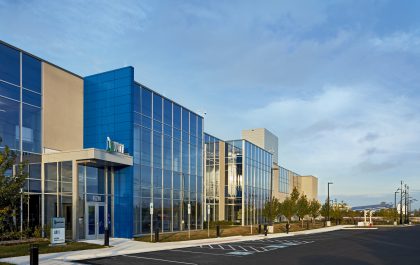 The Innovative Green Features of Vantage's VA1 Campus
In late October, Data Center Frontier kicked off a new content series called, "Greener Data," which is intended to explore the progress that data center...