Vantage Data Centers (Vantage), a leading global provider of hyperscale data center campuses, has acquired Next Generation Data (NGD), a data center provider offering Europe's largest data center campus in the Cardiff Capital Region in South Wales, which includes the Welsh capital, and is the region's economic hub.
Vantage DC Expansion into Europe


The acquisition of NGD furthers the Vantage European expansion that began in February of this year with the acquisition of Etix Everywhere (Etix), an EMEA data center provider with a 55MW hyperscale campus under development near Frankfurt, Germany. That European expansion also included the acquisition of land in four other European data center markets, including Berlin, Milan, Warsaw, and Zurich.

Vantage's $2 billion European expansion – which includes the acquisitions of NGD and Etix, plus greenfield developments – effectively doubles the number of hyperscale markets in the company's portfolio from six to 12. More importantly, the expansion opens the door for Vantage's North American customers to easily and seamlessly grow their operations into the incredibly desirable European market.

By adding data centers in some of the EU's most sought-after data center markets, Vantage is giving its customers flexibility and scalability by enabling them to grow with the same trusted data center provider and experienced team of data center professionals who have been instrumental in fostering and supporting their growth in North America.

The NGD acquisition includes a 180MW data center campus – including an existing 72MW facility and 108MW of expansion capacity. But the geographic location of this campus is possibly even more important and impressive than its size.

Located on 50-acres a few short hours from both London and Bristol, the NGD data center campus features excellent fiber connectivity and low latency, as well as access to reliable energy at scale thanks to its proximity to the U.K. Supergrid. Its location just outside of major cities also makes it incredibly accessible to customers – offering less congestion than city centers, but close proximity to airports and transportation.

"As the needs of our hyperscale, cloud and large enterprise customers continue to grow, Wales represents a highly attractive U.K. market offering both lower cost and greater scalability versus London," said Sureel Choksi, president and CEO, Vantage Data Centers. "NGD customers benefit from very low network latency to London, low power costs and excellent fiber connectivity, coupled with the company's massively scalable campus outside London's highly constrained M25 area."

NGD's purpose-built, carrier-neutral facility offers more than just a good location. It also meets the rising demand signal from data center customers for increased energy efficiency. The NGD facility is not only considered Europe's largest, it's also considered one of the U.K.'s most efficient, utilizing 100 percent renewable energy.

For additional information about the acquisition of Next Generation Data by Vantage Data Centers, click HERE.
---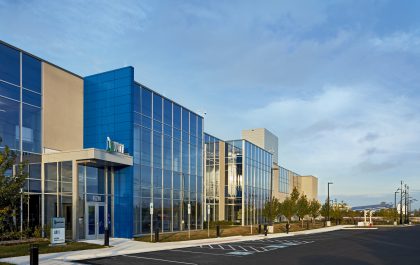 The Innovative Green Features of Vantage's VA1 Campus
In late October, Data Center Frontier kicked off a new content series called, "Greener Data," which is intended to explore the progress that data center...