A new report released by Data Center Frontier and datacenterHawk, sponsored by Vantage Data Centers, finds that Santa Clara and the rest of the Silicon Valley is poised for massive data center construction and investment in 2019 and 2020. According to the report, Silicon Valley is already a data center powerhouse with "2.9 million square feet (SF) of commissioned data center space, representing 411 megawatts (MW) of commissioned power."
Those numbers put Silicon Valley firmly in second place in the country for data center space, only trailing behind Northern Virginia for the top spot. And the construction of new data center space in the region isn't slowing down. In fact, it's accelerating. According to the study, "498MW of new capacity [is] planned, up from just 104MW at the start of 2018."
This may seem counterintuitive for some – land is expensive in Silicon Valley and data centers require a lot of it. So, with real estate prices high and available land low, why are data center providers building their data center campuses in the Silicon Valley? The report has the answer to that question, and it really comes down to two factors – proximity and power.
The two "P's" driving data center construction

You may have heard the old real estate adage "location, location, location" before. Well, it's true not just in residential real estate and home buying. It also applies to commercial real estate and data centers.
Much like how prospective homebuyers look for a home that's close to their office or a school system in which they want to enroll their kids, data center customers are oftentimes looking to utilize data centers that are in close proximity to their headquarters. Also, much like how retail businesses look for storefronts that are on busy thoroughfares and have easy access to transportation, data center customers want data centers that are accessible to their IT and networking staff.
This is why the first "P" – proximity – is so important. And it clearly applies to Silicon Valley.
Silicon Valley is close by to many of the large internet, cloud and social media companies that are headquartered in San Francisco, San Jose and the rest of Northern California. As the report states:
"Silicon Valley provides one of the industry's most compelling proximity stories. The region is home to America's leading tech players, including Apple, Google, Facebook, Intel, Cisco, Oracle and many others. Its residents represent a huge base of tech-savvy consumers, who are consistently among the earliest adopters of new products and services."
The second "P" – which stands for power – is also fundamentally important for data centers.
When IT applications and data weren't mission-critical to a company and its operations, an IT or network outage was an annoyance. However, today's mission-critical IT services and applications are fundamental to many companies – whether they be productivity tools and systems utilized by employees or revenue-generating offerings they sell to their customers. Today, a loss of power that brings down a data center isn't an inconvenience or annoyance – it's a potential loss of hundreds of thousands of dollars in productivity and revenue.
This is another area where Silicon Valley – specifically Santa Clara – has an advantage. The Silicon Valley is known for having reliable, always-on power and a stable energy grid. However, Santa Clara stands above the rest of Silicon Valley because it couples that reliable power with something equally important – price.
Thanks to the presence of Silicon Valley Power, a municipal energy provider that keeps energy costs low, the Santa Clara area gets its power at significantly lower prices than the rest of the Valley. The result? According to the report, "Santa Clara boasts more than 40 data centers located in 18 square miles, rivaling 'Data Center Alley' in Northern Virginia as the world's largest concentration of data centers."
Understanding the two "P's" that make Santa Clara an ideal spot for data centers, it becomes increasingly obvious why data center colocation providers are investing heavily in the region. Even with land prices high and available property limited, Santa Clara remains a critical market because of its proximity and reliable, affordable power.
To learn more about the Silicon Valley data center market, click here to download the full report.
To learn more about Vantage Data Centers' flagship campus located in Santa Clara, click here. In addition, Vantage is currently developing a second 69MW campus less than two miles from its original campus. Once this second campus is completed, Vantage will have a total of 144MW of capacity in Santa Clara.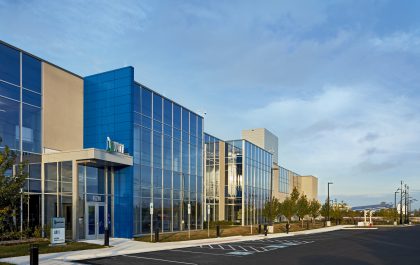 The Innovative Green Features of Vantage's VA1 Campus
In late October, Data Center Frontier kicked off a new content series called, "Greener Data," which is intended to explore the progress that data center...