Hong Kong: A Data Center Hub
According to Cushman & Wakefield's 2022 Global Data Center Market Comparison, Hong Kong saw a significant increase in data center construction in 2022. While Hong Kong was ranked outside of the top 10 data center markets the previous year, the report indicates that they, "…[made] a big jump in 2022, coming in just behind [the] top five markets."
Why is Hong Kong positioned as the regional data center hub in Asia? And why should hyperscalers be looking to Hong Kong for data center capacity? It's because Hong Kong checks off some of today's most important data center boxes.
Connectivity "Heavyweight"
A large consideration for data center providers and operators doing site selection is the availability of reliable, high-speed connectivity – it's essential for data centers to serve their purpose and meet customers requirements. Low latency, high-bandwidth connectivity is needed for delivering access to applications and data quickly, with little lag, and providing a positive user experience.
In their data center market rankings, Cushman & Wakefield relied on the Speedtest Global Index, which ranks the fiber connectivity in a country for speed and performance, to rank the 55 different data center markets in contention. And the Speedtest Global Index shows that, while Singapore is the fastest performer, "Hong Kong follows, with plenty of undersea cables linking the city to the region."
However, there are a few important considerations where Hong Kong falls behind other major markets. Two of the other largest considerations for data center providers and operators when choosing a location are highly available, affordable land and inexpensive energy. Without affordable, available land there is no place to put data centers. And without competitively priced, abundant power, they become cost prohibitive to operate.
Surprisingly, affordable land and inexpensive power are two things that Hong Kong does not have. In fact, of the 55 different data center markets that Cushman & Wakefield considered in their 2022 Global Data Center Market Comparison, Hong Kong finished dead last in land prices. It also ranked near the top for energy prices.
But why was Hong Kong so high on Cushman & Wakefield's list when it only scored well for one of these three considerations? The report's authors gave extra weight to connectivity and other factors over land prices and energy costs – potentially indicating that what has traditionally been important to data center owners and operators may be changing.
However Hong Kong not only excelled in the fiber connectivity category, it also scored high in two other "high weight" categories related to market size and customer demand signals.
An Immense Asian Market
The market size and opportunity for hyperscalers in China and Southeast Asia is massive, and hyperscalers need data center space if they're going to meet the demand for their services. Outside of the United States and Canada, which combine to produce a staggering $66.3 billion in cloud revenue for hyperscalers, China and Southeast Asia lead the rest of the world in cloud revenue at $21.8 billion.
This makes sense when you look at the larger economic picture. Hong Kong is a global financial powerhouse, shipping and logistics center and professional services hub. Hong Kong is the world's 40th largest economy and home to one of the world's largest stock exchanges. Considering the size of Hong Kong's economy, alone, the demand signal and market for cloud services make sense.
In fact, the 2020 Cloud Readiness Index, by the Asia Cloud Computing Association (ACCA), claims that "Hong Kong has reemerged as the most cloud-ready state in APAC, reclaiming the top spot from Singapore."
But it's not just about servicing Hong Kong. It's also about servicing as the gateway of Mainland China. Thanks in large part to its fiber connectivity and location proximity. This makes data center space in Hong Kong even more desirable for global hyperscalers to expand into Greater China markets or Asian hyperscalers looking to move to new markets.
Together, the market size, cloud demand and connectivity of Hong Kong make it a very desirable market for hyperscalers and data center providers, alike. However, Hong Kong offers more than those three things and promises to only get better in time.
Seeing Green
Hong Kong is one of only two data center markets with no sales taxes or value added taxes, with the other market being Portland. Another data center powerhouse, Northern Virginia's "Data Center Alley," follows right behind them, with a sales tax under five percent.
That being said, sales taxes and value added taxes may not be too large of a deciding factor for data center providers and their customers. All the FLAP (Frankfurt, London, Amsterdam and Paris) data center markets in Europe are among the top 15 for highest sales tax or value added tax percentage, and all are within Cushman & Wakefield's top 20 largest data center markets.
But money isn't the only green thing that's appealing to today's data center operators and their customers. Green energy is also incredibly attractive to these organizations as they look to drastically cut their carbon emissions and become even better corporate citizens.
When it comes to green energy, Hong Kong holds promise. While Hong Kong is far behind other data center markets – like Montreal and London – in the percentage of energy it generates from renewables, it is actively working to change that.
According to a March 2021 article from Earth.org, "In Hong Kong today, renewable energies account for only 0.2% of the total electricity supply." Contrast that to a market like Montreal, where clean, renewable hydroelectric power is readily available, and Hong Kong seems like it has a ways to go. However, the article acknowledges that change is already underway, with Hong Kong, "…[setting] a target of carbon neutrality by 2050."
And while renewable energy is still a work-in-progress, with such incredible demand for hyperscale services, rich connectivity and tax incentives for both data center providers and their customers, it's no surprise that Hong Kong is one of the fastest rising data center markets on the planet.
If you're looking for data center capacity in the Hong Kong or greater APAC region, check out Vantage Data Center's expanding footprint with campuses in Hong Kong, Australia, Japan and Malaysia.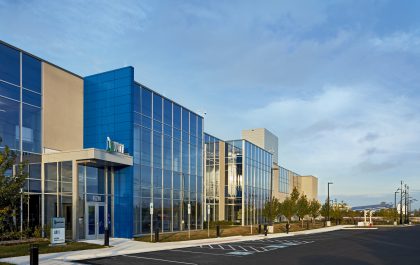 The Innovative Green Features of Vantage's VA1 Campus
In late October, Data Center Frontier kicked off a new content series called, "Greener Data," which is intended to explore the progress that data center…