This week is the Construction Industry Federation's (CIF) Construction Safety Week, which is an opportunity to "…reflect, plan and further improve our worksites through the participation of leadership, management and those that work on our project sites." This annual event has become a mechanism for the data center and construction industries to teach employees and contractors how to avoid job-related injuries and to emphasize best practices to help employees avoid common hazards and stay safe.
Data centers may not seem like hazardous places to work; however, there are precarious risks and hazards during both the construction and operation of data centers that employees and contractors need to keep in mind. To learn more about these dangers and how companies like Vantage Data Centers are working to reach "zero harm" with the help of data modeling, we spoke with Crispin Harrington and Deepak Narayanappa, who are both Directors of Environmental Health & Safety, EMEA, at Vantage. 
The annual Construction Safety Week 2022 is happening this week in EMEA. Can you tell our readers, who may not be familiar with this event, what it is and what purpose it serves?
Deepak Narayanappa: The construction industry is considered a high-risk industry because of its dynamic and diverse nature. While the industry's health and safety performance are improving overall, there is work to do until we reach our vision of "zero harm." In general, there are still too many workers injured at workplaces annually, and almost all those injuries can be prevented.
At Vantage Data Centers, health and safety are core values, and we are committed to doing everything possible to prevent injuries and incidents. We believe a collaborative and continuous effort amongst our customers, contractors and workers will help us eliminate health and safety incidents and position our construction projects as safe and productive workplaces.
As part of this commitment, we are celebrating this year's "Annual Safety Week" in Europe, the Middle East and Africa (EMEA) from October 17-21. This event is an opportunity to reflect, plan and further improve our worksites through the participation of leadership, management and those who work on our project sites. Also, this event is an opportunity to raise awareness and understanding of the value of health and safety programs in the workplace.
Construction will always present many dangers, but what advancements in management, procedures and technologies have helped increase safety standards for data center employees?
Deepak Narayanappa: The construction industry is regarded as one of the most regulated industries as it pertains to various health and safety regulations to protect workers. The industry has evolved, with many companies now adopting innovative environment, health and safety (EHS) management systems and technology to manage and control their operations.
Despite these advancements overall, the required level of execution for health and safety outcomes for data center projects is at an elite level. This elite level may come as a bit of a culture shock to some in the construction industry when they work on a Vantage project.
To ensure full integration for all our contractors, Vantage utilizes a host of technological platforms and management systems to assess leading indicators so we can identify trends before an incident happens. Examples include using data modeling that allows us to analyze, share and promote insights related to health and safety so we can stay ahead of negative safety incidents, communicate expectations and, most importantly – send everyone home safely.
This vision is made possible because of the management systems and procedures companies are adopting, as well as technological innovations and solutions now available within the industry.
"Safe Use of Mobile Equipment" was added to this year's EMEA Safety Topics list. Why is this a topic of focus, and why is this a concern for data center operators?
Deepak Narayanappa: The construction industry extensively relies on mobile equipment, including data center construction. Mobile equipment operation presents many risks, including collision with other mobile equipment, overturning, objects falling, striking or crushing workers, slips, trips and falls while accessing mobile equipment.
Mobile equipment is indicated as one of our "high-risk activities" and receives an intense amount of focus to make sure operators are properly trained to inspect their equipment, identify hazards and operate the equipment itself. Other areas of focus are ensuring safe speed limits, the use of spotters, and proper demarcation of hazards and lanes of travel.
"Safe Lifting" and "Safe Working at Height" were also added to the safety topics list. Is this a common source of injuries in the construction industry?
Crispin Harrington: Yes. Working at height and lifting operations are prevalent hazards encountered on any given construction site anywhere in the world, and Vantage sites are no exception. Like mobile equipment, lifting and working at height are also identified as high-risk activities in our safety management system.
The challenge with these types of high-risk activities is the fact that when negative safety events occur, they often result in more severe outcomes. Therefore, our management systems focus on leading indicators, data analysis and modeling, allowing us to know where to focus our energy for working at height and lifting operations. Further, it ensures that appropriate hazard assessments, pre-task planning and risk mitigation strategies are in place and communicated. 
What types of risks does data center construction present? How is it different from the operations of the data center? 
Crispin Harrington: There are a number of risks associated with data center construction. Based on our data analysis, the top 10 risks on our construction projects include: working from height, lifting operations, driving, working in confined spaces, energy isolation, hot works, ground disturbance, mobile equipment, and electrical and hazardous substances.
There are others, but these are the ones we identified within our data modeling as the most common. The risk profile is ever-evolving in the data center construction environment, and different risks become predominant in different phases of the job.
We seek to have a relatively stable risk profile in the data center operations environment. "Predictable and repeatable" is a good aspect of safety in the data center environment and is a state we strive for constantly. Like construction, we utilize data analysis of our audits, inspections, procedures, and even incidents, to stay ahead of the curve and attempt to identify trends that will enable us to stop an incident before it happens.
What is Vantage doing to help mitigate these potential issues? What is your EMEA safety strategy?
Crispin Harrington: We start with the fact that "without employee and client safety, nothing else matters." This Vantage core value drives our corporate approach. We seek to collaborate with our internal and external stakeholders to communicate our vision to be the safest data center provider in the world. We then focus on ensuring the awareness, desire and knowledge to reach that elite level of safety is available for everyone, regardless of tenure or level.
Our efforts start even prior to site selection for a new data center and carry through to contractor selection, site mobilization, construction, building turnover and operations. It's a full lifecycle commitment.
We strive for "zero harm" and will always have that approach. We measure and monitor, value transparency, act with urgency for safety-related matters, and always remember that our duty is to provide a safe working environment.
To learn more about Vantage's approach to safety, click HERE.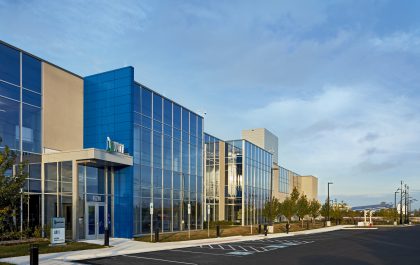 The Innovative Green Features of Vantage's VA1 Campus
In late October, Data Center Frontier kicked off a new content series called, "Greener Data," which is intended to explore the progress that data center…