Lessons learned on the journey from promising upstart to wholesale data center leader
Discovery first
While in the thick of it, it was sometimes hard to see the forest for the trees. But going through that experience taught me that ultimately you do need to step back to diagnose a situation carefully. You need to pivot, and refocus, and quickly make changes where it makes sense. And interestingly, what I saw in Vantage was similar to some of the experiences at Level 3. The reason Vantage in 2013 wasn't quite performing up to its potential or capability was very similar to some of the things Level 3 faced following the dot-com crash—namely, an early focus on technology and vision, to the detriment of customer service.
Where we were vs. where we wanted to be
For my first 90 or so days at Vantage, it was a voyage of discovery. I met with as many employees one-on-one as I could—not just management but people in every area of the company.
I also met individually with each customer. What I discovered was that while they were very happy with the campus-style facilities Vantage had built, and all the amenities surrounding the data centers, the customer experience at times was less compelling. Vantage at that time was focused on the building world-class data centers, but was not as focused on operational excellence. For example, some maintenance activities were disruptive to customers. Also, there was a lack of transparency and openness to addressing customer feedback and in working to quickly address problems as they arose.
I remember vividly that one customer at that time was particularly vocal regarding unhappiness around certain operational issues. And that customer was vocal not only with us but in the marketplace, too—which, all other things being equal at the time—made it more difficult for Vantage to sell data center services to new customers.
A strategy for accelerated growth
Those conversations led to a breakthrough. We understood that the ticket to growth, success, and longevity as a business was tied to our ability to drive the highest level of customer satisfaction and loyalty. So we pivoted in 2013 in the direction of centering everything we do around our customers.
We fundamentally retooled our approach to operational processes and customer experience from initial sales pursuit through the customer lifecycle.
On the front end, Vantage worked to develop relationships through our sales organization and executive team, and we worked collaboratively with our customers around solving for their business needs. Previously, the mentality of many companies in the wholesale data center industry had been like the original Model-T Ford: "You can have any color you like, as long as it's black." Services were 100% predefined; the only real decisions customers were able to make were around how much capacity they wanted to buy—as opposed to what they were buying. Vantage differentiated its service offering on a number of different dimensions, including redundancy, power density, flooring, electrical distribution, customer self-service, customer amenities, and so on.
Once a customer was onboarded, the focus became and continues to be on providing the very best service. The Vantage team is responsive and transparent, and focused on maintaining and operating highly reliable data centers. The Vantage team also bends over backward to take care of customers as issues or needs arise over time.
In other words, priming around the customer experience starts at the very front end of the sales cycle and continues all the way through the lifecycle of the relationship.
Getting the team on board
Obviously, a pivot as significant as this one wasn't a one-person effort. In 2013 and 2014, we recruited a team of experienced executives and key employees, all sharing this customer mindset and with a proven track record of delivering for customers. We needed to have the alignment of the right sets of skills, capabilities, and personalities around the table from a leadership perspective, so that we could execute not only on the customer experience but also on continuing to grow and expand.
Beyond that, a major priority for us was on internal communications. As you might imagine, when all these changes were coming down the pike, communicating to all employees was critical. Many of them had been a key part of the success of the company to date, and we wanted to be very transparent about the changes we were making, why we were doing it, and why it was positive. And, of course, we wanted everyone to be on that same page that going forward customer focus would be the most important priority.
Naturally, significant operational changes don't happen overnight. The first six months I was on the job (in 2013) was a difficult time. There was a lot to do, and we couldn't immediately demonstrate progress, because improvement initiatives were still in flight. It wasn't until roughly at about the six-month mark that we were able to start showing that the customer-centric transformation was yielding benefits. Our customer satisfaction was improving. Our sales and bookings were improving and even our sales pipeline was showing greater opportunity. It didn't happen all at once, but there was a drumbeat of positive developments that got employees more excited (i.e., buy-in).
The results are in
About a year and a half in, things really began to take off. Let's go back to the example of our most dissatisfied customer, the one that was hurting the company's reputation in the marketplace. We did with that customer what we did with most of our customers: During the second half of 2013, we made a checklist of all customer concern areas, and worked week over week to address each of the items to their satisfaction and communicate our progress regularly. Eighteen months after the new management team came in at Vantage, that particular customer signed a lease to triple the amount of capacity purchased from Vantage. Of all the things that we've accomplished as a team, this is the one I'm personally most proud of. We took a situation with an unhappy customer and turned it around to deliver the absolute highest quality of service, resulting in a tripling of business with Vantage.
Now, almost four years into the journey, Vantage has a team, a platform, a strategy, backers with a large amount of financial dry powder, and a larger set of loyal customers that will enable us to grow, both in our existing markets and in new markets over time. Today, the company is recognized as a leader in the wholesale data center industry, with customer satisfaction and loyalty levels that are off the charts. Vantage operates data center infrastructure powering hundreds of thousands of servers that enable cloud and internet services for hundreds of millions of people around the world. And there's a lot more growth on the horizon.
Sureel Choksi
President, Chief Executive Officer

Serving as President and Chief Executive Officer, Sureel has over 19 years of experience as an executive in the Internet infrastructure industry. He is also a member of Vantage's board of directors. Sureel was previously an Operating Executive at Silver Lake Partners, and prior to that Chief Executive Officer of Elevation Data Centers, a private-equity backed roll-up vehicle. Sureel previously held several executive roles with Level 3 Communications, including Chief Marketing Officer, President of Wholesale Markets, Executive Vice President of Services, Chief Financial Officer, Group Vice President of Corporate Development and Treasurer. Before Level 3, Sureel worked in venture capital at TeleSoft Partners and investment banking at Gleacher & Company.

Sureel received a B.S. in Economics from the Wharton School with concentrations in Finance, Accounting and Entrepreneurial Management, and a B.A.S. from the School of Engineering and Applied Science, both from the University of Pennsylvania.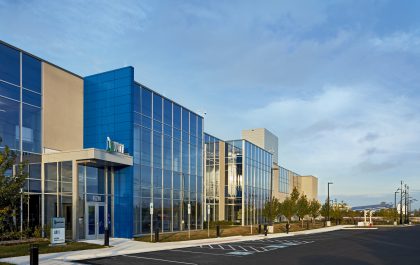 The Innovative Green Features of Vantage's VA1 Campus
In late October, Data Center Frontier kicked off a new content series called, "Greener Data," which is intended to explore the progress that data center...