There are numerous considerations that hyperscalers and large cloud providers contemplate when choosing a data center provider to partner with as they scale. Any provider they choose to partner with needs to have capacity in the markets where they're looking to expand. Those data centers must be resilient, with redundant power, cooling and connectivity to ensure that services remain available for customers. They need to prioritize safety and security to ensure that equipment and personnel are protected.
These are the traditional considerations that hyperscalers have used to guide their data center decisions for decades. But these aren't the only considerations anymore. Today, hyperscalers and enterprise data center customers want more than assured uptimes and capacity in key locations. They want service providers who share their values and prioritize important social, equity and sustainability initiatives.
It's a commitment to Environmental, Social and Governance (ESG) programs and initiatives that demonstrate a data center provider's commitment to being a good corporate citizen, an equitable employer and a responsible organization that places the needs of the communities in which it operates at the same level of importance as its profits.
And if there are any industries where ESG initiatives are incredibly important in today's world, they are the technology and data center industries.
Last year, Vantage Data Centers released our first-ever ESG Report, which assessed and analyzed the progress that we had made towards our aggressive ESG goals in the previous year. In June 2023, we released our second annual report, which demonstrates and highlights our progress over the last year to be even more sustainable, inclusive and equitable.
"In 2022, Vantage continued to build on its unprecedented global growth, all while remaining committed to our sustainability, inclusivity and safety goals. We're proud of the progress that we've achieved to date and look forward to sharing future results with our customers, investors, employees and all stakeholders," explained Chief Operating Officer Chris Yetman.
Here are nine ways that we made strides toward advancing our ESG goals in 2022:
Environmental Stewardship
A holistic approach to sustainability: Tackling global environmental and resource challenges while maintaining growth is complex. Last year, we broadened our sustainability program to focus on five strategic areas: greenhouse gas emissions, energy, water, waste and community.
Net zero operational carbon emissions by 2030: Vantage has committed to reaching net zero carbon emissions by 2030. In 2022, we completed our first Scope 3 emissions screening, developed a roadmap with proposed interim reduction targets, and continued to refine our data collection methodology. Vantage joined more than 375 companies in signing The Climate Pledge, another strategic step in our ongoing commitment to reduce our environmental impact.
Leveraging cleaner diesel fuel: In 2022, Vantage made renewable diesel fuel a reality, moving from an exploratory assessment period to implementing Hydrotreated Vegetable Oil (HVO) at our Cardiff campus. Vantage's use of HVO significantly reduces our greenhouse gas emissions, delivering measurable progress toward lessening our carbon footprint. Vantage is currently working to expand the use of this biofuel more broadly based on availability and costs per market.
Social Responsibility
Diverse employee affinity groups: We welcomed more than 385 new team members in 2022. Vantage strives to make employees feel valued and heard across the globe, evidenced by our growing list of affinity groups. In 2022, Vantage added the Black Employee Network, the Mental Health and Wellbeing Network, the Muslim Employee Association, and the Working Parents and Caregivers Network, alongside our existing Women's Leadership Forum, to offer communities where employees who share a common identity or interest can connect and find support.
Fostering the next generation of leaders: Vantage introduced a new mentor program with support from our Justice, Equity, Diversity, and Inclusion (JEDI) Council to enable senior leaders to mentor junior team members. In addition, the voluntary JEDI Council grew by 85 percent, serving as a testament to the importance of Diversity, Equity, and Inclusion (DE&I) initiatives.
Giving back: Vantage is dedicated to supporting the communities in which we operate. Throughout the year, our employees engaged with local communities through service events, donated financial support to earthquake relief for Syria and Turkey, and partnered with AFCOM to offer an intern program.
Ethical Governance
Proactive governance and risk protections: To gain a deeper understanding of the risks associated with vendors, Vantage launched a third-party risk management (TPRM) program. Coupled with our Executive Risk Council (ERC), which meets quarterly to identify risks and opportunities across five key functions critical to our strategic business goals, Vantage is making risk assessment and management a global priority.
Global public policy: With differing laws, regulations, and policies impacting energy, sustainability, land ownership, zoning, design aesthetics and taxes, public policy is critical to ensure optimal business outcomes. Last year, we established a new public policy team and company-wide steering committee to advance our development goals and lead community engagements.
Prioritizing safety: With nearly four times as many construction hours logged in 2022 compared to 2021, Vantage lowered our Total Recordable Incident Rate (TRIR) from .31 to .28. We also doubled down on our commitment to safety, launching a new program called Vision Zero. The "zero" in Vision Zero is the quest for ultimate safety on the job: zero incidents.
To download a copy of Vantage's 2022 ESG Report and take a deeper dive into the progress we've made towards our ESG goals, click HERE.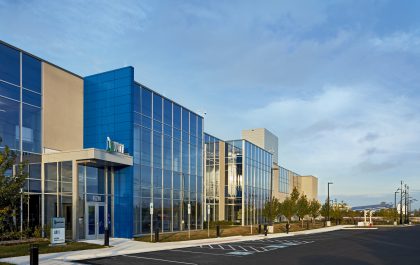 The Innovative Green Features of Vantage's VA1 Campus
In late October, Data Center Frontier kicked off a new content series called, "Greener Data," which is intended to explore the progress that data center…