To celebrate International Women's Day (March 8) and Women's History Month, we teamed up with Vantage's International Women's Forum (WLF) and the Justice, Equity, Diversity and Inclusivity Council (JEDI) to honor the achievements of women around the world, starting with those on our team.
We caught up with a few of our esteemed colleagues to learn more about their achievements as women in engineering and their experiences working in the data center industry.
Interview with Vantage's International Women's Forum
Marija Crnogorac, Senior Manager, Sales & Solutions Engineering, EMEA
Q: What attracted you to the data center industry?
I come from a small country where women in engineering are really rare. But, women working for foreign companies is even more rare. So the opportunity to work for this industry…was like the whole world opened up for me and my family.
For me, the opportunity to work for this expanding industry gives me the experience of facing a dynamic and expanding business, and modern engineering approaches. It also connects me to so many people. Everybody is using cell phones, the Internet, the cloud in some way or another, and here you are in charge to ensure it all gets to the world.
Yes, the possibilities in this industry are infinite. So you can be just an engineer your entire life and continue to grow. You will never be bored and will have security working in a well-known area. In this business, you are closely connected to all these things. You can learn and expand your knowledge daily for the rest of your life.
Marynet Bassily, Director, Supply Chain & Procurement, EMEA
Q: How would you describe the data center industry to someone who may not have considered it as a viable career choice?
I transitioned from the railways to the data center industry about nearly three years ago. I didn't even know what a data center was.
It's an industry that's very fast paced and always up to date with technology, whereas in the railways, mine was a bit more of a very regimented and very procedural based kind of industry. The data center industry is more agile, it's more fresh, it's more modern. We're always using edge cutting technologies.
It's technology that supports us all with remote working and gives us that kind of infrastructure as well. So that's how I would describe it.
Lisa Dingwall, Senior Manager, Recruitment, EMEA
Q: How would you describe the data center industry to someone who may not have considered it as a viable career choice?
I'm not an engineer – full disclaimer. I work in the internal recruitment team, but this is a topic that's so close to me. It's about inclusivity and looking at how we attract women into the data center industry and within engineering. So having also not come from a data center background, I was coming from a tech artificial intelligence background, and I had a really outdated opinion of the data center industry, thinking about dark, dingy warehouses with cables everywhere. My opinion was completely wrong. And when I joined Vantage, I sensed that.
We allow the tech industry to grow through their boom, you know, to be able to hyperscale. And I think that's exciting. Setting up data centers. . . using cutting edge technology, sustainability is at the heart of what they do as well. And on top of that, it really does factor into a lot of day-to-day activities that we do as people. So when you send an email or even downloading your favorite tune, you know this is made possible quite often because of data centers. Data really does make the world go round.
Luyuan Jin, Construction Project Manager, North America 
Q: U.S. women account for 15.6% of the engineering workforce, 13% in Canada and 12.37% in the U.K. If you break that down into age groups, when asked if they would consider a career in engineering, 70% of 11-14 year olds would consider a career in engineering and only 25.4% of 16-18 year olds.
What is your interpretation of this data, and what has your experience been in your country?
The percentage really dropped between the age group from 14 to 18. I think that's when the young girls are trying to decide what they want to do in college. And I think low numbers of women in engineering education directly translates into engineering career. I think that's because of lack of women in engineering, mentorship and role models.
I think engaging young girls to pursue engineering as a career might be a good place to start. I think with more exposure on social media might be a good step going forward.
…I really enjoy the workplace culture (of Vantage) where everyone is valued, and everyone is being very supportive of each other. My positive experience is I get to work with very dedicated individuals who share the same interests as me. I think it's very important because engineering usually requires a lot of teamwork.
Marie-Claude Fradette, Senior Director, Site Operations, North America
Q: There are so few women in engineering, what has your experience been like?
I haven't always felt comfortable to be the only woman in the room. As a woman. I thought I had to prove myself to men for years. When I get in a room now, all I see is people. Of course, I'm different, but I don't see that difference anymore. I use this difference as a strength. And this is how I've built my team. We are all different, and this is what makes a team stronger.
To learn more, watch the full panel discussion here.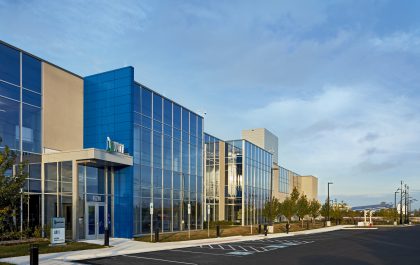 The Innovative Green Features of Vantage's VA1 Campus
In late October, Data Center Frontier kicked off a new content series called, "Greener Data," which is intended to explore the progress that data center…