At the end of 2019, Data Centers Today sat down with Luke Smith and David Liggitt of datacenterHawk to discuss data center trends that they had identified in 2019 and to explore their 2020 data center predictions. One of the interesting things that Luke and David shared was the relationship between U.S. data center construction and European data center construction.

Both Luke and David believed that European data center trends mimic those in the states, but they happen a few years later. They then both predicted that – since data center demand in the U.S. hit record levels in 2018 – that data center construction in the European markets would do so as well in 2020.

And, if some of the recent news is any indication, David and Luke are right on target with their prediction. Data center development is heating up in the EU.

To date, much of the data center construction in the EU has been spread across the four largest colocation markets – Frankfurt, London, Amsterdam and Paris – which data center experts refer to as "FLAP." And over the past two decades, London has mostly dominated the other three FLAP markets.

However, with London becoming a competitive and challenging market due to a lack of affordable real estate, there is a new and exciting data center market taking over the spotlight. Let's take a closer look at this new front-running data center market and analyze why data centers providers and end users are flocking to Frankfurt, Germany.


GDPR and data sovereignty

There is an increasing demand across much of the EU for hyperscale services, including cloud services and Software as a Service (SaaS) solutions. Many hyperscale companies are finding themselves needing to scale up their infrastructure to meet demand, and they're looking to do that within the region largely because of the strict data regulations in the EU.

Often, data sovereignty and other requirements force companies to ensure that data doesn't cross borders or is stored within the country of origin. This means that non-European companies need to build out their infrastructure within these countries if they're going to service local businesses. They can't bring that data back or store it in existing data centers outside of the EU.
Germany's data protection laws take this a step further, requiring the data of German citizens be stored within Germany. This explains why data centers within the country are becoming increasingly essential, but it's not the only reason.

Hyperscale companies also care about latency. With today's modern applications being an amalgamation of many disparate microservices and processes, it's essential that they're all housed locally, and latency be kept to a minimum if the user experience is going to be up to par. This is yet another reason why hyperscale companies are turning to the EU – and Germany specifically – for data centers, but why is Frankfurt their destination within Germany?


A booming economy and a need for hyperscale services

Data center operators build data centers where their customers have needs and IT requirements. Specifically, hyperscale companies and cloud providers look for data centers in places where there is high demand for their services. And the companies that need hyperscale services are the technology, financial services and other companies that are currently driving an economic boom in Frankfurt.

Today, Frankfurt plays host to many important financial services companies and organizations, including the European Central Bank, the German central bank, the German stock exchange and a seemingly infinite number of local German and international bank offices and branches. This has led to some naming Frankfurt among the most important financial centers in Europe.

Where there are banks and financial institutions, there is often the necessary capital for small and innovative startups and other technology companies. And Frankfurt is no different. The presence of these banks has created an ecosystem of technology firms and other companies that – along with the banks – drive up the demand for data center services in the city.

But the data centers being built in Frankfurt aren't just for meeting that region's infrastructure requirements, they're also capable of delivering services to many other customers around Europe – and global companies looking to expand in the EU – because of a very special reason.


Deep connectivity

Frankfurt is the home of the German Internet Exchange (DE-CIX), which is the world's largest carrier and data center-neutral Internet exchange point. In fact, more than 8 Terabits per second flow through the Internet Exchange in Frankfurt.

That's important for today's hyperscale companies, which may choose to store customer data or different parts of an application or service in different data centers. As we discussed earlier, low latency is critical for today's advanced applications, and this level of connectivity ensures that applications and services run smoothly and operate as anticipated.

But all of this connectivity would be for naught if Frankfurt didn't also check the major, basic boxes necessary for data center development.


Space is plentiful

As other markets across Europe begin to clamp down on the number of data centers that can be built, such as Amsterdam, or struggle with available real estate, such as London, Frankfurt puts up fewer barriers to entry for data center providers. The region offers available real estate, as well as favorable governance and regulations for data center providers.

However, as more data center providers move into the region, that could change. Amsterdam saw so many new data centers being built that its power infrastructure was stressed, limiting new developments as a result. Power and land are finite, and as more data centers are built in a region, the less will be available for new development.

However, that's most likely in the distant future. Today, market conditions, data privacy legislation, available real estate and powerful connectivity are making Frankfurt the top data center destination in Europe. In fact, the global real estate firm, CBRE, reports that the region has the lowest vacancy rates among the top European data center markets and predicts that it will see the most new data center capacity come online in the next two years.

Ownership of a new hyperscale data center campus in Frankfurt was a driving factor behind Vantage Data Centers' expansion into Europe. For additional information about Vantage Data Centers and its European expansion, click HERE.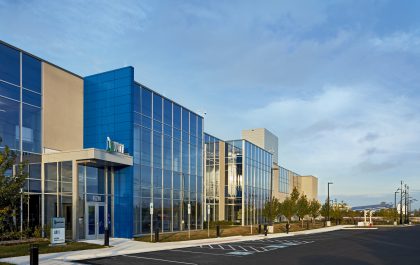 The Innovative Green Features of Vantage's VA1 Campus
In late October, Data Center Frontier kicked off a new content series called, "Greener Data," which is intended to explore the progress that data center...