Approximately one year ago, the data center industry gained an exciting new voice when Jasmine Bedi and her team launched InterGlobix Magazine – a premier publication focused on the data center and connectivity industry and featuring content written by and for data center industry insiders globally.

The publication recently celebrated its first anniversary edition. And while the magazine hasn't been in production for long, it has managed to make a significant impact on the industry with just four volumes in one year's time.

Today, InterGlobix Magazine remains the only publication that is focused on the intersection of data centers, connectivity, lifestyle and luxury. It has expanded its distribution to more than 20 countries and is a must-read for many leading executives in the industry.

To learn more about InterGlobix Magazine and the concept behind such an interesting publication, we sat down with the founder and editor-in-chief, Jasmine Bedi. During our discussion, we talked about the magazine's vision and editorial direction, the challenges getting a print publication off the ground in a digital world, and why now is an exciting time to cover the data center industry.
Interview with Jasmine Bedi
Data Centers Today (DCT): InterGlobix is a relatively new publication, having just celebrated its first anniversary. Can you tell our readers a bit about the magazine? Who is it written for? What kind of content can they find in its pages?

Jasmine Bedi: InterGlobix Magazine is the first-of-its-kind magazine focused on data centers, connectivity and luxury lifestyle. It is an ode to the relatively young data center industry and to the key shapers and decision-makers behind it.

Through the magazine, we dive deep into the lifestyles of some of the most successful personalities in the industry. We talk about their personal stories, which are as inspiring as their professional narratives in most cases. It is packaged as an all-encompassing industry guide, with a unique blend of experts discussing the latest trends and innovation, insights, technology and lifestyle elements.

The publication is written for the industry and by the industry. Eighty percent of the content is written by C-level executives in the industry. It's like having a panel discussion on paper. With all of the conferences going virtual – with travel and events canceled – we're seeing tremendous demand for this kind of content.

Our readership consists of affluent people that are the decision-makers across data center organizations – they can be chairmen, CEOs, owners, founders, presidents or other senior leaders. Our readers also include other industry experts from inside and outside of the data center, connectivity, software and technology industries. The list includes engineers, architects, designers, construction executives, finance specialists, lawyers, real estate owners, investors and other people across these industries. Our publication appeals to the private sector, including corporate enterprise infrastructure leaders, IT leaders, cloud leaders, CIOs & CTOs, and the public sector, including city, county, municipality, state and federal officials. These people are both reading and contributing to our publication.

Our content extends across several data center adjacent topics. We include coverage of data center trends, data center technology advancements, profiles of industry executives, financial and deal-making news, expert legal views, behind-the-scenes stories and a luxury lifestyle section. The luxury lifestyle section covers trends in travel and hospitality, luxury tech consumer products and other topics that are of interest to affluent data center industry leaders.

DCT: Your personal history and experience are impressive and interesting. Tell our readers a little about your background. How did your previous work prepare you for your role with the magazine?

Jasmine Bedi:I have more than 20 years of experience in the global media and luxury lifestyle industries. I have worked with many luxury brands worldwide, and my journey has been very rewarding.

I have successfully led and promoted global brands, such as Radisson Hotels and American Express. I've also spearheaded the expansion of multiple luxury brands into new countries. I was recruited into the luxury industry early on and became the youngest country leader for a premier luxury watch brand. Being part of the industry, I soon realized that luxury lifestyle was an important aspect of affluent individuals. It is something that everyone in that community enjoys and is interested in.

I have also worked in the media industry, specifically with niche publications and content marketing agencies. My past experience in launching global brands and niche publications prepared me for the debut of my own magazine and gave me the idea to design a publication that blended data centers with luxury lifestyle.

When I joined the tech industry, I realized that there was no such magazine that covered the personalities in this industry and their expertise of leaders in this industry. When I launched InterGlobix Magazine, I wanted it to be the voice of the leaders in the tech and data center industry. We accomplished that by featuring their content. Today, approximately 80 percent of our content is authored by those industry leaders.
I wanted to put a spotlight on the human connections and thereby bring a human element to the iconic leaders of this industry and make them relatable. I also wanted to give people insight into these industry leaders beyond just what they do at work and how they integrate their personal life with work. I found that our readers were inspired with such content and want to know more about the people that lead this sector.

DCT: Why focus a magazine on the data center industry and data center professionals, as well as "luxury lifestyle?" What about the industry, today, made it a good one on which to focus the publication?

Jasmine Bedi:I recently joined the industry myself. And when I did, I quickly realized that it didn't have a voice on paper. The lack thereof presented the perfect opportunity to give that voice to an industry that is increasingly indispensable to our society.

Today's digital world thrives upon data centers and connectivity – especially during these times. We are more dependent on the digital world than ever before – for banking, education, working from home, communication and socialization – all of that relies on data centers and connectivity.

There was no high quality, global publication covering the underlying infrastructure driving and enabling our digital world. That became the core focus of our publication. And we have tried to do it in a fun and interesting way for our readers.

DCT: What has been the biggest challenge launching a new magazine with a global distribution? What has been the most rewarding aspect?

Jasmine Bedi:We have both online and print versions of the publication. But for the print version in particular, when I conceptualized the magazine, I focused on the quality of the publication, the quality of the content, the quality of the production, as well as the right distribution and readership. That was my cornerstone when I launched InterGlobix Magazine.

For about six months prior to the magazine's launch, we did thorough research. We talked to people within the industry and told them about the concept of the publication to gauge their interest in a premier magazine with a focus on data centers. They were very inquisitive, very supportive and gave us excellent feedback. And with that positive feedback, we decided to move forward with the plan. In fact, this exercise also helped in raising awareness for the publication within the industry and creating expectations among industry leaders way before its official launch.
My biggest challenge was to meet the expectations that we had built in our discussions with the industry leaders. This meant delivering on that high-quality content and high production value. We also had to make sure to have an industry legend on the front cover of our introductory issue. We accomplished that by getting the executive director for economic development in Loudoun County, Virginia, Buddy Rizer as our cover star on the inaugural issue.
Once we had the right content and contributors in place, the rest fell in place – global distribution, global events and reach to the right people. In the past year, we've been able to expand distribution to more than 20 countries and grow our footprint worldwide.

In terms of rewarding aspects, the support of the industry has been a dream come true and very validating. The Father of the Internet, Vint Cerf, called us the voice of the industry. That is extremely exciting!
DCT: Based on feedback of your readers and the articles that are generating the most buzz, what would you say are the hottest topics of interest among data center professionals and executives today?

Jasmine Bedi: The topics generating the most buzz right now among our readership are sustainability, green initiatives, carbon neutrality, edge ecosystems and trends in data center development. We have noticed a lot of interest in the convergence of data centers and subsea cables. There is also interest in coverage about the resiliency and diversity of Internet and wireline infrastructure.

There's also much intrigue and inclination towards profiling women in the tech industry. Women are still underrepresented in the industry, and there is a focus on raising awareness and increasing representation among women. We're focusing on increasing awareness about diversity, inclusion and gender parity among the technology and data center industries.

DCT: How do you foresee the industry – and the magazine – growing and evolving in the coming years?

Jasmine Bedi: The data center industry is still in a relatively nascent stage. It's only been around for approximately 25 years. As the industry matures and the usage of data around us continues to explode, the interest and reliability on data center infrastructure and availability will persistently rise in the years to come.

Currently, with the ongoing COVID-19 pandemic, we'll continue to see work and life shift online. Our children are taking virtual classes and becoming more proficient with technology than ever before. I believe that whether GenZ or GenAlpha, the new generation will revolutionize how we use the Internet. Data centers will power that revolution.
With wearable tech, Internet of Things, connected cars, connected homes, smart cities, etc., not only is the consumption of bandwidth going to increase, but the diversity and resiliency of the Internet is going to be enhanced and our methods of accessing the Internet will continue to evolve.

We're committed to continuing to service this industry and covering some of the topics, trends and issues that are shaping the industry today and for the years to come.

Click here to subscribe to the print or online versions of InterGlobix Magazine.
Click below to view the InterGlobix Magazine anniversary video.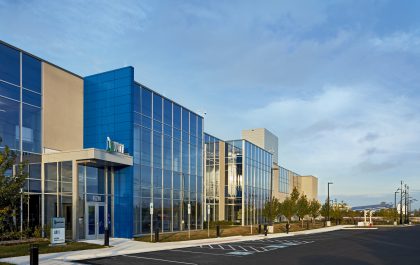 The Innovative Green Features of Vantage's VA1 Campus
In late October, Data Center Frontier kicked off a new content series called, "Greener Data," which is intended to explore the progress that data center...