Looking to increase their presence in one of North America's largest and most rapidly-growing data center markets, Vantage Data Centers has acquired the hyperscale data center business of Hypertec in Montreal. The acquisition from Hypertec, an end-to-end global provider of technology products, value-added services and wholesale colocation services, expands Vantage's total presence in the Province of Quebec to 81MW of IT capacity across three campuses in one of the hottest data center markets in North America.

The Montreal data center market remains one of the most in-demand geographic locations for hyperscale companies. The city's strategic location makes it ideal for hyperscalers looking to deliver service to customers in large east coast cities in both the United States and Canada with limited latency, including cities like New York, Boston, Philadelphia, Pittsburg, Ottawa, Toronto and their surrounding metro areas. The city also offers an abundance of many of the resources that data center providers and their customers demand, including a plethora of connectivity options and abundant, clean sustainable energy.
Vantage DC Acquires Hypertec in Montreal
At a time when green initiatives and customer responsibility are increasingly important for hyperscalers, Montreal provides data center owners and end users with renewable hydroelectric power at extremely reasonable rates through Hydro-Québec, a public utility established by the Government of Quebec. The city's colder climate also helps to reduce cooling costs and decreases data center operating expenses for both data center providers and their customers.

These factors – combined with numerous others ranging from an incredibly skilled workforce and reasonable cost of living – have resulted in both increased demand and data center construction in the region. Cushman & Wakefield reported that the city was experiencing data center absorption rates on pace with construction in their Summer 2019 Montreal Data Center Market Beat report. That same report showed vacancy rates less than 25 percent in the region.

"The acquisition of Hypertec enables Vantage to continue capitalizing on Montreal's hyperscale growth given its access to scalable renewable energy, attractive power costs, tax incentives and robust fiber connectivity," said Sureel Choksi, president and CEO, Vantage Data Centers. "Since entering the Canadian market in early 2019, Vantage has invested heavily in the region. We have been very impressed by the Hypertec data center team and are excited to welcome them to Vantage."
The acquisition of Hypertec's hyperscale data center business expands Vantage's footprint in Montreal and gives the company immediate access to a tremendous amount of additional capacity in the city so that it can meet the increased demand of its hyperscale customers.

"Vantage continues making significant investments in the Province of Quebec, and the Hypertec acquisition further cements our position as a leading hyperscale provider in Canada," explained Maxime Guévin, vice president and general manager for Vantage Canada. "This increased capacity positions us to better serve our local and international customers, and we expect Montreal to benefit from the addition of more high-quality jobs and revenue coming into the region."
For additional details about Vantage's acquisition of Hypertec's hyperscale data center business, click HERE to read the official press release.
To learn more about Vantage's Canadian campuses, please see Montreal I, Montreal II and Quebec City.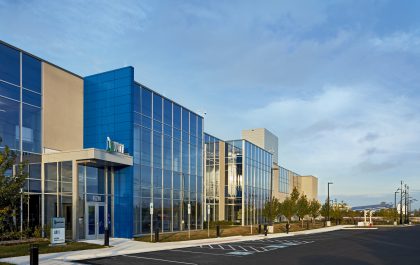 The Innovative Green Features of Vantage's VA1 Campus
In late October, Data Center Frontier kicked off a new content series called, "Greener Data," which is intended to explore the progress that data center...