Vantage Data Centers recently announced it has acquired the hyperscale data center business of Hypertec, an end-to-end global provider of technology products, value-added services and wholesale colocation services in Montreal.

This acquisition expands Vantage's total presence in the Province of Quebec to 81MW of IT capacity spread across three campuses. It also solidifies Vantage as the leading hyperscale data center provider in Montreal, one of North America's fastest-growing and most in-demand data center markets.
To learn more about this new acquisition – which follows other strategic acquisitions announced by Vantage throughout Europe earlier this year – we sat down with the vice president and general manager of Vantage's Canadian business, Maxime (Max) Guévin. During our discussion, we asked why Montreal was considered such a strategic growth market for Vantage, why the company elected to purchase the hyperscale data center business from Hypertec, and what this acquisition means for customers.
Interview with Max Guévin
Data Centers Today (DCT): This acquisition brings Vantage's total IT capacity to 81MW across three campuses in the Province of Quebec, two of which are in Montreal. Why is Vantage so invested in this city, in particular?

Max Guévin: Simply put, it's where hyperscale companies want to be. The demand signal from customers for Montreal is significant, and for very good reason. The colder climate helps to decrease cooling costs and makes data center operations more cost effective. Also, the area is rich in connectivity and power here is reasonably priced and consistent – which is essential for data center operators and customers. But what's more exciting than the reliability and low cost of energy in Montreal is how that energy is generated.

Montreal generates more than 99.5 percent of its energy from renewable sources. That's a result of Hydro-Québec, the local public utility, which provides reasonably priced hydroelectric power to residents and companies in the region. With so much focus on sustainability and green initiatives, this makes Montreal very attractive to data center providers and end users.

DCT: Are there any other advantages to operating in Montreal, aside from the renewable energy? And why choose a city like Montreal instead of a market like Toronto?

Max Guévin: Certainly. In fact, there are many other reasons why hyperscalers are looking for data center space in Canada – and Montreal in particular.

We're seeing a renewed focus and attention on data sovereignty and data storage. Individual countries are working to limit the movement of their citizens' data across borders and are looking for it to stay in-country. This has led hyperscale companies to seek data center space in places with significant, growing economies where they see potential for growth – and Canada is certainly among those countries and economies.

Montreal is an attractive option for hyperscalers looking for data center space in Canada because of its relatively central location. A data center in Montreal can service several large cities in the U.S. and Canada with little latency.

Also, Montreal has historically experienced few, significant natural disasters. That's important because natural disasters – such as hurricanes and earthquakes – can have a significant impact on service availability and up-time.

Montreal is also a city with a cost of living – lower than places like Vancouver and Toronto, which makes it an attractive place for data center employees. Also, it boasts a highly educated, highly skilled workforce, which is essential for keeping a data center staffed and operating.

For these reasons, Vantage continues to invest in the region. It's a key market for us and one that our customers deem critical to their digital infrastructure strategy.

DCT: Why add capacity in Montreal by acquiring Hypertec's data center business? Why not purchase land and build new data center space?

Max Guévin: It ultimately comes down to time to market. Vantage is experiencing significant customer demand for data center capacity in Montreal, and we want to move quickly to meet that demand. Acquiring Hypertec's data center business enables us to increase our capacity in the city immediately. It also gives us the ability to expand and add more capacity in the very near future.

The Hypertec campus that we acquired is located less than two miles from Vantage's current 11MW campus in Montreal and will ultimately deliver 49MW of additional IT capacity. Today, the campus has two facilities with 25MW of power. We plan to immediately begin developing a third facility on the campus, bringing the total capacity to 49MW. We will then have a total of 60MW of IT capacity on the island to fulfill our customers' IT requirements.

DCT: What about Vantage's existing customers and Hypertec's hyperscale customers? How does this acquisition impact them?

Max Guévin: This increased capacity positions us to better serve our local and international customers who are looking to grow with us in a new or existing market.

New customers joining the Vantage family will have access to our global portfolio of data centers located across 12 different markets in North America and Europe. They'll also get to experience the operational excellence that has long separated Vantage Data Centers from other data center providers.

For additional details about Vantage's acquisition of Hypertec's hyperscale data center business, click HERE to read the official press release.

To learn more about Vantage's Canadian campuses, please see Montreal I, Montreal II and Quebec City.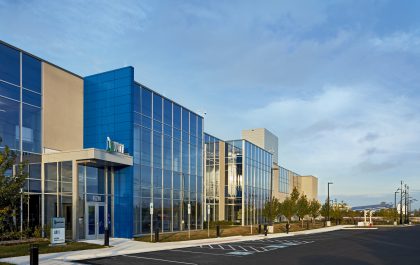 The Innovative Green Features of Vantage's VA1 Campus
In late October, Data Center Frontier kicked off a new content series called, "Greener Data," which is intended to explore the progress that data center…