The Vice President and General Manager of Vantage Data Centers, Canada, Maxime "Max" Guévin, has a wealth of experience in the data center industry.

Max joined Vantage when the company acquired 4Degrees Colocation, part of Videotron Ltd., a Quebecor Media Inc. (QMI) subsidiary, in January 2019. But Max was more than an employee of 4Degrees; he spearheaded the launch of the company at Videotron.

Max faced the difficult task of not only launching 4Degrees, but also building Videotron's data center business. He helped guide that business and grow it until its eventual sale. And he's faced the challenge of merging two different companies and two different corporate cultures during the integration of 4Degrees with Vantage. We recently sat down with Max to learn more about these past experiences, his successes and what he can teach other business leaders.


Interview with Max Guévin
Data Centers Today (DCT): Can you tell our readers a bit about your background? What is your current role and responsibilities? Where did you get your start and what led you to the data center industry?

Max Guévin: Twenty-three years ago, I finished school as an electrical engineer and was hired by a communications company. I worked there for about two years before getting an offer to work internationally. That was interesting for me because I was young and was looking to travel to other countries to learn about new cultures.

As part of that position, I was out of the country for nine months out of the year – visiting new places all the time. My travels took me to Sweden, Egypt and even an oil platform in the Caribbean. That was very exciting, and it taught me things about myself – being away for so many months. It taught me that one of my strengths was being able to adapt myself to different cultures.

From there, I transitioned to Videotron, where I worked for 19 years and played a large role in the company's foray into the data center market.

In 2014, I raised my hand, called attention to the fact that the company was missing out on the data center business and suggested that we should jump in right away. They agreed with me and thought that the timing was good. They asked that I build a business case and present it to the board. Six months later, I made my presentation and was given the green light to move forward with a data center business for Videotron, which eventually became 4Degrees.

Since I built the business case, I was asked to lead that new business. We jumped into that market with a large initial investment of $120 million CAD and built two brand-new data centers in Montreal and Quebec City. In January of 2019, we were purchased by Vantage Data Centers and that has been game changing for me. Being part of an experienced, large data center company has helped to eliminate many of the financial and logistical challenges we faced as a smaller company.

DCT: What is one of the biggest obstacles that you've faced since joining Vantage? How did you overcome it? What best practices or lessons learned resulted from that situation?

Max Guévin: I think one of the largest obstacles or challenges that we faced happened during the acquisition. We learned that we needed to change the culture and that we needed to listen and communicate more. We weren't sharing information as early and as fully as the 4Degrees employees wanted and needed during the acquisition.

That process also taught me that you should not underestimate culture. There are differences between the U.S. and Canada, and we needed to better understand and embrace those cultural differences. There is a language barrier, and we underestimated how difficult it would be getting French-speaking people incorporated into an English-speaking company.

To help overcome that, we paid for English courses for our employees. We worked to give our French-speaking employees the tools to help them understand American colleagues and skills that will advance their careers.

Despite these obstacles and challenges, the acquisition went very well and was a huge success. We learned some hard lessons, and we will improve in the future.

DCT: As a data center industry veteran, what are some of the challenges facing the data center industry right now?

Max Guévin: For Vantage Data Centers, one of the largest challenges is the increasing competition in Canada, and specifically in Montreal, which is a hot market for three reasons. First, the power from the energy companies – Hydro-Québec, one of the lowest in the world – and energy costs are essential for data center providers.

Next, the power available in this market is 99.5 percent green, and customers want to be good corporate citizens. They want to provide cloud services and other hyperscale applications, but they want to do so without using too much unsustainable power. Finally, there is the cooling. Approximately 85 percent of the year, we don't use power to cool the data center. Instead, we use the cool outside air, which helps to save millions of dollars in cooling cost.

All of these factors are coming together and turning Montreal into a hot data center market. This means more competition entering the market and more money coming in to build more data center sites.

Aside from the increased competition, we face the same challenge that many data center providers face – the need to offer scalability to the customer. Customers want to know that you can grow with them. This means that we need to build in advance – before there is a requirement for more data center space.

DCT: What corporate cultures have you found to be the most conducive for your productivity and professional growth? How have you worked to foster that culture at Vantage?

Max Guévin: Americans are always moving very quickly – it's "pedal to the metal." In the Quebec culture, it's important for our employees to have a good work/life balance, and it's important for them to take vacation and time away with their families.

During the acquisition, we were moving at a fast pace, and we made some mistakes. Since then, we've worked to make sure that we're more in-synch and coordinated. We've increased our communication. We've worked to ensure that we not only give employees information about our decisions but tell them about our thought processes and why we're making those decisions. We make sure to meet one-on-one more often.

These changes have facilitated the creation of a new pace and culture that works – not only for me, but for all Vantage employees.

DCT: What personality traits or characteristics do you think are essential in a successful leader?

Max Guévin: I believe that you can't reach your goals by yourself. You need to be humble and surrounded with talented people that can help you reach them together as a team.

As a leader, you need to surround yourself with people that are even more talented than you are and form them into a cohesive team striving to attain the same goals. And to accomplish that, you need to make good, informed decisions and communicate those decisions with the team to ensure everyone is on the same page.

The key to being a successful leader? Be humble. Hire well. Stay close to those people – be boots on the ground, spend time with them and communicate with them extensively.

DCT: What is your favorite business book and what did you like best about it?

Max Guévin: One of my favorite business books was written by Jack Welch, the former CEO of GE. I read it years ago when getting my MBA.

In that book, Mr. Welch talked about how they focused on providing tools to employees to facilitate their success and professional growth. He talked about the construction of the GE University program to train employees. All said, he invested significant time and money to keep employees at the cutting edge. That was extremely interesting and something that all executives should strive for.

In that same book, he talked about how, if you're not striving to be number one in your market or industry – walk away. If you're simply trying to be second best in an industry, you won't succeed – you've already failed.

That is something that I agree with completely, and that influences my work with Vantage. I want Vantage Data Centers to be the number one data center provider globally. We're not there yet, but we're working really hard to get there.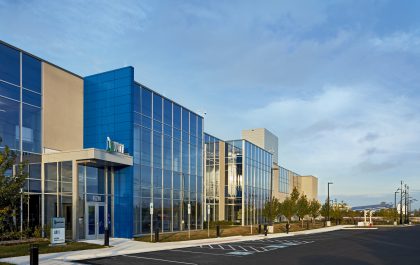 The Innovative Green Features of Vantage's VA1 Campus
In late October, Data Center Frontier kicked off a new content series called, "Greener Data," which is intended to explore the progress that data center...