Vantage Data Centers' Cardiff, Wales, facility (CWL11) has been nominated for the 13th annual 2023 DCS Awards in the "Data Centre Hosting/Colocation Supplier of the Year" category. This award celebrates the data center industry's impressive achievements and recognizes customer success stories, technology innovation and individual and company contributions to the sector. Voting for the DCS Awards is open now and ends on May 5, 2023.
This award is especially significant due to current disruptions in the data center industry, including rising energy prices, ongoing sustainability challenges, supply chain issues and geopolitical instability. The DCS Awards are taking this opportunity to celebrate the data center industry's response by helping customers on their digital transformation journeys with a range of new ideas, services, products and technology ideas – and Vantage is no exception.
Here are the top three reasons to vote for Vantage:
Vantage's Cardiff data center is 100 percent renewably powered.
Vantage's Cardiff facility is the first data center campus in the U.K. to be powered by 100 percent renewable energy and was the first to commit to the U.K. government's Climate Change Agreements (CCA) initiative. Because of these accomplishments, Vantage can give customers Zero Carbon Tax and enhanced Green credentials. This is an incredible feat, and Vantage's initiatives that made this a reality are impressive.
Another sustainable initiative implemented at the Cardiff data center is a project where the water used during cooling and rainwater harvested from the roof are fed back through a water treatment plant consisting of greywater tanks, reverse osmosis and other filtration systems, including activated charcoal and micro membrane filters. This water then leaves the water treatment plant in nearly pure water condition, which is perfectly designed to meet the EFC water quality requirements. This is a cyclic system, so Vantage can conserve and reuse as much water as possible.
The benefits of implementing this project are substantial, including improved water usage efficiency and removing the reliance on the local water utility while supporting the U.K. government's drive to conserve natural water resources and extend its usable life. Additional operational benefits include significantly increasing cooling hold-up times in a loss of utility water scenario, greater water hygiene management and control, and ensuring the water supplied to Vantage's critical cooling is of the best quality possible.
Vantage's Cardiff data center has room and power for companies to grow.
Offering private data modules and colocation solutions, Vantage's Cardiff data center is now 'home from home' to the IT systems of an impressive and growing list of public sector organizations and blue-chip companies, from U.K. government agencies and major banks to global tech giants. Vantage's scalability and power source enable complex organizations and IT service providers to consolidate multiple smaller estates while also allowing businesses the flexibility to grow.
Not only does Vantage have space for growth, but the power to do so as well. With 148MW of power available, CWL1 offers more than enough power to meet the demands of hyperscalers, in addition to hybrid cloud and High-Performance Computing (HPC) requirements.
Customers have at their disposal a future-proofed facility with a 420,000-square-foot technical capacity with room for further expansion on campus. The company recently completed the construction of a new data center in late 2022 with another facility in the planning stages. With this future-focused perspective, customers can feel assured they won't need to move data center locations as they grow.
Vantage's Cardiff data center offers affordability.
At the heart of CWL11's success is its ability to provide tangible cost savings to existing and future customers. The campus' size, economies of scale and low out-of-town cost combine to offer world-class colocation at affordable prices when compared to other facilities in the Greater London area.
Vantage is attracting global brands to the Cardiff Capital Region and bringing meaningful ongoing investment into the local economy. Vantage has also evolved into a significant U.K. employer, intentionally focusing on diversity and inclusivity, as well as generating a steady stream of on-site construction and engineering work for hundreds of local subcontractors.
DCS Awards voting ends May 5. To cast your ballot, click HERE.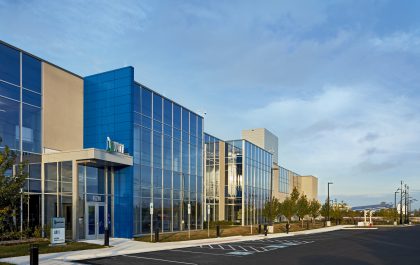 The Innovative Green Features of Vantage's VA1 Campus
In late October, Data Center Frontier kicked off a new content series called, "Greener Data," which is intended to explore the progress that data center…