In previous posts on Data Centers Today, we took a detailed look at the major trends and challenges that shaped the data center industry in 2019 with David Liggitt and Luke Smith of datacenterHawk, one of the industry's leading analyst firms that is trusted for delivering actionable insights to data center professionals.

David and Luke shared their findings on the major new markets that sparked investment from data center providers in 2019 and the largest changes in data center construction over the course of the past year. They also discussed emerging trends, such as green initiatives and subsea cables, and how those impacted data center construction and location in 2019.

After talking extensively about the past, we asked David and Luke to pull out their crystal ball and discuss what they envision for data center investment in 2020. We talked about some of the new technologies and initiatives that would influence data center construction in the coming year and even asked them to pick the up-and-coming markets for 2020.


Interviews with David Liggitt and Luke Smith
Data Centers Today (DCT): How do you think data center demand will trend in 2020? What are some of the reasons for this?

David Liggitt: In 2020 we're going to need some large requirements to take place in markets where bigger capacity has landed. Enterprise demand has become so important because there are fewer hyperscale requirements. Watching that – and the absorption numbers around that demand – is going to be interesting in 2020 and could have big implications on the space.

Luke Smith: To David's point, we've noticed that in markets where hyperscale demand is light, but there is a large amount of capacity, such as Chicago or Dallas, one of the things that kept those providers afloat was enterprise demand. They're not landing big 15-plus megawatt leases, but they are having a steady stream of absorption from enterprise customers.

I expect that will continue in the first half of 2020. You'll see very healthy numbers as far as leasing goes. Then I expect that we'll see larger deals ramping up toward the end of 2020.

DCT: In our previous discussion, you talked a bit about international markets. What do you anticipate for data center markets beyond North America?
David Liggitt: In Europe right now, you have larger projects that are under construction or just being delivered. Within the next six months, you're going to have some pretty sizeable data centers opening in areas such as Dublin, Frankfurt, London and Amsterdam.

Luke Smith: We've seen a large amount of pre-leasing in those European markets that David mentioned. That will continue to take place in 2020.

DCT: What will be some of the major initiatives and technologies that you anticipate data center owners and operators will be looking to implement in 2020?

Luke Smith: We see connectivity becoming an important factor for the data center user community. Most data center operators are aware of this and working to figure out how they can continue to meet the connectivity needs for data center users. There are a lot of companies looking to the data center operators for direction and guidance on how to better improve network latency and efficiency within their sites.

From our perspective, we're also seeing a renewed focus on renewable energy that will be an important consideration for data center providers and consumers in 2020.

DCT: Do you anticipate that any market or region will become a new and "hot" market for data center construction in 2020? If so, why?

Luke Smith: European markets are gaining attention because Europe has been primed to have a decent data center boom.

In the U.S., Northern Virginia is going to continue to be Northern Virginia. There are several markets like Phoenix, Dallas, California and Chicago where providers have been banking land, and they're ready to build to meet new demand.

There are also emerging data center markets in Africa and South America. Those are untapped markets that have potential, but the challenges of unreliable infrastructure and construction hinder how fast they can develop in those regions.

DCT: You mentioned green initiatives. Do you anticipate green initiatives playing a key role in data center design or driving end-user selection criteria in 2020? If so, what will be the factors driving data center owners and operators to lean into green?

Luke Smith: It's on the radar. It's something that our users are finding value in. They're getting pressed by outside entities and end users that want to understand and know their approach to renewable energy and environmental sustainability.

It will be a priority for most data center operators in 2020, especially if they're looking to compete in Europe, where that seems to be a larger area of interest and focus.

DCT: What do you anticipate will be the largest challenge facing data center owners and operators in 2020? What about data center consumers?

Luke Smith: The largest challenges for data center owners are the supply/demand balance, understanding market fundamentals and making decisions around those fundamentals. If a data center provider is making decisions that are going to impact their ability to serve customers down the road, they need to figure out and follow a strategy.

DCT: How do you see the mix of "build, buy, lease and hybrid" playing out in 2020? What do you think the mix will be?

David Liggitt: When it comes to hybrid infrastructure in 2020, it seems like the large cloud service providers are going to continue to operate with a dual strategy where they're going to utilize the capital building and operational expertise of the data center operators for infrastructure in areas like North America, Europe and Asia. We'll also continue to see that hybrid, co-location and cloud environments may continue to grow, which will feed opportunities for all of those companies.
If you missed the first two articles in this series featuring datacenterHawk, you can find them here:
datacenterHawk Discusses Challenges the Data Center Industry Faced in 2019
datacenterHawk on Data Center Trends in 2019
To learn more about Vantage Data Centers' wholesale data centers for hyperscalers, cloud providers and large enterprises, please visit www.vantage-dc.com.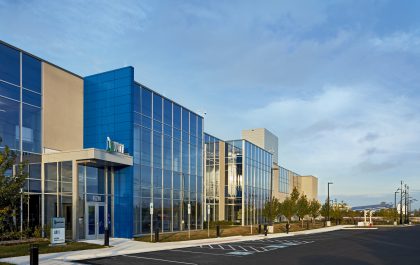 The Innovative Green Features of Vantage's VA1 Campus
In late October, Data Center Frontier kicked off a new content series called, "Greener Data," which is intended to explore the progress that data center...