In a previous article on Data Centers Today, we talked about the evolution of green data centers and how sustainability is becoming increasingly important in an industry that relies heavily on stable, reliable energy. In that article we also discussed some of the initial actions that data center owners and operators – including Vantage Data Centers – are undertaking to adapt their campuses and facilities to become more sustainable, and some of the major steps they're taking to encourage the introduction of more sustainable and renewable energy alternatives into the energy grid.
With so much focus on sustainability and environmental initiatives, it really shouldn't come as any surprise that Canada's second largest city is increasingly becoming a hotbed of data center development. And while it's certainly an important factor, it's not just renewable energy that's making Montreal an up-and-coming data center destination.

Let's look at some of the reasons why data center providers and operators are looking to America's neighbor to the north for data center development.

Green, greener, greenest

Green initiatives are important to today's data center providers and users. This makes Montreal a great data center destination. Why? There is an abundance of renewable and clean power available in Montreal that is offered inexpensively through local power utilities for data center providers. This means that the investment to go green and rely on renewable energy sources is relatively low in the Canadian markets.

For example, Montreal has access to energy from Hydro-Québec, a public utility established by the Government of Quebec, that not only gives data center providers in the province access to clean hydroelectric power, but does so at reasonable rates. And, for data center providers, the only power better than clean power is inexpensive, clean power.

But it's not just the low cost of energy that makes Montreal shine – it's the amount of energy that data center providers need. With a cool climate, the amount of energy spent cooling a data center in Montreal is far less than a warmer climate. For example, the average temperature in July in Montreal is about 6.5 degrees lower than in Virginia and a whopping 22 degrees below Phoenix. That cooler temperature means that outdoor air can be used much of the year to cool a data center for free.


Super smart

One of the linchpins of a strong data center market is a solid workforce. Data center operations require educated individuals with skill sets that span several different areas. They require individuals with electrical and mechanical engineering skills. They need individuals who have advanced backgrounds in math and finance. They need individuals who can operate, manage and maintain computer networks. And they need individuals who are business savvy and gifted leaders.

Montreal offers that in spades.

The Intelligent Community Forum (ICF), "…a global network of cities and regions with a think tank at its center [with a mission] to help communities use information and communications technology (ICT) to create inclusive prosperity, tackle social and governance challenges and enrich their quality of life," ranks major metropolitan areas by "Knowledge Workforce" each year. This ranking indicates which regions feature, "a labor force that creates economic value through its knowledge, skills and ability to use information effectively."

The most recent ranking put Montreal second among the ICF's global data set, with only its fellow Canadian city, Toronto, above it. The reason for this ranking? The city's impressive higher education institutions, which graduate more students each year than any other Canadian city. Also, the city's incredible transition from industrial city to high tech hub.


Reducing data border crossings

When data crosses a border from one nation into another, it can create some data privacy grey areas. The data of Canadian citizens isn't protected by stringent Canadian data privacy laws when it crosses the border into America. This has led many Canadian companies to look for data center providers that operate data centers within their own nation's borders.

Also, recent regulations limit the amount and types of data that can cross borders between nations, and the types of personal data that foreign companies can take out of a country. These regulations make it essential for companies that do business in Canada to store customer data and other records within the nation.

With an increased need for data centers in Canada to keep data within the nation's borders, the largest cities in the country – Montreal and Toronto – were destined to see an increase in data center development.
A connected city
Montreal is home to an abundant amount of fiber and QIX, one of Canada's 11 Internet Exchange Points (IXP), giving the city all the connectivity needed to reduce latency and keep businesses connected. Data center users benefit from the many telecom providers who have a presence in and around Montreal, in addition to convenient access to the United States and Europe via the subsea Atlantic fiber optics network.
Supply and demand

Finally, there wouldn't be data center development in a location if there wasn't demand for it. And Montreal certainly needs the data center space.

As the ICF ranking claims, "The region was hit by the decline of heavy industry in the eighties, and launched a large-scale transition of its economy to ICT, aerospace, life sciences, health technologies and clean tech." This transition has made Montreal a center for a number of high tech industries that rely on data center space – including hyperscale companies, artificial intelligence innovators and the video game industry.

According to a Cushman & Wakefield Canada Data Center Report, Montreal is home to "one of the largest clusters of video game developers in North America." And the city's emerging AI industry, "represents ideal long-term growth potential for the city's data center industry."

But not all that demand comes from Montreal, exclusively. The relatively centralized location of the city makes it a low-latency location to provide services to a number of key locations across the northeast, including Ottawa, Toronto, Boston and even New York City.

With so many high tech companies and industries in the immediate area in need of data center space, it's not surprising that Montreal's 23 data centers (with more on the way) have incredible absorption rates – with demand well outpacing vacancy and vacancy rates as low as 19 percent, as per Cushman & Wakefield's Canada Data Center Report.

Is Montreal the right location for your next data center project? Explore Vantage's Montreal data center campus today to learn more about the 11MW eco-friendly development featuring clean energy.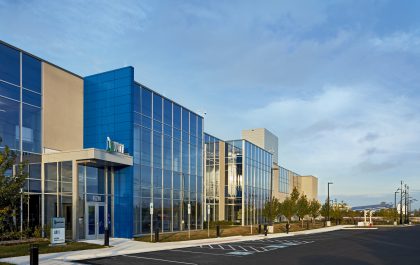 The Innovative Green Features of Vantage's VA1 Campus
In late October, Data Center Frontier kicked off a new content series called, "Greener Data," which is intended to explore the progress that data center...