Today, Vantage Data Centers acquired Etix Everywhere ("Etix"), an EMEA data center provider with more than 50MW of built data center capacity across its global footprint. This strategic acquisition is part of our larger expansion into a booming European market that analysts at datacenterHawk tabbed a hot market to watch in 2020.
Vantage DC Expansion Into Europe


When speaking of the news, our President and CEO Sureel Choksi noted, "As data center demand from our customer base continues to rapidly increase worldwide, Vantage is embarking upon its largest expansion ever into Europe through the development of five strategic markets."

The acquisition of Etix adds a 55MW hyperscale campus under development near Frankfurt, Germany, to Vantage's portfolio. This campus is key to our European expansion and gives us a footprint in what is widely considered one of Europe's most important data center markets.

A number of factors are shifting the attention of the data center industry to Frankfurt, including an economic boom, a large and vibrant financial services sector, the presence of the world's leading Internet Exchange and the availability of land for data center development. This perfect combination has made the region what Choksi called, "Europe's highest growth hyperscale market."

In addition to the campus in Frankfurt, we also announced the purchase of land for four greenfield developments in other European markets, including planned hyperscale data center campuses in Berlin, Milan, Warsaw and Zurich. Together, these five new hyperscale campuses in tier one and tier two European markets will nearly double the number of hyperscale campuses in our portfolio from six to 11.
This European expansion will give our customers in North America the ability to seamlessly grow their operations in Europe. Plus, the acquisition of Etix serves to expedite this expansion – decreasing the time to build our European footprint and giving us a valuable and experienced team of data center professionals in the market to help spearhead our growth.

Included in that team is Antoine Boniface, the former CEO of Etix, who has joined our executive team to serve as president, Vantage Data Centers, Europe. "The experience that Vantage brings with North American-based hyperscale, cloud and wholesale customers, combined with Etix's European experience and Frankfurt hyperscale campus, creates a compelling platform that is ideally positioned to serve customers across Europe," Boniface explained.

Vantage intends to invest USD $2 billion in our planned European expansion, including more than USD $800 million in new equity capital provided by current investors and a new commitment from Digital Colony Partners.
For additional information about Vantage Data Centers and our European expansion, click HERE.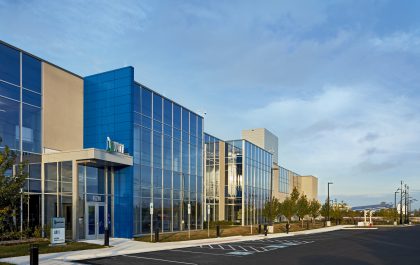 The Innovative Green Features of Vantage's VA1 Campus
In late October, Data Center Frontier kicked off a new content series called, "Greener Data," which is intended to explore the progress that data center...