Four markets have inarguably dominated data center construction in Europe over the past few years. Those markets – which are referred to as FLAP – include Frankfurt, London, Amsterdam and Paris, and they have long been the hottest markets for data center providers looking to build or expand their footprints in the EU.

Now, that's starting to change, and new secondary markets are emerging in Europe. Part of that demand is a result of hyperscale cloud companies looking to locate their IT infrastructure and data centers as close as possible to their user bases to reduce latency and serve endemic data locality requirements.

But a factor in this desire to branch out to other European markets is driven by something less technical – FLAP is getting tapped out when it comes to available real estate and power infrastructure. In fact, Amsterdam (the "A" in FLAP) even had a temporary moratorium on data center construction as land and power grew increasingly scarce in the region.

Where are the data centers going instead? One of the hot new markets was the focus of a previous spotlight article here on Data Centers Today – Warsaw, Poland. But Warsaw isn't alone.
Data Center Market Expansion in Europe


According to global real estate powerhouse, Cushman & Wakefield, there are 10 secondary markets in Europe that are experiencing increased data center development and demand. Included on this list are cities like Milan, Vienna and Madrid. However, we're going to focus on one market that's gaining significant attention and traction right now – Zurich, Switzerland.
In fact, last week Vantage Data Centers announced it has reached a major milestone with the completion of a data center shell and is scheduled to deliver its first greenfield European hyperscale data center in 2021. This facility is part of a growing campus located in Winterthur, Switzerland, which is just 25 kilometers northeast of Zurich. This development is part of the company's $2B European expansion and further illustrates just how rapidly the Zurich data center market is growing.
Let's look at why data center providers are no longer neutral to Switzerland's largest city.


High demand for hyperscale

Hyperscale companies, including cloud service providers and SaaS application providers, are increasingly turning to data center providers to meet their data center needs. As a result, data center providers look to build out their portfolios in markets where hyperscale companies want to add data center capacity.

And, with hyperscalers looking to have their infrastructure close to their user bases, data center providers are often determined to build facilities in places that are established business hubs where demand for hyperscale services are high and data privacy requirements demand a presence. This is very much the case in Zurich.

Zurich is among the most important banking and financial cities in the world. In Europe, it's widely considered the second most important financial services hub, behind only London. As a leader in embracing digital transformation, the financial services industry has a significant appetite for hyperscale services. This demand signal makes Zurich an important place for hyperscale companies to have a data center and could explain why companies such as Microsoft, Google and Oracle have worked to establish hubs in the region.

But Zurich isn't just the home of high-end banking institutions. The city also is home to a growing population of technology companies. Today, companies such as Apple, Facebook, IBM and Kayak have a presence in the city. The presence of these companies, coupled with the country's stringent data privacy and data security regulations, make having data centers within the country's borders incredibly important.


Centrally located and connected to everything

As we discussed, proximity to a user base is incredibly important for hyperscale companies – especially those hyperscalers with applications that can't tolerate latency. The geographic location of Switzerland – being a small, land-locked nation in the heart of central Europe – makes it an ideal place for data centers that need to service regions and cities in a number of different countries.

For some regions and cities in Germany, Zurich is closer than Frankfurt (The "F" in FLAP). For some regions and cities in France, Zurich is closer than Paris (The "P" in FLAP). This centralized location makes Zurich a data center destination that can service user bases in several different European countries. And this ability is enhanced by the country's impressive fiber connectivity.

Switzerland was a leader in Internet and connectivity adoption in Europe. Today, the country – and Zurich, its largest city – boast a number of dark fiber and fiber network operators and providers that offer flexibility and choice for data center providers and their customers. Between the centralized location and the presence of reliable, fast connectivity options, a data center in Zurich can service any country in Europe with very little latency.


A focus on training an educated tech workforce

With a total of 113 Nobel Prize winners and the world's largest particle physics lab, Switzerland has significant science and technology credentials. That reputation for incredible technology education continues today, making Switzerland a country with an incredibly competitive and skilled workforce.

Much of this can be attributed to the presence of the Swiss Federal Institute of Technology in Zurich (ETH Zurich). This institution is ranked among the best and most prestigious technical colleges and universities in world. In fact, ETH Zurich ranked fourth in the world for engineering and technology and second in Europe behind only Oxford in the 2020 QS World University Rankings.

With such a highly-skilled technical workforce, it's no surprise that Zurich would draw not just a large number of IT and technology companies, but both the hyperscale and data center companies that support their operations.


Green and getting greener

When it comes to data center site selection, markets with abundant energy are essential, and markets with abundant and inexpensive energy are preferred. But there is another energy consideration that is becoming increasingly important for both data center providers and their hyperscale customers – the availability of renewable and green energy.

For data center providers and hyperscalers looking to get greener in their operations, Zurich is a desirable option.

Approximately 60 percent of its energy was produced in hydropower plants in 2017, and a total of 68 percent of its energy was produced with renewables. More impressively, the percentage of energy from renewables is growing, illustrating a commitment to becoming greener in the coming years. From 2016 to 2017 that percentage rose from approximately 62 percent to 68 percent – a six percent increase in just one year's time.

While the FLAP markets continue to get much of the buzz and attention around data center development in Europe, there are smaller, secondary (Tier II) markets that are becoming essential for meeting the demands of increasingly digital industries reliant on hyperscale services. Much like Warsaw, Zurich is seeing an impressive increase in data center construction. This is why Cushman & Wakefield anticipate that Zurich's existing 62 megawatts of data center capacity will soon explode to 117 megawatts – and why it will only continue to grow from there.
To learn more about Vantage Data Centers' 40MW campus being developed near Zurich, please click here.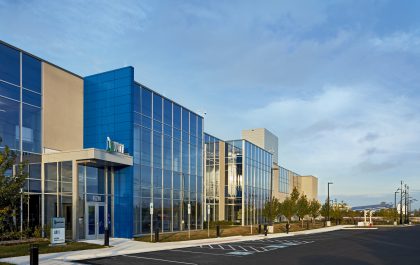 The Innovative Green Features of Vantage's VA1 Campus
In late October, Data Center Frontier kicked off a new content series called, "Greener Data," which is intended to explore the progress that data center…