Black Friday used to be a day when people would literally camp out in tents in front of big box stores, eagerly awaiting the opportunity to charge through the doors when they opened and grab steeply discounted items. Black Friday stories used to involve people being stampeded and trampled in store aisles and entryways as masses of deal-hungry shoppers crashed together to beat out their fellow consumers for low cost goods.

That's what it used to be. But it isn't the same today. Part of that could be due to retailers spreading their Black Friday deals out and making what was a single day event of consumerism into an almost week-long affair. But one of the other contributing factors is online shopping.
Black Friday Trends


Forbes reports that in recent years, online shopping during the weekend following Thanksgiving has been trending up. And shopping in brick-and-mortar stores during that same weekend has been trending down.

According to the National Retail Federation and Prosper Insights & Analytics, the five days from Thanksgiving to Cyber Monday saw a record number of consumers and shoppers. During that time, 190 million Americans went shopping, an increase of more than 24 million from last year. However, even Black Friday saw more online shoppers (93.2 million) than in-store shoppers (84.2 million).

In addition, Adobe Analytics reports that $9.4 billion was spent online on Cyber Monday, making it the biggest U.S. online shopping day of all time. An additional $7.4 billion was spent online on Black Friday. That was the third largest online sales day ever. So, two of the last three largest online shopping days happened during the weekend following this past Thanksgiving.

Unfortunately, it wasn't all good news for retailers over the Thanksgiving holiday. That's because not all retailers were prepared to handle the online traffic spikes that they experienced that weekend.

According to this article by CNBC, large national retailers, including Costco and H&M, saw website outages during what was the largest online spending day in history. And there's no way to really know what kind of financial impact that had on those companies. It's safe to assume that as this trend continues, and as online shopping continues to eclipse in-store shopping – especially on large shopping days like Black Friday and Cyber Monday – that retailers will look to ensure that similar outages never happen again. And that means opportunity for both data center providers and hyperscale companies.


More scalability and more infrastructure required

Many retailers will be looking to the cloud for their infrastructure requirements to ensure they have the capacity to handle the seasonal traffic spikes that come with the holiday season. In fact, it's the elastic nature of the platform that drives users to the cloud in the first place – the ability to ramp up their compute and network resources without the need to build a physical data center.

However, with the trend seeming to show online shopping overwhelmingly outpacing in-store holiday purchases, some larger retailers may be looking to build out their own infrastructure to prepare themselves for the future. In fact, David Liggitt of datacenterHawk even alluded to this in a recent article on Data Centers Today when he pointed to an increase in enterprise data center absorption in 2019.

For these large retail organizations looking to build out their infrastructure portfolio, the idea of constructing a data center could be considered too high of a hill to climb. From site selection to purchasing land and physically designing and building their own data center, the overhead and upfront cost of data center construction may invariably make it undesirable . . . not to mention the maintenance and expertise need to operate a data center on an ongoing basis

This is where leasing could be the better option. Instead of investing large amounts of capital and waiting while the site is purchased, permits acquired and construction completed, large online retail organizations can lease space in existing data centers – built by operators that specialize in data center development and management – and utilize that data center space much more quickly.

Leasing could also be a solid option for cloud providers ranging from small to large hyperscale companies that serve smaller retailers. Cloud companies are increasingly turning to data center providers to help them meet their scalability requirements. Leased data center space enables them to more quickly ramp and scale up to meet the spikes in demand for their services – which could be a result of retailers looking to scale up their cloud resources to handle an ever-increasing sea of online shoppers.

Regardless of how you slice it, this is a great holiday season for retailers. And an even better – record-breaking – one for retailers that sell online. But as online shopping continues to eclipse in-store spending, the need for both cloud infrastructure and data center space will only increase – whether that's driven by the retailers themselves or the cloud companies that service them.

To learn more about Vantage's wholesale data centers and how they can help your business scale, click here.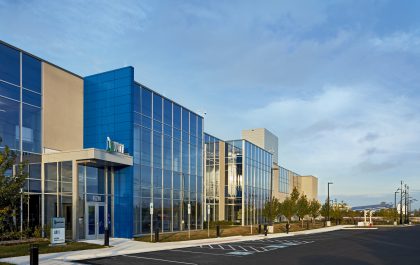 The Innovative Green Features of Vantage's VA1 Campus
In late October, Data Center Frontier kicked off a new content series called, "Greener Data," which is intended to explore the progress that data center…