The global economy may be in a downturn, but data center careers are plentiful and available for qualified candidates – Matt Souders, director of construction at Vantage Data Centers, explains why.

The ongoing COVID-19 pandemic has hit our economy particularly hard. Across the globe, many nonessential companies have been asked to close in an attempt to help flatten the curve and reduce the spread of the virus. This has led to many companies laying people off and near-record unemployment numbers.
In a situation like this, it can be difficult to find a positive story. But in the data center industry, there is one.
If the COVID-19 pandemic has revealed anything about our society, it's exposed how desperately reliant we all are on technology in our daily lives. And technology has played a significant role in helping everyone cope with the ongoing pandemic, both personally and professionally.
Video services, such as Netflix and Hulu, are keeping people entertained and consistently giving them new content to take their minds off government stay-at-home orders. Video teleconferencing solutions, such as Microsoft Teams and Zoom, are helping companies stay connected and enabling collaboration between teams that are geographically separated. And today's advanced cloud-based storage and VPN solutions are enabling those who are still working to do so from anywhere.
This intense need for technology solutions may be exacerbated by the current pandemic, but it's not going away – even after the virus is gone. And the need for these solutions is driving companies to bolster their IT and network infrastructure to meet demand. This means that the need for data centers is increasing. And, chances are, it will only increase more over time.
Every time we turn around there is a new device or a new platform that consumes data. Each new device or platform requires the expansion of data center infrastructure, which is keeping the data center industry growing. Even as other market sectors slow down and as the economy enters a downturn, the data center industry continues to grow.
For those who are looking for stable, consistent work in an industry that's growing, perhaps the data center sector is your next move. But what do data center careers look like? Let's take a deeper dive into the kinds of work available in the industry and the skills needed to excel in these jobs.
It takes a village
When people think about data center employees, they most likely picture the network engineers and IT professionals that keep the racks of servers and networking equipment operating. The people that "keep the lights on" for the actual technology that fills the rooms of a data center.
What they may not think about are the electrical engineers. The maintenance and operations professionals. The sales, marketing and finance teams. The application developers. The security and janitorial staff. These jobs are all necessary to keep a data center and a data center provider operating successfully.
Many data center operators – especially Vantage Data Centers – perform the majority of their equipment maintenance and repair with their own employees. This means that there needs to be an on-site maintenance staff that is skilled, knowledgeable and capable of repairing any number of mechanical systems – from electrical to cooling. These systems are mission-critical and maintaining them is essential to the service that data center providers offer their customers.
Then there are the construction personnel that work to build and expand data center facilities. At Vantage, for example, each eight-megawatt data center expansion requires up to 150 staff members and contractors. That is a sizeable workforce for each expansion, and that work is continuing during the ongoing pandemic response due to the essential nature of technology and digital infrastructure.
It takes many employees with a wide range of skills and abilities to build a data center and keep it operating. And these jobs aren't just limited to Tier 1 markets such as Silicon Valley and Northern Virginia's "Data Center Alley." As our recent European expansion illustrates, these jobs are located around the globe – with hotbeds of data center construction in markets such as Montreal and Frankfurt. But what does it take to land a data center career?
Skills, experience and adaptability
The data center industry is expanding exponentially. With so many people needed to build facilities and keep them operating 24x7x365, there is an immense need for skilled and talented individuals. Experience is essential for data center employees since their work is critical to the success of customers using these services. For example, a prolonged loss of power or cooling could severely impact the businesses of many large cloud providers and temporarily cause an outage of applications that people rely on every day.
But experience isn't the only attribute needed to be successful in the industry. At Vantage, we're also looking for people who are the right cultural fit for the organization since our employees work closely together to perform such critical tasks. We value individuals who are adaptable, are quick on their feet and can handle change. Should there be multiple challenges or problems within a data center, employees need to know how to quickly prioritize and work fast to ensure that the most critical issue is resolved quickly.
Individuals with the right mix of ability, skill, knowledge, experience and adaptability will always be in high demand in the workforce . . . and especially within the data center industry.
For those looking for data center careers who may be concerned they don't have the necessary skills, there are numerous resources available to help. There are a variety of online courses to take, as well as new programs that are being introduced specifically to train individuals for data center careers. Northern Virginia Community College is one of a number of educational institutions in data center hotspots that have introduced data center training and degree programs. There are also certifications and training programs available via the Uptime Institute and AFCOM.
The opportunities for work in the data center sector are vast, and the industry is full speed ahead even in difficult economic times. If you're interested in pursuing a career at Vantage, check out our available global jobs today.
Matt Souders
A construction leader with more than 15 years of experience, Matt Souders servers as director of construction at Vantage Data Centers where he is currently spearheading the company's 142MW campus development in Northern Virginia. Prior to joining Vantage, he worked as a senior project manager for international construction services company, Turner Construction.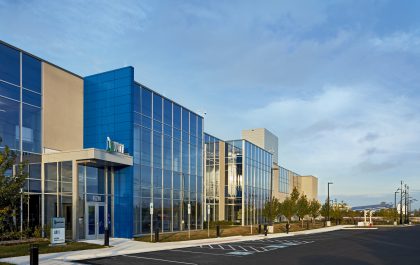 The Innovative Green Features of Vantage's VA1 Campus
In late October, Data Center Frontier kicked off a new content series called, "Greener Data," which is intended to explore the progress that data center...