There are a number of considerations that hyperscalers, cloud providers and large enterprises need to keep in mind when looking to lease data center space from a data center provider. Is the data center in a market and physical location that makes sense for their company? Does it meet their standards for redundant power and connectivity? These are all important questions that data center consumers should ask to determine if the physical data center meets their needs.
But what about the data center provider itself?
Selecting a Data Center
There are several important questions that data center consumers could and should be asking of their data center providers that could be just as important as the ones listed above. And these questions have nothing to do with data center location, power redundancy or fiber connectivity. These are questions about corporate culture and priorities. And the most important of those questions involves safety and what, specifically, a data center provider is doing to foster a safe and healthy work environment in their data center operations and construction sites.
Why should the environmental, health and safety program of a data center provider be an important consideration in selecting your next provider? There are two very good reasons:
Having a safe and healthy work environment is just the right thing to do and is indicative that the provider understands health and safety are key drivers for success.
A safe and healthy environment is one with fewer disruptions, and disruptions are something that every data center provider should be looking to mitigate.
When working with a data center provider, organizations entrust that provider with a lot more than just their data, applications and critical workloads. They're entrusting that data center provider with their people. This is something that many people outside of the industry don't think about – data center consumers oftentimes place their employees in a third-party data center to install their data center equipment and then keep the lights on.
But how can you gauge a data center provider's commitment to health and safety?
Here are five things to look for in a data center provider that indicate health and safety are among their top priorities:
1. Do they have a dedicated safety program with a dedicated individual leading it?
This may seem simplistic, but it's one of the most transparent indicators of just how important health and safety are to an organization. A data center provider that puts health and safety first will establish a dedicated safety program that incorporates buy-in from all individuals to be advocates for safety and places a senior team member in charge of the program.
More importantly, the entire organization will buy into that program, including the senior executive team. Afterall, a health and safety program with no one at the helm, no authority to enforce it, and no executive buy-in to provide the resources necessary to implement it will ultimately just be window dressing.
In addition, data center consumers should ask providers who their safety program empowers to make health and safety decisions. Is it only health and safety personnel? Executives?
At Vantage, it's anyone and everyone. It's written in our Employee Bill of Rights that every employee is authorized to stop work if things are being done in an unsafe or hazardous way.
For us, the potential problem of someone mistaking a safe activity for an unsafe one and stopping work is well outweighed by the risk of someone seeing something unsafe and ignoring it. And we would expect any data center provider who considers health and safety to be a priority to think similarly.
2. Do they measure the effectiveness of their health and safety programs and back up their promises with metrics?
It's one thing to put a health and safety program in place and say that you take health and safety seriously. It's another thing to be constantly measuring the effectiveness of that program and using the data and lessons-learned to shape and improve policies moving forward.
Data center providers who take health and safety seriously will find ways to measure their health and safety procedures and policies. And they'll work to measure them beyond just counting incidents, calculating incident rates or establishing the time lost because of incidents. They'll analyze the data that they generate to identify indicators that lead to safety incidents, and then work to proactively mitigate problems before they lead to safety incidents.
Health and safety programs should be about eliminating incidents, not just counting them. A data center provider who puts health and safety first will implement metrics and measurement systems, and then use that data to help eliminate incidents in the future.
3. Do they utilize technology to keep employees safe?
It's common knowledge that construction sites can be dangerous places. There's a reason why hardhats are required. But technology can help make them safer, and help keep people out of danger in the first place.
At times, data center customers will dispatch their employees to construction sites to check on progress. At Vantage, we've started to enable these site visits with real-time streaming video. This keeps our customers' employees out of dangerous construction sites, while still giving them the access they need to gauge progress. These video visits are also conducted utilizing ruggedized RealWear hands-free hardware so that individuals on site can stay focused on what's happening around them and not fussing with a mobile device.
But video is not just for site visits. Streaming video monitoring is utilized on all our construction sites so that health and safety teams and other stakeholders can see what's happening at our campuses across the globe from a centralized location, ensuring that all health and safety protocols and procedures are being followed.
These are just a couple examples of how new technologies can and should be utilized in both data center construction and data center operations to help enforce policies and keep employees safe.
4. Do they collaborate with you on health and safety?
Not only should data center providers actively communicate their health and safety procedures and policies with customers and employees, but they should also actively collaborate with them to help craft these policies. They should also be sharing lessons learned and metrics from measuring their health and safety initiatives so that everyone benefits from them.
A relationship with a data center provider can be a vendor relationship or a partnership. The best relationships between end users and data center providers are active partnerships, where both parties are invested in safe outcomes.
5. Do they know health and safety regulations? Are they in compliance?
This may seem like the most obvious consideration on this list, but it's still important to discuss.
Almost every country on earth has its own set of health and safety regulations for companies, worksites and construction sites. The disparate regulations from country to country can create challenges and confusion for data center providers, which often operate data center campuses and construction sites in multiple countries. It can be difficult to keep track of these disparate health and safety regulations when operations begin to cross continents and oceans – especially for data center providers who don't prioritize or value health and safety.
A data center provider who holds health and safety as a fundamental value and principle will take the time to know and understand all the disparate health and safety regulations that they're held to. But they'll also take it a step further.
When operating in different countries, data center providers are ultimately going to face regulations that vary from strict to lenient. Some countries may require things that others don't. A data center provider who prizes health and safety will standardize on – or even exceed – the most stringent of health and safety requirements across all their data center campuses and construction sites.
We say "exceed" because data centers do have some known hazards – including operating at height and working with high voltage – that are incredibly dangerous but may not necessarily be regulated. A data center provider who considers health and safety to be a top priority will use its knowledge and experience developing and operating data centers to identify these risks, and then create its own policies to keep everyone safe.
To learn more about the environmental, health and safety program at Vantage Data Centers, click HERE.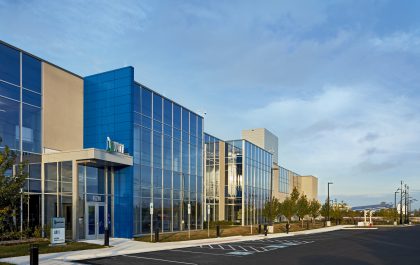 The Innovative Green Features of Vantage's VA1 Campus
In late October, Data Center Frontier kicked off a new content series called, "Greener Data," which is intended to explore the progress that data center...