The skylines of data center "hotspots" around the globe might look different now than how you previously remember. Landscapes once dotted with short, sprawling one-story data center buildings and campuses may suddenly appear taller.
Do not be surprised by the shift. As the industry evolves and embraces height, some operators have begun moving away from single-story construction with shifts toward multistory facilities. This turn to the multistory model provides opportunities for data center providers to maximize computing power density by "building up" rather than purchasing additional land to construct single-story buildings.
Building up the Multistory Data Center
It makes sense that providers may want or need to expand vertically with the world becoming more connected and exponentially reliant on applications and network-enabled systems. Increasing reliance naturally equates to increasing demand for computing power.
But what drives the need for a data center provider to build up versus purchasing additional land for one-story facilities? Is land for purchase now scarce or cost-prohibitive? Do cost benefits exist by going with the multistory route? And what goes into the construction and operation of a data center with multiple levels?
Here are key trends behind the multistory data center:
The multistory model
Until as recently as last year, single-story data centers were generally the industry norm across North America outside of downtown city centers. But the market has witnessed a rapid shift towards providers elevating their facilities to two or more stories, especially in Northern Virginia, California, and even Oregon and Arizona.
Recent spikes in land prices drive most of this embrace of the multistory model. This costly seismic shift has affected nearly every major market in the industrial sector—stemming largely from the current state of the world's supply chains and, in some markets, real land scarcity. With international supply chains still recovering from the destabilizing COVID-19 pandemic, increased competition for land is now being fought by enterprises and industries around the world.
Data center providers who historically flourished on land purchased at affordable rates now face land prices of $500,000 – $1,000,000 per acre in many US markets. In the case of Northern Virginia, average prices of land per acre previously sat around $1,000,000 12 to 24 months ago. Today, that figure now heads north of $3,000,000 per acre.
When land prices increase to such heights, providers face increasing difficulties with budget economics. As a result of this price squeeze, data center providers turn to the multistory model for economic respite.
Even though building up may save providers' budgets on land costs, constructing and operating data centers with two or more floors creates its own set of unique budgetary challenges, some of which may reduce cost savings from purchasing less acreage.
Money saved, money spent
There exists a true benefit from multistory—giving data center operators and providers more computing power in a smaller footprint. But, by nature, constructing and operating a data center become much easier within a single story. As one adds more stories and floors, so increases the list of complexities and complications.


For providers who choose to build up, one main consideration becomes cost of structure, as costs will increase with each added floor. This directly correlates to weight requirements for data center floor loading, which vary vastly from a typical office building.

Normal office buildings feature lower weight requirements for each story; data centers exist as an entirely different animal. The average data center contains multiple two-foot by four-foot server racks ranging from 2,000 to 5,000 pounds, typically stacked side-by-side in rows. With such a concentration of heavy racks, weight loads per floor plate reach extremely high. Meeting floor requirements for such immense weights translates into costly expenses on upper floor support.
These added expenses and building requirements for the multistory model vary by region. On the West Coast, costs grow astronomically higher as you build up due to strict seismic building regulations and requirements by which providers must abide.
In addition to weight requirements that accompany building up, providers must also consider cooling differences between single-story and multistory. For many data centers that employ direct-air cooling, scaling that cooling method becomes more complicated and more expensive for multistory spaces.
When building a single-story data center, warm and exhaust air typically travels straight up to vents through the roof. With a multistory data center, that becomes more challenging. Instead, airflow routes snake around the data center space above. This requires more HVAC materials, different designs and skilled craftsmen for installation, further increasing the data center's price tag.
Data center providers who consider building up must also review the impact of accommodating cable routing throughout different floors. Providers should create dedicated spaces inside the multistory data center to route cabling, including cooling routes, electrical conduit and telecommunication cables.
Providers must take note of current commodity prices. Not only has the price of land increased, but so too have costs for electrical, copper and aluminum. And constructing a multistory facility means purchasing more material. The taller a data center, the longer the runs of cabling that create additional cost, coupled with the multiplier of additional labor for installation.
Location, location, location
It's important to understand that even with affordable land available to build the optimal single-story data center, finding land available where providers need it can prove difficult. Data center providers typically require relative proximity to sufficient telecommunications and power infrastructure. Unless providers bring in more high voltage transmission lines—which create substantial cost impacts, complexity and controversy among neighboring landowners—they may have to think twice before purchasing sites. Even with land readily available and affordable, without access to power and telecommunications lines on-site, it could be impossible to build on a property. This becomes yet another influencing factor in the rise of the multistory data center model.
As affordable and desirably located land begins to wane in the U.S., expect to see a rapid increase in data centers that have two or more stories. Needless to say, if land was an infinite resource, affordable and desirably located, data center providers would most likely stick with the tried-and-true single-story model.
To learn about Vantage Data Centers' campuses located across North America, EMEA and APAC, click here.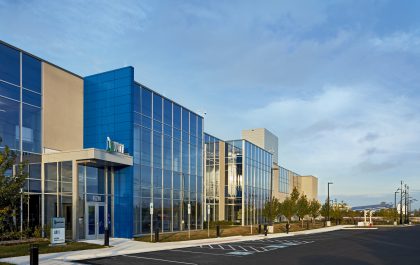 The Innovative Green Features of Vantage's VA1 Campus
In late October, Data Center Frontier kicked off a new content series called, "Greener Data," which is intended to explore the progress that data center...