Construction Safety Week 2023, an annual event designed and intended to increase the environmental health and safety of construction sites across the world, took place the first week of May in North America. Vantage Data Centers is one of many companies that participate – leveraging the week to educate employees on the need for vigilance and a focus on health and safety on its construction sites in addition to the management and operations of its many data center campuses.
This is the first Construction Safety Week for Vantage since the company announced its exciting and aggressive environmental health and safety strategy, Vision Zero. This initiative was created to drive environmental health and safety incidents across the company's construction sites and data centers towards zero.
To learn more about Vision Zero, the disparate components, the steps in the strategy and how the company plans to make its workplaces incident free, we sat down with Trey Dean, vice president of global environmental health and safety at Vantage.
Data Centers Today (DCT): What is "Vision Zero?" When was it introduced, and where is Vantage in its implementation?
Trey Dean: Vision Zero is our strategy to eliminate all environmental health and safety incidents across the organization. It's our programmatic approach to safety that is comprised of a number of elements – including preparation, communication and transparency – that illustrates our commitment to the health and safety of our employees.
We officially introduced Vision Zero in the fourth quarter of 2022 and are in the initial stages. Our current focus during the first half of this year is on communication for safety and ensuring that safety at the point of operation is being appropriately considered.
As part of this focus, we're working to plan for safety at the task level. We're working to identify any specific hazards in the work area and ensure that they are accounted for each and every time. We're also working to recognize when conditions change, and to raise risk awareness for so-called "plan B" activities (those activities that are not part of the original plan) that are the cause of many workplace incidents.
DCT: What types of incidents is Vantage looking to reduce with Vision Zero?
Trey Dean: Without safety, nothing else matters. So, we're looking to reduce all incidents across all areas of our business.
This includes incidents where first aid needs to be administered and both "recordable near miss" and "high-potential near miss" incidents. That means that we're not just focused on incidents that result in injury, we're also focused on eliminating incidents that have the potential to result in injury.
By ensuring that we are focused on planning, communicating and assessing risks related to "high-potential near-miss" incidents, we can ensure everyone has the requisite risk awareness to avoid injury. We also hope to prepare our employees with the tools and knowledge they need to control hazards – appropriately – through applicable work methods and training.
While our goal is to function at a world-class level, safety-wise, it's important that we get the basics right every time. And those basics always include planning, communicating and measuring.
DCT: What are the components of "Vision Zero?"
Trey Dean: There are several strategic activities or components of Vision Zero. Each of these components is designed to help us assess how the organization is performing in regard to environmental health and safety, and then make positive progress towards eliminating all incidents.
The first component is essential and involves conducting environmental health and safety assessments. These assessments are designed to give us more transparency and understanding into where we are as an organization – and where each of our global facilities is – when it comes to environmental health and safety. This will illustrate where we need to improve, which can then be used to develop strategic plans and create a standardized environmental health and safety process that can be replicated across the entire global organization.
The next component involves recognizing those who are committed to health and safety. We're accomplishing that with the launch of the Vision Zero Environmental Health and Safety Award Program. This annual award will recognize teams, employees and partners who exhibit excellence in environmental, health, safety and wellbeing management.
Next, we're looking to ensure that all new employees and partners who join the team understand our Vision Zero approach to health and safety. This includes the creation of an online induction program that delivers consistent messaging, shares our health and safety expectations, and raises awareness of our focus on eliminating incidents.
At the leadership level, we have created a "Just Culture" model that will further support a culture of fairness, openness and learning. This culture will make employees and partners feel confident to speak up when things go wrong rather than fearing blame. We're also launching an environmental health and safety senior leadership team to help the organization develop an effective, robust health and safety culture.
DCT: What are the steps that Vantage will be taking to reach its goal of zero health and safety incidents?
Trey Dean: We want to focus on the full lifecycle of safety on our projects and in our facilities, from design to construction and facility management.
This means working with our design and engineering teams to ensure that safety is considered during the design process. This also ensures that we are engineering hazards out of the facility from the beginning.
As the construction process begins, we will engage and align with our contractors early in the process to establish a focus on safety. Part of that engagement will include the development of a robust assurance process and a resilient safety program that evolves as the project progresses.
Then, as we transition to an operational facility, we will introduce relevant policies and procedures to our operational personnel. All of this will be coupled with safety leadership training, site visits and visibility by our executive leadership team. We will also leverage insights from our digital platform to continuously improve our safety training and to reinforce safety concepts. This will help us to battle complacency.
DCT: What challenges or roadblocks does this vision face? Are there any unique challenges that the global nature of the company creates?
Trey Dean: Our rapid expansion and large geographical footprint are inherently challenging when managing a global program. It comes with the territory.
However, we have managed to find an effective balance of global and regional initiatives and policies that have enabled us to overcome these challenges. Part of finding that balance involved the knowledge and experience of our environmental health and safety professionals, as well as the professionals that we work with in both construction and operations.
Our experience has taught us that safety communication is critical to our success. This means that even before we roll out a new initiative or process, we communicate with all the necessary stake holders. We ask them to perform a "sanity check" to make sure that every angle has been considered and processes are both reasonable and enforceable. We also reach out to stakeholders across disparate regions to confirm that a process works in that region.
We need to validate that a process that was conceived in North America and developed in Germany will work in Japan. If a process won't work globally, we will then regionalize it as necessary. In most instances, we will start with a global standard and stick to that whenever possible. However, we understand that deviations will be necessary since not all policies can be implemented and enforced in all regions.
As it relates to our Vision Zero initiative, the primary challenge is education. This is a relatively new initiative, and we're still helping some of our newer markets understand what we expect from them, what they can expect from us and what needs to be improved.
DCT: Construction Safety Week in North America is this month. How is the company recognizing this event?
Trey Dean: This is our first Construction Safety Week since the introduction of Vision Zero, and we're incredibly excited for what we have planned. We have a full week of activities scheduled, with engagement from our contractor partners. We will be conducting a variety of training exercises, safety talks and appreciation lunches with giveaways.
One aspect of Construction Safety Week at Vantage that I personally think is special is our executive engagement. Each year we ask members of our senior leadership team to travel to the disparate active construction projects across our portfolio. These executives use that opportunity to speak with everyone on the site and to educate them more about our commitment to environmental health and safety.
To learn more about Vantage's safety program, visit www.vantage-dc.com.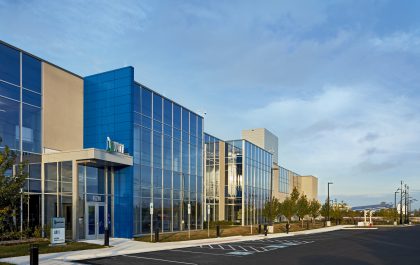 The Innovative Green Features of Vantage's VA1 Campus
In late October, Data Center Frontier kicked off a new content series called, "Greener Data," which is intended to explore the progress that data center…