Juneteenth is an American holiday commemorating the day when the last enslaved people in the United States were informed of their freedom. It is an important day for African Americans–and now a federal holiday–that many companies recognize and celebrate. However, inclusion and equity aren't achieved by just recognizing a holiday. They require real work and ensuring that all minority groups have their voices heard in the workplace.
In an effort to increase equity and inclusivity within the organization, last year Vantage Data Centers introduced a new affinity group, the Black Employee Network (BEN), as part of its Justice, Equity, Diversity and Inclusion (JEDI) Council. This network is intended to provide a safe space for Vantage employees to share their experiences, discuss workplace challenges and propose ways to increase inclusivity across the organization.
To learn more about how Vantage commemorated Juneteenth and the goals of the Black Employee Network, we sat down with the group's co-chairs, Simone Benn, data center lease manager, and Jean-Yves Cadeus, senior marketing manager, at Vantage Data Centers.
Data Centers Today (DCT): What inspired the creation of the Black Employee Network at Vantage Data Centers, and what are its primary objectives?
Simone Benn: The concept originated with the murder of George Floyd. This incident led to many companies reflecting on the experience of their black employees and what those employees deal with day to day.
First and foremost, this network is intended to be a safe space for our black employees, where we can focus on issues that affect us both within and outside the organization.
The primary priorities of BEN are twofold: we have identified training and professional development along with community engagement. While the Black Employee Network is still in its infancy, with continued support and growth, we believe it will have a positive impact on the lives of our black employees.
Jean-Yves Cadeus: The company started an initiative called the Justice, Equity, Diversity and Inclusion Council which addresses many topics. As the company grew, people began to request subgroups within JEDI that would address the specific needs of different communities. That's why we created the Black Employee Network.
Similar to what Simone said, I believe the primary purpose of this group is to be a safe space. The George Floyd murder occurred, and many black people felt distressed. We wanted a psychologically safe space to talk about these issues if a similar event happened in the future.
There is also the professional side. We have identified some areas within the company where we can improve diversity. Are minorities receiving every resource they need in terms of development? Are we attracting talent at a higher level? Are losing people during the recruitment process?
I believe the Black Employee Network could be an ally to address those issues and ensure we progress.
DCT: As Juneteenth approaches, could you provide us with a brief overview of what Juneteenth signifies?
Simone Benn: Juneteenth is not only a celebration of the end of slavery but also a reminder of the ongoing fight for racial equality and justice. It is a time to reflect on the progress we have made and the work that still needs to be done. This day serves as a call-to-action for all of us to continue to fight against racism and discrimination in all its forms. It's imperative for us to recognize this day, not only as individuals, but also as a company.
With the Black Employee Network, we have an opportunity to stand up and raise the bar regarding how organizations recognize and celebrate this important day in history. As we celebrate Juneteenth, let us remember the sacrifices and struggles of our ancestors and honor their legacy by continuing to work toward a more just and equitable society. There has been a lot of progress and change, but there is much further to go. We all need to do better. We all need to work collectively to make these changes happen.
Jean-Yves Cadeus: I live in Canada. Some people would say that Juneteenth is a U.S.-centric celebration, but it's not. Juneteenth is a black celebration; slavery didn't stop at the borders of the U.S. It was a global issue. For me, Juneteenth is celebrating the independence of black people.
DCT: How does the Black Employee Network plan to commemorate Juneteenth within Vantage Data Centers and beyond?
Simone Benn: We are hosting a series of local events at our U.S. locations. These events include a barbecue, an overview of the importance of Juneteenth and a newsletter that lists local black-owned businesses. We are also planning to participate in the Freedom March, which is being organized in partnership with the NAACP and Loudoun County Freedom Center on Juneteenth. I am very excited about the march coming up and hope all the Black Employee Network members and allies here in Virginia will participate with their families. It's imperative that we are in the community and let our voices be heard. It's also important that we are good stewards of our local communities and collaborate with them on fostering a partnership. After all, we are celebrating a shared history.
DCT: How has the Black Employee Network at Vantage positively impacted the experiences of black employees within the company?
Simone Benn: The Black Employee Network allows us to collectively meet to freely share our challenges. As we grow and become more established, we will be empowered to take these challenges to the highest level of the organization. I believe this group of employees being transparent and saying, "We have identified items that are important to us. Let's speak and see how we can bridge this gap," is crucial. It's about having this uncomfortable conversation in a comfortable and safe environment without fear of repercussion.
We already have a small population of black employees, so it's critical to hear those voices, listen and be an ally to support them, not only when we're in the room, but even more so, when we're not in the room by questioning, "Why are they not at the table?"
DCT: What steps has Vantage taken to foster a culture of diversity, equity and inclusion throughout the organization?
Jean-Yves Cadeus: There has been progress made, even when compared to just three years ago. Putting the JEDI Council in place was a step forward because it facilitated the conversation we are having now. This subgroup is another step in the right direction. There is still work to do, but those two initiatives signify positive progress.
DCT: What advice would you give to other companies looking to establish similar employee resource networks?
Simone Benn: My recommendation starts by understanding the current company culture and appetite for having an employee resource group (ERG). Can the ERG enhance the corporate climate? Will it align with the company's ESG standards? This can be done by opening a dialogue with one or two people. I would suggest seeking an executive sponsor or support from the leadership team. This support is critical to getting the program off the ground.
Decide what this group can accomplish in an ideal environment in six to 12 months and the commitment level from all interested parties.
Know that this is not a "one-and-done," and that it will take sweat and tears to make this happen–but it can be done. Get that executive support from the start and throughout–not just on a holiday or celebration.
DCT: How do you envision the future growth and impact of the Black Employee Network?
Simone Benn: We want to come to the table to share our challenges and have our voices be heard. And not only will we be coming to the table with challenges, but we will also be coming to the table with possible solutions. Members of the Black Employee Network are all active in associations and groups outside of Vantage, which could be beneficial.
We can help Vantage grow, and we can also help Vantage see things through a different-colored lens. We can bring organizational issues and challenges to our roundtables and provide immediate feedback. The company's leaders won't have to wait for a survey to come out; they are getting instant feedback because we feel safe enough to have these discussions.
Jean-Yves Cadeus: I would like Vantage to see the Black Employee Network as an ally. When we talk about environmental, social and corporate governance (ESG), not everyone is comfortable discussing the "social" issues. Vantage can turn to these subgroups that are in the communities that know the issues. Take a bottoms-up approach, identify and provide the proper resources. I believe the employees' involvement on the ground is crucial to achieve the "S" in ESG.
DCT: Lastly, how can individuals outside Vantage Data Centers get involved or support the Black Employee Network's initiatives?
Simone Benn: The number one thing is to be an ally. Support us, work with us to build a bigger and better community. The more we're involved in the community and invited into new spaces, the more the Black Employee Network can build a partnership that will increase our presence as a company that supports its employees and the communities in which we live and work. We encourage individuals to not only establish allyship with us but promote allyship with other employee resource groups in the area.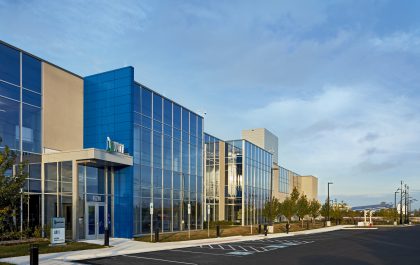 The Innovative Green Features of Vantage's VA1 Campus
In late October, Data Center Frontier kicked off a new content series called, "Greener Data," which is intended to explore the progress that data center...