A number of the world's largest technology companies and data center owners and operators have come together to form a new trade association called the Data Center Coalition (DCC). This new Virginia-based coalition was established just a few months ago and serves to advance the interest of the companies that build, own and operate data centers.

It makes sense that the Data Center Coalition would call Virginia its home. Northern Virginia – especially the Ashburn area – is often referred to as "Data Center Alley." All told, Virginia is home to almost 20 million square feet of data centers when you include those that are already built and those in development.

What may not be as clear for some is why these companies need their own coalition, and what – exactly – the trade association will be doing to advance their interests.

To learn more about the new Data Center Coalition, we sat down with Josh Levi, the organization's president. During our discussion, we asked Josh about what companies make up its membership, what the mission of the coalition will be and why its necessary in today's data center sector.



Interview with Josh Levi
Data Centers Today (DCT): What is the Data Center Coalition and what organizations are a part of it? Who should want to be a part of it moving forward?

Josh Levi: The Data Center Coalition is a non-profit trade association that we established in July 2019 to serve as the voice of the data center sector. DCC will represent and advance the interests of the data center community.

We advocate for business climate policies and advancement that support the growth and success of data centers. We also aggregate and promote the expertise and thought leadership from the industry to help educate state and local government officials, economic developers, policy makers, community leaders and other stakeholders about data centers and the economic and community building impact of the data center sector.

DCC is governed by a 14 person board of directors representing the organization's founding member companies. Our founders are all data center owners or operators, including the largest  enterprise owner-operators and other key multi-tenant data centers. Our members are indicated on our website. The coalition is headquartered in the Commonwealth of Virginia, which is home to the largest data center market in the world.

This is an organization that serves as the voice for data center owners and operators. If you are a data center owner or operator, we very much hope that you will participate in the coalition. We also have received strong interest from other companies who share our mission and goals and would like to contribute. The board will be working over the next few months to ascertain ways in which others that want to support the success of the data center sector can also participate in the organization.

DCT: How did the Data Center Coalition come into existence? Where did the concept come from? Why is it necessary today?

Josh Levi: We've seen data centers reflect a new business model – part technology, part energy and part real estate. They are clearly their own sector of the economy, and that has resulted in some unique business models, challenges and risks.

The industry leaders that have helped to establish the Data Center Coalition have seen a need and opportunity to organize and leverage the collective voice of the industry. There is a lack of clarity and knowledge into what data centers are and what they do. Their business models, their contributions and their impacts are not fully recognized by many stakeholders.

However, at the same time, there is tremendous interest and inquiries from states and localities around the country primarily driven by the recognition that data centers can provide significant tax revenue. We get many incoming questions about how a state or local area can attract a data center and what a data center would need to be competitive. Ideally, the Data Center Coalition will help to address those questions.

DCT: What do you anticipate being the mission and function of the Data Center Coalition? Will it simply serve to advocate for the data center industry? What other functions will it serve?

Josh Levi: We convene data center owners and operators, establish a neutral forum for discussion and encourage consensus among our members. We provide a strong and consistent voice for the data center industry before state and local policy makers and government officials. We're going to form coalitions around key issues, not just with data centers, but with others that share those priorities and want to help move them forward. And we educate policy makers and other stakeholders about the impact of the data center sector.

We also identify opportunities for data center owners and operators to give back and contribute to the communities where their employees live and work and help to share all the wonderful things data centers are doing in their local communities. A lot of data center employees are active and engaged in their local communities, but there's not a lot of visibility around those efforts, and we want to ensure that people know about the important contributions our members make.

Looking at some of the key issues that we're going to be focusing on, they include maintaining a competitive tax structure, providing competitive energy rates, encouraging reliable grid infrastructure, encouraging grid modernization, helping promote renewable energy policies that ensure fast and affordable access to clean energy, supporting workforce development in both construction and operations, supporting deployment of fiber and encouraging business-friendly policies for land use and permitting processes.

Since we launched a few months ago, we have spent a large amount of time meeting with local and state policy makers to educate them on the industry, what we bring to the table and what we need for growth and competitiveness. We've also organized data center tours for local stakeholders interested in learning more about what data centers do and what they bring to the community.

In fact, we recently met with Virginia's Governor Ralph Northam to provide him with an overview of the benefits that data centers bring to the Commonwealth. We also discussed why Virginia is such an attractive place for data centers and talked about the industry and what's needed for growth here.

DCT: Why was the decision made to headquarter the Data Center Coalition in Northern Virginia?

Josh Levi: Northern Virginia is the largest data center market in the world. Every one of our members has facilities here and it's probably the only location in the country where that's the case. We've seen such a huge ramp up of investment in the region, and it has happened so quickly, that it has led to discussions about the impacts and outcomes that we've seen.

There have been discussions about tax revenue impact, long-term construction pipeline and renewable energy deployment – recognizing that data centers have now driven 51 percent of all solar energy investment in the Commonwealth. We've also seen tremendous support from the overall ecosystem of data centers that are located here.

The growth of the data center sector here has also revealed a need to educate policy makers, residents, the business community and other stakeholders as questions have surfaced about data centers. What are they? What do they do? What are their impacts on the community? Why do they come here? What are the benefits? Are there issues around zoning, tax and regulatory policy? Will they be here in five to ten years? What are their workforce needs?

We've seen such a rapid ramp up in this region, so much investment in this region, and so many questions rising from local stakeholders, it was the natural place to start.

DCT: What can people do if they want to learn more about the Data Center Coalition? How can they get informed and involved?

Josh Levi: I would encourage anyone who wants to learn more about the organization to visit our website at www.datacentercoalition.org. We also have a social presence on LinkedIn. Or, interested individuals can contact us directly via the information on the website.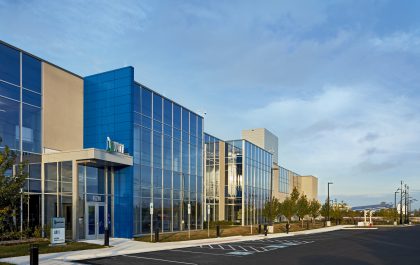 The Innovative Green Features of Vantage's VA1 Campus
In late October, Data Center Frontier kicked off a new content series called, "Greener Data," which is intended to explore the progress that data center...