Last week was Europe's Construction Safety Week, which aimed to "…eliminate accidents at work and to drive continual improvement in safety and health performance." This annual event has become a tool across the data center and construction industries to educate workers and contractors on ways to avoid injuries on the job site and to highlight some of the best practices that can help employees avoid common hazards on the job.

While a data center might not seem like a particularly dangerous place to work, there are risks and hazards both during the construction and operation of a data center that employees and contractors need to be aware of. To learn more about these hazards and how companies like Vantage Data Centers recognized Europe's Construction Safety Week, we recently sat down with Stuart Page, the director of environmental health and safety, for Vantage's EMEA business.
Interview with Stuart Page
Data Centers Today (DCT): What is Construction Safety Week? How is it recognized?

Stuart Page: Construction Safety Week was last week in Europe with the main focus being on "Lightening the Load" as musculoskeletal disorders (MSDs) remain a significant hazard while at work. In fact, the European Agency for Safety and Health at Work (EU-OSHA) reports that three in every five workers in the EU suffer from back, upper limbs and/or lower limb problems.

Following the success of Construction Safety Week in North America earlier this year, we have broadened the scope and used last week as our Construction Safety Week across our construction projects in the UK, Germany, Poland and South Africa. As part of that broadened scope, our EMEA executive leadership team traveled to each of those construction sites to engage with our employees and contractors and reaffirm that safety is a top priority during the construction and operations of our data centers.

As an official partner with the Construction Industry Federation (CIF)'s Construction Safety Week 2021, we followed their themes with our goal to engage, celebrate and recommit to safety with all of our contractors to help eliminate accidents, improve well being, and drive continual improvements in safety and health performance.

DCT: How exactly did Vantage work to accomplish that goal of engaging, celebrating and recommitting to safety?

Stuart Page: Last week was a fantastic opportunity to bring all our contractors together and talk about key topics that are critical to everyone's mental health and well being, as well as maintaining our high levels of safety performance.

Our contractors are essential in developing our data centers safely on our behalf, so this initiative allows us to truly engage with them, share best practices and learn from each other. The ultimate aim is to understand how we can improve and re-focus on the critical hazards that can occur during our construction projects and eliminate them where we can through re-designing or re-phasing the work.

DCT: I would assume that the workplace hazards are similar on all construction sites, but are there any hazards that are unique or more prevalent on a data center construction site? What types of hazards of these? How about the operations of the data center?

Stuart Page: The hazards involved are fairly similar on any construction project, with working at height being a particularly high focus area.

Some key hazards for us can differ according to the specific environments that we are working in. In some environments, there may be extreme temperatures to deal with. In other locations, there could be geology that requires rock blasting to provide a level platform to start to build on.

Also, due to the power needs of data centers, the high voltage to power and cool the IT equipment creates electrical hazards on our projects. This is particularly the case during the commissioning phase when the equipment is connected and becomes live.
When operating a data center, there are typical facility management hazards that all operators face. However, two of the main types of hazards are electrical and working at height. With the high voltage electricity used within our facilities, we have extremely detailed safety procedures for interacting with electrical equipment. These include robust permit to work and Lock Out Tag Out procedures, and we avoid working on live electrical equipment unless it is unavoidable and permitted by local legislation.

If any of our employees have to work with "live" electrical equipment, they are provided with the proper personal protection equipment (PPE), including arc suits. As part of our safety procedures and corresponding supervision measures, we ensure that all of our authorized personnel also wear PPE and strictly follow our procedures.

We do not take any chances when it comes to electrical systems.

One aspect of Construction Safety Week this year that I felt was particularly important – and potentially underestimated by many – was mental health. The construction industry is a predominantly male-dominated industry, and it is fair to say that men are not always forthcoming with regards to dealing with the pressures of work, life and opening up about their mental health.

This is not just a challenge for the construction industry, but it continues to be a clear focus for us during Construction Safety Week, in particular, to help and support those who need it.

DCT: How does Vantage work to mitigate the injuries from these hazards year-round?

Stuart Page: We have ISO 45001 compliant safety management systems, which are often part of a wider Integrated Management System. This consists of our Environmental Health Safety (EHS) policies, inspection processes, communication, training and our overall approach to risk management.

This not only includes our operational facilities but also what we expect from our elected contractors on our construction sites. To enable us to have the visibility of safety performance – both high performance and areas for improvement – we have implemented a range of auditing and reporting processes to ensure that we have real-time information on safety activities.

While working with contractors, we have a robust RFP process that ensures we have thoroughly assessed our contractors from the construction phase all the way to commissioning.

Certainly, during the initial stages of the COVID-19 pandemic, monitoring our construction sites remotely was a particular challenge. We have regular high-risk activity inspections completed every week by those on-site, our construction team and independent EHS consultants, but nothing beats being able to see the site in real-time.
Working with our contractors, we have implemented a number of regular remote walk-throughs of each site in real-time with the project and EHS teams. With restrictions starting to lift, the EHS team and members of the executive team visited sites across EMEA to support Construction Safety Week and to further engage, in-person, with our site contractors and communicate our safety requirements.

This is also a reminder for certain aspects of our EHS standards, such as anyone on-site having full "stop work" authority. If an activity is unsafe, we expect no one to walk by – safety is everyone's business.

DCT: How did Vantage partner with the Construction Federation Industry during Construction Safety Week?

Stuart Page: We signed up as an official partner and followed the suggested weekly themes on driving mental health, working at height, safe lifting and managing hazardous energies.

We also encouraged our contractors to join and follow the associated documents, posters, and guidelines that have been produced so that we ensure a consistent message – despite operating across a number of different countries at the same time.
To learn more about Vantage and the company's approach to data center safety, please visit www.vantage-dc.com.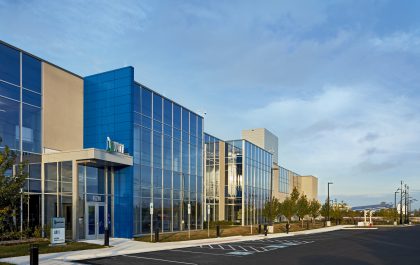 The Innovative Green Features of Vantage's VA1 Campus
In late October, Data Center Frontier kicked off a new content series called, "Greener Data," which is intended to explore the progress that data center...