Just weeks removed from announcing two strategic acquisitions that expanded its footprint into the Asia-Pacific market, Vantage Data Centers is breaking ground on a new data center campus in Johannesburg, South Africa.
Expansion into South Africa
Leveraging a US$1 billion investment from existing financial partners, Vantage is building an 80MW campus in Johannesburg's Waterfall City, a thriving business and data center ecosystem in the heart of the continent's largest data center market. This exciting new development gives Vantage campuses on five of the Earth's seven continents and continues the company's global expansion.
This exciting new development gives Vantage campuses on five of the Earth's seven continents and continues the company's global expansion.
Since 2019, Vantage has leveraged both greenfield developments and strategic acquisitions – including the acquisitions of Next Generation Data, Etix Everywhere, 4Degrees Colocation, Agile Data Centers, and the data center businesses of Hypertec and PCCW Ltd., the latter of which is expected to close later this year, to grow its footprint across North America, EMEA and Asia Pacific.
"Vantage has seen strong demand from our customers for high quality, hyperscale data center facilities across the globe, and we are excited to meet this demand by expanding to Africa's largest market," said Sureel Choksi, president and CEO, Vantage Data Centers. "With our global expansion over the last two and half years, we have become one of the fastest-growing hyperscale data center providers in the world."
The carrier-neutral Johannesburg campus will consist of three facilities across 30 acres with 650,000 square feet of data center space once fully developed. The first phase of the campus, slated for completion in the summer of 2022, will include a 16MW building. The campus will also meet Vantage's strict standards for sustainability, security and dependability that customers have grown to expect and rely on.
The design of the first facility is based on Vantage's standardized campus blueprint, which emphasizes sustainable construction practices such as offering renewable energy options, limiting carbon footprints and maintaining energy-efficient operations with an industry-leading power usage effectiveness (PUE).
Sustainable building features include permeable landscaping and natural on-site drainage to protect precious resources. Vantage will invest in recycling, motion-sensor LED lighting, and other elements for incremental energy and water savings throughout the campus, in addition to electric vehicle charging stations.
Powered by ESKOM, the campus will benefit from a dedicated on-site, high-voltage substation. It will be cooled using a highly efficient, closed-loop chilled water system generated through air-cooled chillers. An integrated economizer capability will allow reduced compressor energy based on the outside ambient temperature so that when the weather is favorable, cooling becomes more sustainable and less resource-intensive.
The campus will also be highly protected, leveraging the company's hallmark security measures, including an on-site security operations center with 24x7x365 patrols, perimeter security, CCTV on all access points, and multi-level authentication and access controls for employees, customers and visitors.
"Johannesburg is the data center hub for sub-Saharan Africa due to its strategic location, IT ecosystem, fiber connectivity to the rest of Africa and the availability of renewable energy," said Antoine Boniface, president, Vantage EMEA. "We look forward to not only opening the doors of our first African facility to our customers, but also to becoming part of the local community. Our first campus has a planned investment of more than US$1 billion, and it will create hundreds of jobs to positively impact the local economy."
Learn more about Vantage's flagship Johannesburg data center campus and its features today.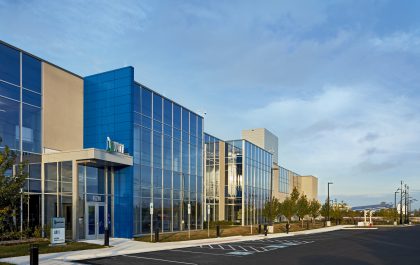 The Innovative Green Features of Vantage's VA1 Campus
In late October, Data Center Frontier kicked off a new content series called, "Greener Data," which is intended to explore the progress that data center...