The movement towards digital transformational and ongoing technology, along with societal trends, have resulted in explosive demand for digital and hyperscale services. Hyperscalers have had to scale up their infrastructure rapidly to meet this demand. While many of these companies continue to build their own data centers, many have also turned to data center providers to lease the space and IT capacity to meet the needs of their ever-expanding user bases.

Whether hyperscalers are looking to build, buy or lease the new data centers they need to enable their continued, exponential growth, there are a few key markets and locations where they want those data centers to be.
Benefits of Montreal for Data Centers
In North America, the most desirable markets have traditionally been Northern Virginia's "Data Center Alley" and Northern California's "Silicon Valley." And that makes sense. Northern Virginia is one of the most connected and wired regions in the country thanks in large part to its past as a home to large Internet pioneers. It's also centrally located to deliver service to much of the Mid-Atlantic region. Silicon Valley is also desirable, and for reasons that really need no explanation.

While there is little doubt that these two data center markets will remain in demand well into the future, there's another data center market that is making waves in North America. One that's right over the border in Quebec, Canada.

A new data center market is quietly arising in Montreal, Canada's second-most populous city. And, according to a recent Montreal-focused Data Center Market Guide published by Vantage Data Centers, there are a number of really good reasons for that. Three of those characteristics that make Montreal a growth market for data centers are:

Safe and stable location
Montreal is not only in a location that makes it perfect for delivering hyperscale services to other large metro areas – such as Toronto, Boston, Detroit, and New York – it also exists in a region that is very rarely impacted by large natural disasters and other emergencies that can cause data center outages and service interruptions.

Green, affordable, available power
Montreal's stable and reliable energy grid delivers power generated from 99% green energy sources.

Rich connectivity
While it may not have the connectivity of Data Center Alley, the Montreal area is host to a plethora of fiber carriers and providers.

And these are just three of the numerous reasons provided in the Data Center Market Guide on why Montreal has become a hot data center destination. The guide also takes a detailed look at how Montreal compares to other Canadian data center markets such as Toronto and Vancouver.

To learn more about why Canadian data center markets are so attractive for companies and why Montreal is establishing itself as one of the leading destinations in all of North America, click HERE to download a complimentary copy of Vantage's Data Center Market Guide for Montreal.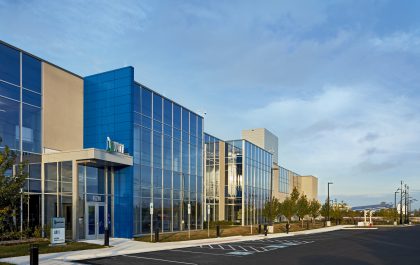 The Innovative Green Features of Vantage's VA1 Campus
In late October, Data Center Frontier kicked off a new content series called, "Greener Data," which is intended to explore the progress that data center...