The data center industry has continued to experience rapid growth as the need for digital services has expanded and IT solutions have become essential to how we live, work and play.
Yet, growing a small regional data center company into a global powerhouse isn't as simple as "Build it and they will come." Emerging companies often lack the in-house resources, processes and expertise necessary to navigate the waters in making the right strategic decisions. To ensure that the execution of their plan stays on track, they need a seasoned and experienced veteran who can instill the financial discipline and processes necessary to drive and foster their growth.
Vantage Data Centers has benefited greatly from someone who has been there many times before – their chief administrative officer, Dave Renner.
A technology industry veteran who has helped guide and foster the growth of many successful companies, Dave has been at Vantage since early in the company's development. We recently had an opportunity to sit down with Dave to talk about his past experience, what drew him to the data center industry, and how the best practices that he identified as an executive in the tech sector have helped fuel Vantage's growth.
Interview with Dave Renner
Data Centers Today (DCT): You're an established technology industry veteran who has impressively served as the CFO of multiple technology companies. Can you tell our readers about your background and the roles that you had prior to joining Vantage?
Dave Renner: I have worked for tech companies my entire career. I love the advancements and improvements that technology brings to our world. Right out of college, I worked for an optical electronics telecommunications equipment company called Uniphase – which later became JDS Uniphase – where I learned the importance and benefits of running a strategically focused, financially disciplined company.
That company grew dramatically over the 10 years that I was there. We went public, did three follow-on offerings and acquired 17 businesses in my time there. I had the opportunity to work in virtually every aspect of accounting and finance before eventually becoming the head of finance for the fastest-growing business unit within the company.
After the dot-com bust of 2000, myself and four other senior leaders left to start a venture-backed fiber optic telecommunications equipment company called Optium. This is where I got my first CFO role. We raised four rounds of venture funding, acquired two international businesses and took the company public. We ultimately sold the business to an industry peer.
From there, I was asked to join TE Connectivity to help position their middle-market touchscreen business for sale and to help run the sale process. We eventually sold it to a private equity firm, and I remained on as the company's CFO. It was this experience where I developed a love for private equity.
I thoroughly enjoy the opportunity to develop and execute an investment thesis without the overhead and distractions of being a public company. So, when I was looking for my next role, I was determined to find another private equity-backed company that was in the Internet technology space that had the solid financial backing to support significant growth.
DCT: Can you tell our readers a bit about your responsibilities at Vantage? How have your previous roles as a tech CFO prepared you for your position with Vantage?
Dave Renner: Currently, I'm responsible for all accounting, legal, HR and risk management for the company. Every company I have worked with over my career has experienced significant growth while I was there. Significant growth for a company over a short period of time can put a company at large financial risk as processes, company culture, policies and talent are being developed.
As part of my previous experiences, I had developed a sense of judgment on how to manage risk in a company. My role at Vantage allows me to leverage all of those prior experiences for the company as we experience significant and rapid growth.
When I started with Vantage, we had about 35 employees and we operated one campus in Santa Clara, California, and one in Quincy, Washington. Over the years, as we've continued to grow, I've focused on ensuring the company didn't miss anything and have done what is needed to support and drive our growth.
DCT: What about Vantage and the data center industry made you want to work in the industry?
Dave Renner: What intrigued me about the data center industry, as a finance guy, was the ability to experience the explosive growth of the cloud, AI and Internet of Things in a really risk-adjusted way.
The data center industry will grow dramatically as the demand for data grows. However, the CAPEX to grow the company is invested in bricks and mortar and other long-lived equipment that are tangible assets, that have long-term value and that are relatively agnostic to technology change.
I was intrigued by Vantage as I learned more about the industry. I wanted to work in a private equity-backed organization with a set of investors that were anxious to put additional capital to work that would create real, long-term value.
When I met Sureel, our CEO, he gave me the confidence that he knew how to develop and execute a business plan and strategy. He had a great balance of confidence and intellect, he was a great listener, a visionary and very financially disciplined. At the time, Vantage was at the cusp of significant growth and I couldn't wait to be a part of it.
DCT: What do you, personally, view as the largest challenges facing the data center industry today? What does Vantage – and the industry as a whole – have to do to overcome them?
Dave Renner: There have been many challenges in the industry, but the one that everyone constantly contends with is the cost and time it takes to construct a data center. Most of the time, our customers don't have visibility into their demand requirements within construction timelines, which creates a challenge.
In certain markets where there is high annual demand – such as in Northern Virginia – building spec inventory makes a lot of sense. But it's risky to build too much and can create an oversupply, which can negatively affect pricing until it is absorbed.
So, continuing to focus on shortening construction lead times and driving lower construction costs to be market competitive are incredibly important, and will remain so moving forward.
DCT: What has been your largest challenge since joining the company? How did you overcome it?
Dave Renner: Since I joined in 2014, when we only had about 35 employees, my largest challenge was trying to kickstart the growth of the company. Part of that involved building a great team. We made smart talent acquisitions in the areas of accounting, finance, human resources and legal that are really enabling our growth today.
People are our most valuable asset. We need to invest in them and enable them to grow so that they're ready to be our future leaders. It's our job to create an organization that will mold them and show them how to be great leaders themselves.
DCT: In your career, who have been your biggest influences and most important mentors? What have they taught you? What advice of theirs have you passed on to the people that you manage?
Dave Renner: I've been fortunate to work with many great people over the years, and there are several great people that I could mention here, but I'll try to keep the list to just a few.
First off, going back to earlier in my career, there was a woman by the name of Joyce Appiah who was the controller of Uniphase that hired me out of college. She immigrated from Ghana as a young adult and earned her MBA from Stanford. She taught me how important it is to develop and foster new talent and help them grow in their careers.
She came from a very different background than I did, so she enlightened me on how diverse the world really is. And I always very much admired and respected the struggles she went through to succeed.
Second, I would say Kevin Kalkhoven, the CEO of JDS Uniphase when I was there. JDS Uniphase was arguably one of the most successful companies of the 90s. It was an incredibly important growing experience for me. Kevin was a charismatic guy with a very clear vision of the massive opportunities of the Internet and how to capitalize on them.
He was very financially disciplined and never wavered on monthly and quarterly strategic financial reviews of the company and the industry. He held everyone accountable for exceeding market expectations, without exceptions, which was one of the keys to the company's success.
Another mentor was Eitan Gertel who I worked with at JDS Uniphase, as well as at Optium. Eitan was a former Israeli Navy Seal who had migrated from Israel to the U.S. and become very successful here. He taught me pure determination and that there was an answer to every problem and to never give up.
Finally, my wife Lisa, who has always been incredibly influential on me. She's helped me to be a better manager and leader. She is an educator and has a natural talent for teaching people how to become better people, and I think that's awesome.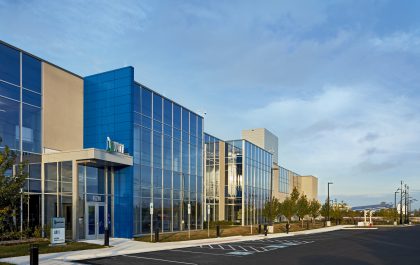 The Innovative Green Features of Vantage's VA1 Campus
In late October, Data Center Frontier kicked off a new content series called, "Greener Data," which is intended to explore the progress that data center…