The data center industry has experienced explosive growth around the globe over the previous half-decade. Due to modernization and digitization initiatives across enterprises and organizations, and the increased reliance on digital services in our jobs and daily lives, the need for cloud services and the data centers needed to power them has increased tremendously.
In our last article on Data Centers Today, we sat down with experts from the cloud and data center-focused analyst firm Structure Research to talk about how this demand has impacted the growth of the data center industry in Europe. But this is a trend that isn't limited to Europe – or even North America.
In the second part of our conversation with analysts from Structure Research, we discuss with Jabez Tan, the head of research at Structure, the growth of the data center industry in the Asia-Pacific (APAC) region and the particular trends and challenges that are making some APAC data center markets grow faster than others.
Data Centers Today (DCT): How has APAC data center growth and demand changed over the past year? What are we seeing today? And how does it compare to other regions around the globe?
Jabez Tan: From a data center leasing and colocation perspective, the Asia Pacific region is expected to grow 10.8 percent CAGR over the next five years. That's the third-fastest region, with Latin America and EMEA leading the way. That's mostly due to Asia having a very balanced combination of very mature markets like mainland China, Shanghai, Beijing, Singapore, Hong Kong, Tokyo and Sydney, as well as very nascent emerging markets like Jakarta.
Growing data center markets like Seoul and Mumbai that are ramping up from a data center capacity standpoint are contributing to the overall growth in the region. The growth is being driven by emerging Tier 2 and Tier 3 markets like those I've mentioned, Jakarta, Vietnam, Bangkok and Manila. We are starting to see AWS local zone deployments or cloud edge deployments landing in these markets.
That's why APAC is behind the overall growth level of other markets. While there are emerging markets with an exceptional opportunity for growth, that growth is tempered by the large established markets. Compare that to the EMEA market, which is growing at 18.4 percent CAGR. That market is more overweight because you have the entire Africa and Middle East regions that are just really starting to see a lot of investment activity and data center deployment activity. Or compare it to Latin America, which is growing from the smallest base. That market is growing at around 24 percent CAGR.
DCT: What trends are driving APAC data center growth? How are different trends and challenges impacting growth in the region?
Jabez Tan: One of the key themes that we have been talking about over the last 12 to 24 months is the concept of decentralization. That's been driven by multiple reasons: performance, latency, data sovereignty, data privacy and the requirements of cloud infrastructure and IT infrastructure as a whole.
That decentralization in the region is also being driven by the fact that some markets are under pressure for several reasons. Many of them have seen a lot of growth over the last three to five years in terms of international, regional and local players ramping up investment – this includes the big cloud providers announcing multiple cloud regions and scaling those up to hundreds of megawatts over time.
This investment has produced a highly competitive landscape and has pushed these markets towards some of the constraints they face, be it land, power, infrastructure or others. When the data center industry in these markets begins to compete for the same resources that other industries are also competing for, the government steps in and begins to intervene. This is what has led markets like Singapore to put limits and moratoriums on data center development.
These limits and moratoriums then impact growth and demand in other markets. For example, approximately 10 percent of the demand coming into a Tier 1 market like Singapore can probably be served by the existing capacity that is there and that is already under construction. Another 30 to 50 percent will start to flow into other data center markets in the region. This includes markets such as Johor, which is right across the Causeway Bridge from Singapore, and Batam, which is a short ferry ride away.
Those two hubs, Johor and Batam, which are very adjacent markets to Singapore, are being positioned as Singapore overflow markets. And that's actually materialized. It's not speculation. Today. we're seeing massive amounts of data center development and leasing activity in those markets. These markets aren't really key business hubs. But just because they are proximate to a Tier 1 hub, they're getting overflow demand.
Then, the remaining percentage of demand from Singapore will eventually flow into another country's Tier 2 or Tier 3 market across the APAC region. That's what we're seeing in places such as Malaysia, Indonesia, the Philippines, Vietnam, Thailand and even India.
DCT: Are there any particular APAC data center markets that are growing more than others? Are there any APAC data center markets that are primed for drastic growth in the coming years?
Jabez Tan: That's a good question. I think people were initially very bullish on the Jakarta market given that it is in one of the most populous countries in the Asian region. Indonesia has around 275 million people, which is a lot of people when you compare it with a market like the U.S., which has around 350 million. But, while a lot of people were initially very bullish on the Indonesian market, it appears to be taking a bit more time to ramp up. But I think the Indonesian markets – like Jakarta, in particular – will be the largest data center market in APAC over time.
The market that has experienced faster growth out of the gate is Seoul, South Korea. That is most likely a result of how mature a market it is from a digital adoption and IT adoption of cloud infrastructure standpoint. It is going to triple in size over the next three to five years.
Also, I think Mumbai has just as much upside, given the size of the Indian economy and the Indian population. However, I think the demand is likely going to be distributed beyond Mumbai across a number of major hubs in India, such as Chennai, Hyderabad, Bangalore, Pune and Delhi.
DCT: What industries and businesses are driving this APAC data center growth? Is this mostly from hyperscaler demand, or are other industries contributing?
Jabez Tan: I would primarily say that it is the hyperscalers that are driving APAC data center demand as a whole. But I think it might be good to define what we call "hyperscalers."
While you have the more popular hyperscalers that people know of, such as AWS, Microsoft and Google, that are driving most of the demand across the region, you also have demand being driven by the Chinese hyperscalers. These companies are fairly active in the APAC region in relation to other regions like EMEA and North America where it might not be as politically friendly for the Chinese hyperscalers to deploy large amounts of capacity.
As a result, the Chinese hyperscalers are investing more in markets like Southeast Asia. This investment includes companies like Alibaba, Tencent, Huawei and others. They're all looking to expand internationally and view the APAC region as the most friendly for expansion. Then, you also have social media hyperscalers that many people are aware of, including companies like Meta and ByteDance, which is supporting their TikTok platform.
In addition to the hyperscalers, you will also see pockets of enterprise deployments across the region coming from financial services, digital payments, gaming and even local conglomerates. And that's especially true of markets like Tokyo, Japan, and Seoul, South Korea. This includes companies like Rakuten and Sony, which are drivers of data center capacity demand.
One of the key themes that we have been talking about over the last 12 to 24 months is the concept of decentralization. That's been driven by multiple reasons: performance, latency, data sovereignty, data privacy and the requirements of cloud infrastructure and IT infrastructure as a whole.
DCT: What are you seeing in terms of leasing vs. self-builds by some of the hyperscalers in APAC?
Jabez Tan: I think we're seeing a 50/50 dynamic between self-building and lease because the aspects for why hyperscalers would lease is also very compelling to them. I think number one is that they need to be in so many markets and deploy lots and lots of capacity on a global scale. And if you look at how big these data center procurement teams and data center infrastructure teams are at these hyperscalers, you'd be shocked at how small they are relative to the amount of capacity.
In addition, the CapEx investment that they're dishing out from a capital allocation standpoint, that's really made it an ideal situation for that partnership with colocation operators like Vantage, because they just simply can't self-build everywhere that they want to. It's just not feasible for them in terms of capital allocation and in terms of bandwidth for the teams that are building out the capacity.
I think if you look at the current macro environment with increasing interest rates and liquidity drying up, and people starting to think more about protecting balance sheets and optimized spend, the OpEx model for colocation leases really starts to make a lot of sense and make it really attractive for hyperscalers to work with these colocation partners to lease capacity and operate on the OpEx basis rather than dish out large amounts of capital.
Also, if time to market is really important for them, and it is in many cases, if you think about hyperscalers self-building, they can take up to four to five years to build their own data center campuses. Compare this with a colocation provider, and that's really attractive and valuable from a time to market standpoint.
DCT: How important is sustainability and ESG in APAC compared to markets like North America and Europe?
Jabez Tan: On the diversity side, for example, Singapore is already such a diverse country from a cultural standpoint. You have a good mix of Chinese people, Malaysian people, Indian foreign nationals and expats. Diversity is sort of already a normal way of life in many aspects in Singapore and across APAC. The region has so many different cultures, so many different countries and languages that, by default, all these cultures start mixing and doing business. So, diversity hasn't really been a topic of conversation in the region because it just sort of naturally happens based on business accelerating and cloud infrastructure accelerating.
Even from a gender side, I think you see a lot higher female participation in the industry in APAC relative to other Western markets. On the sustainability side, I would say it is harder to access renewable energy in the region, with the exception of certain countries like Singapore and Hong Kong. These Tier 1 markets are just so small that they don't have any sort of local generation of renewable energy sources. And so companies are having to find creative ways of offsetting that with recs or PPAs, or even focusing more on the efficiency aspect to get their PUEs as low as possible and their WUEs as low as possible in order to have that efficiency flow through into the portfolio.
If you're looking for digital infrastructure in the region, explore Vantage's ever-growing portfolio of data centers in APAC today.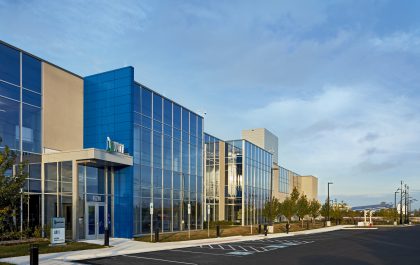 The Innovative Green Features of Vantage's VA1 Campus
In late October, Data Center Frontier kicked off a new content series called, "Greener Data," which is intended to explore the progress that data center...