As hundred-year storms happen multiple times per year and wildfires rage across much of the country's Pacific Northwest each summer, what has been obvious to scientists for years is starting to become far too real and impactful for individuals and companies to ignore. Climate change is real, and aggressive sustainability initiatives are essential if we are going to make a difference.
However, industries like the data center sector – where reliable, redundant and plentiful power are essential – have a challenging journey towards environmental sustainability ahead of them.
But that hasn't stopped companies like Vantage Data Centers from embracing sustainability goals as part of an effort towards reducing its overall impact on the environment. Just last week, the company announced that it now provides renewable energy options to customers at each of its campuses globally.
To get a better understanding into Vantage's sustainability roadmap, we recently sat down with Amanda Sutton, the company's senior director of sustainability.
Interview with Amanda Sutton on sustainability:
Data Centers Today (DCT): Why is sustainability important in the data center industry? Why is this industry so focused on sustainability and green initiatives?
Amanda Sutton: Over the last several years, the world has rallied together to battle climate change on a scale that we have never seen before. Data centers play a critical role in our society today and enable the innovation and connection that will enable us to work together to develop solutions to problems facing the world. Unfortunately, because of the amount of energy that the industry consumes, global emissions associated with data center operations are on par with the aviation industry in terms of climate impact. While that is not ideal, it does give us an opportunity to have an enormous positive influence on addressing climate change globally.
Not only is this the right thing to do, but we also recognize the risks and impacts of climate change that can have an outsized, negative impact on our industry and business. Climate change can increase energy costs, reduce availability of resources and even pose physical risks to our data centers and facilities. A focus on sustainability allows our industry to become more proactive to address the problem on a global scale.
DCT: Vantage has set a sustainability goal of reducing its carbon footprint. What initiatives will be put in place and how will they be measured?
Amanda Sutton: Vantage is serious about being a leader in this industry. And, as the old saying goes, "The greenest kilowatt is the one you never use." So, our strategy begins with reducing our footprint as much as we can by focusing on internal operations and efficiency.
Thankfully, there's a lot of great work that's already been done towards making Vantage more sustainable. Our focus on operational efficiency and innovation has already resulted in the company having a very low power usage effectiveness (PUE) compared to the rest of the industry and a water usage effectiveness (WUE) that is virtually zero. This approach helps us reduce our greenhouse gas emissions and conserve water resources while adding direct value for our customers.
Vantage prides itself on partnering and engaging with our customers and the communities in which we operate. We recognize that partnership is necessary if we're going to be a leader in the industry in terms of sustainability. It's that collaboration and engagement with customers, partners, vendors and the larger community that will enable us to not only reduce our carbon footprint, but also to become a better corporate citizen in other areas, too.
Ultimately, partnerships are a key to meeting our sustainability goals, which makes them another large part of our strategy. We plan on partnering with the local utilities where we operate to develop and promote renewable energy options. We will also partner with our customers to help them implement programs and technologies to reduce their own emissions.
Lastly, we'll strategically utilize offsets to help us meet our goal while continuing our progress towards sustainability. All data center providers will eventually hit a point where they can't reduce their emissions with the technologies that are available. Carbon offsets that focus on removing carbon from the atmosphere will enable us to close the gap and reach our goal of zero emissions. But that is down the road, we still have a lot of work to do to first.
DCT: Sustainability isn't just important to Vantage, but also to its customers. How can Vantage help its customers and partners become greener and more sustainable? How can the broader ecosystem work together?
Amanda Sutton: Our largest customers also recognize the impact that data centers have on the environment, especially in a society that relies so heavily on technology. A lot of our customers are working to reduce their environmental impact and find innovative solutions to combat climate change.
One of the things that differentiates Vantage from others is our commitment to working with our customers and coming up with customized solutions to help them reach their goals. And that collaboration – communicating, innovating and working together to meet a common goal – continues to be incredibly important.
The broader ecosystem working together is the only way we are going to help solve some of these global problems. We're all going to have to collaborate and learn from each other to continue developing truly innovative solutions. It's going to be a team effort moving forward because that's what's going to be required to solve all these global challenges we're facing. It is such an exciting time to be in this industry.
DCT: When we talk about sustainability, we're talking about more than just energy usage, however. What other initiatives is Vantage implementing to become greener and more sustainable in other areas?
Amanda Sutton: The largest contributor to our environmental impact is our energy usage, so that is where we focus a lot of our attention. However, in terms of other initiatives, we are taking a holistic approach to sustainability, looking at everything from energy sources to waste reduction and water conservation.
We have a culture based on continuous improvement and innovation which has already allowed our design teams to develop solutions that greatly reduce or eliminate water usage at our newer facilities. We are also implementing sustainable design and construction practices which create high-performing, sustainable data centers from day one.
Finally, we're looking beyond environmental sustainability at how we can make changes that impact society and social justice. This includes our JEDI initiatives and the establishment of the Women's Leadership Forum, which my associates at Vantage have discussed in the past. These environmental sustainability and equity initiatives are all intended to ensure that we're a good community partner and neighbor.
DCT: You were hired to specifically spearhead Vantage's sustainability initiatives. What experience do you have in this area, and what other previous sustainability initiatives have you helped implement?
Amanda Sutton: I have more than 15 years of experience implementing sustainability initiatives across organizations of all shapes and sizes, including several years working for community governments. In those roles, I acted as a community resource for businesses to help them implement their own sustainability programs. I've done everything from developing waste programs for small mom-and-pop shops to helping companies like Anheuser-Busch address their greenhouse gas emissions.
Most recently, I was the sustainability manager for Denver International Airport where I worked for seven years. I helped take the airport from a business that was implementing one-off efficiency and sustainability projects to one where sustainability was integrated into all aspects of the business. That's really the experience and expertise I bring to Vantage. How to take sustainability from a project-based approach to one where it's fully integrated into every business decision that the organization makes.
DCT: What made you, personally, interested in sustainability? Why is this an area that you chose to specialize in?
Amanda Sutton: Growing up in Colorado instilled a deep love for nature and the outdoors. I was passionate about conservation and science and decided to attend Colorado State University to become a wildlife veterinarian. As I was volunteering with every wildlife rescue I could find, I quickly began to feel like all this work was treating a symptom of a much larger issue. I shifted my focus to learning about how society and business impact the ecosystems in which we live, and how to reduce the negative impacts and increase the positive ones.
At the time, I was being told that while some businesses were trying to address sustainability, it was a philanthropic endeavor that would always take a backseat to their bottom lines. The only role of businesses was to make money. That never sat right with me. I started researching sustainability in business and found that there were incredibly successful businesses that not only had sustainability programs, but were built with sustainability as a core value that guided everything they did. Businesses like Whole Foods, Patagonia, New Belgium Brewery and Seventh Generation were showing us the actual value of integrating sustainability into their business models, and they were wildly successful.
That has always been what I've been interested in. How do we find those solutions where we can show the value that sustainability has on business and the bottom line? How can we illustrate that sustainability is a key business strategy that enables long-term success? How do we leverage partnerships and work together to have the greatest impacts? Because, ultimately, if we don't take care of our employees, if we don't take care of the communities where we operate, if we don't take care of the world, we're not going to have a business at all.
To learn more about Vantage's environmental sustainability program, click here.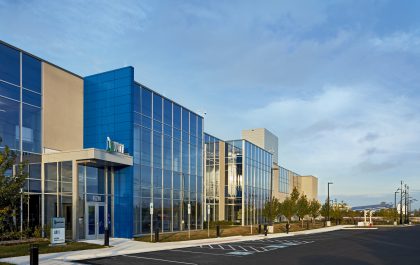 The Innovative Green Features of Vantage's VA1 Campus
In late October, Data Center Frontier kicked off a new content series called, "Greener Data," which is intended to explore the progress that data center...