The role of general counsel can be demanding and complicated. As the organization's top legal and compliance officer and leader of the company's legal department, the general counsel is responsible for negotiating deals, conducting due diligence, and staying on top of ever-shifting compliance and regulatory environments.
Ismail "Ish" Alsheik, SVP and GC of Vantage, can attest to the importance of such a role at a rapidly expanding global organization like Vantage that has grown aggressively organically and via acquisition. He views the general counsel as a "business partner, enabler and guardian" for the company, helping it meet its growth goals and execute on its strategic plan while taking an acceptable amount of risk.
For our next Leadership Spotlight interview, we sat down with Ish to talk about how his previous experience as partner in the M&A group of Jones Day prepared him for his role as general counsel at Vantage Data Centers. We also take a deep dive into the challenges that a general counsel faces when working in a high-growth, global organization.
Here is what he told us:
Can you tell our readers a bit about your role as the general counsel at Vantage Data Centers? What responsibilities do you have within the organization?
Ish Alsheik: I lead and set the strategic direction for the legal and corporate compliance function at Vantage globally. I manage a team of truly dynamite lawyers across several continents – those lawyers focus on customer contracts, transactions, compliance and the work that goes into getting data centers built and operational— including new site development and procurement.
I also handle a variety of legal matters within my own remit with a focus on mergers, acquisitions, joint ventures and other strategic transactions.
How did your previous position with Jones Day prepare you for your role at Vantage?
Ish Alsheik: I spent nearly a dozen years with Jones Day prior to joining Vantage. In 2015, my first year of being partner, I started doing work with DigitalBridge, Vantage's lead investor. In 2016, a predecessor of DigitalBridge led a consortium that acquired DataBank, a Texas-based enterprise data center provider, and I led that transaction. In 2017, a predecessor of DigitalBridge led a consortium that acquired Vantage, and I had the privilege of leading that transaction as well.
My last few years at Jones Day were focused heavily on significant data center transactions. I learned to think creatively to put deals together and get them done. I had to consider all the puts and takes that result in parties getting to a "Yes."
While my role at Vantage is more expansive than just M&A, honing that skill of thinking creatively to devise solutions to problems has served me well.
What about the data center industry, and Vantage, in particular, made you want to work for the company?
Ish Alsheik: I am passionate about the internet's ability to connect people, to give people a means to tell their stories when previous generations did not have such a luxury. We are building the infrastructure that makes connecting people possible and that drives me.
Why is the role of general counsel so important at a company like Vantage?
Ish Alsheik: The role of the general counsel is to be a business partner, enabler and guardian. We at Vantage have business objectives, and we in the legal department help to accomplish those objectives in a manner where we are helping to guard the company from unreasonable amounts of risk.
For example, a colleague might say, "Can we do this?" And sometimes it's clearly permissible, in which case the answer is, "Go forth and prosper." However, often the answer is, "You can't do it in that exact way, but if you make these tweaks and operate within these guardrails, you can minimize risk."
Of course, sometimes the answer might be no, but before we reach that conclusion, we really try to dig in and see what adjustments we can implement to carry out our objective.
You work on a lot of large transactions. Why are they so complex for a company like Vantage?
Ish Alsheik: Let's rewind to 50 years ago. If you were going to buy a business, due diligence was a check-the-box exercise. Do we have board minutes? Check. Do we have title to the dirt on which the corporate headquarters sits? Check. The heavy lift would then be around the terms of the purchase itself.
Fast forward to 2022 and it's been flipped. Decades and decades of sophisticated M&A have given rise to fairly standardized acquisition terms. There will always be tweaks, but if I'm buying your business and my lawyer is sending you a purchase agreement, we will be negotiating over a circumscribed set of 10-15 key issues. Then we will resolve them, and the agreement will be fairly done and dusted.
The more complicated part of dealmaking today is the due diligence. For example, does the target have independent contractors? If so, are they properly characterized as such, or should they be classified as employees? If they are misclassified, we will be liable for potentially sizable tax after closing? – Ish Alsheik
What about environmental? Is the dirt clean or is remediation needed? Whose responsibility is it? Who will pay for it? Does the target have material intellectual property? Is it adequately protected? If not, will I be using IP on day one after closing that might open me up to infringement lawsuits?
These are the things that keep buyers up at night. You need to investigate, analyze and apportion risk; and that takes time, but you don't always have time – sometimes you're in a hotly competitive auction. So, you've got to hit the material risks, address those and have a plan of attack for the rest.
What unique legal challenges do these large M&A transactions create?
Ish Alsheik: Well, it doesn't need to be challenging, but it certainly can be.
As an example, after an acquisition, integration needs to be handled thoughtfully, and with care, to ensure that the combined company operates as one, efficiently, and with a unified culture. This can take time, but it can be well worth the investment.
How does the increasingly international footprint of Vantage Data Centers – which now has a presence on five continents – impact your job?
Ish Alsheik: The general counsel must understand the unique risks that an American company might face overseas. You need to understand that while it's great to do certain things one way in the U.S., you can't always get U.S. terms everywhere.
Other countries have their own customs and practices, and if you're going there, you need to respect those different cultures while making sure you win on the most critical points.
What legal hurdles does this create, and what processes/systems have been implemented to overcome them?
Ish Alsheik: Compliance, compliance, compliance. Train the team to know which behaviors are acceptable and compliant, and which come with outsized risk that could harm the organization.
Compliance is everyone's responsibility – not just the CEO, not just the CFO, not just the sales team, not just the engineers – it is everyone's. We work hard every day to build and ingrain a culture of compliance and put policies in place that make sense, are understandable and help guide compliant behavior.
You've been active in advancing the Vantage JEDI (justice, equity, diversity and inclusion) Council initiatives. Why is this such an important program for you? How can a program like JEDI make an organization like Vantage better, stronger and more successful in the long run?
Ish Alsheik: As a person of color, JEDI is deeply personal for me. I want to help create an environment where employees can bring their entire selves to work so that they can perform their best.
To create a welcoming space for diverse people and diverse opinions, you need to be intentional about it. You must embrace cultural differences and create spaces where people can share their stories.
I'm deeply thankful to be at a company where we are intentional about creating an inclusive place of work. We still have work to do, and I am thankful to be able to play a small part in pushing things in the right direction.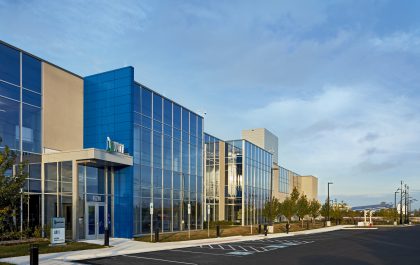 The Innovative Green Features of Vantage's VA1 Campus
In late October, Data Center Frontier kicked off a new content series called, "Greener Data," which is intended to explore the progress that data center…