Last week was EMEA Construction Safety Week, an event embraced by the data center and construction industries to educate workers and contractors on injury prevention and to accentuate best practices for a safer work environment.
Typically, the physical hazards inherent in the construction industry dominate safety discussions, yet perhaps a lesser-acknowledged concern is the growing mental health crisis. Nonetheless, mental health can hardly be dubbed a silent epidemic given the glaring statistics.
The Health and Safety Executive, a U.K. government agency overseeing workplace health, safety and welfare, notes that anxiety and depression have overtaken musculoskeletal issues as the leading health challenges in the construction sector. Moreover, a 2019 report by the Chartered Institute of Building (CIOB) reveals that roughly one in four construction professionals contemplated suicide.
As discussing mental health sheds its taboo, more organizations are altering their workplace culture to better address employee mental health. Data Centers Today engaged with Helen Finnerty, manager, EH&S, EMEA; Clint Eastwood, manager, EH&S, EMEA; Crispin Harrington, senior director, EH&S, EMEA; and Peter Mason, vice president, human resources, EMEA – all with Vantage Data Centers – to delve into how Vantage is confronting mental health issues and disseminating best practices, particularly during EMEA's Construction Safety Week.
Data Centers Today (DCT): What entails Construction Safety Week, and how is it acknowledged?
Helen Finnerty: Construction Safety Week serves as an annual, industry-wide focal point on construction safety. This week-long occasion grants every construction sector or trade the platform to not only address the current high-risk activities identified on various sites but also to underscore scenarios, situations and lessons learned throughout the year. These activities guide construction professionals on hazard identification and enhance communication around these risks and challenges.
DCT: Mental health was a key focus of this year's EMEA Construction Safety Week. Why is this topic significant?
Helen Finnerty: Everyone, regardless of their industry, should adopt a more holistic approach to health — encompassing mental, physical and emotional well-being. This is particularly pertinent in the construction industry where sufficient support can be lacking. Eradicating the stigma around discussing mental health on sites is essential.
Clint Eastwood: The global consensus that highlights the stigma surrounding mental health is akin to past attitudes towards HIV, AIDS and Ebola. Consequently, mental health has received inadequate attention, especially in the construction realm. Our objective is to educate on mental health, identify triggers and avail help for those struggling.
Various triggers exist, like societal expectations for men to conceal emotions, migrant workers facing stress due to separation from families and job uncertainty for contractors. All these factors impose psychological strain on construction industry workers. Demystifying mental health and raising awareness can significantly benefit the industry at large.
Peter Mason: Positive mental health fosters better focus, decision-making and engagement among employees. Individuals with good mental health are more innovative, fostering enhanced teamwork and collaboration. At Vantage, we aim to create a supportive and inclusive culture, ensuring everyone feels comfortable seeking support when needed.
DCT: How did Vantage address mental health issues during Construction Safety Week?
Crispin Harrington: Each year, Construction Safety Week is celebrated with a unique theme. This year, it's "Strong voices, safe choices." Vantage's commitment to mental health, embodied in the mantra "it's ok not to be ok," is unwavering. Our aim was to emphasize this mantra during Construction Safety Week.
Mental health stigma has long plagued the construction industry, often overshadowing its crucial role in accident prevention. Presenteeism, where individuals may be physically present but not fully functional, can result in on-site mistakes. Acknowledging mental health's significance, we have initiated programs across our campuses, fostering a culture of well-being and safety.
Clint Eastwood: Vantage hosted sessions featuring mental health experts to educate our team and contractors. These talks aim to spark discussions on symptoms of common mental disorders, trauma and its impact on mental health.
DCT: How can managers and colleagues assist those battling mental health issues?
Helen Finnerty: Education is key for managers to recognize when someone is struggling. Equipping sites with Mental Health First Aiders and fostering an environment of trust and confidentiality are steps towards helping those in need. Normalizing mental health discussions, providing the necessary resources and building a supportive culture are our primary goals.
DCT: What initiatives has Vantage undertaken to enhance employees' mental health?
Helen Finnerty: Each site has crafted initiatives based on their team's needs. We partnered with Lighthouse Charities to educate our teams on mental health and addiction issues. Promotional materials and talks supplement these efforts, addressing various life stages and challenges our employees might face.
DCT: In addition to EMEA Construction Safety Week, World Mental Health Day took place on October 10. How did Vantage commemorate this day?
Peter Mason: A companywide event and panel discussion, chaired by a global manager from our Mental Health Affinity Group, were held. Various activities, including meditation sessions and health checks, were organized throughout the week around Mental Health Day.
Helen Finnerty: At some EMEA sites, workshops were conducted to provide mental health support information. Additionally, "Feed the Troops Day" was organized to encourage open discussions over shared meals.
To learn more about Vantage's safety approach, visit https://vantage-dc.com/features/safety/.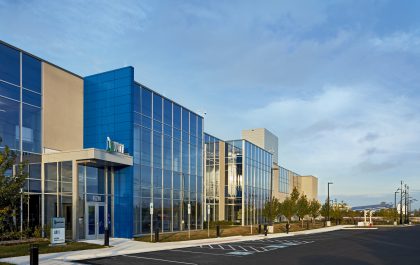 The Innovative Green Features of Vantage's VA1 Campus
In late October, Data Center Frontier kicked off a new content series called, "Greener Data," which is intended to explore the progress that data center...