It is almost a statement of the obvious that global temperatures are rising and that hotter-than-average summers are the new norm. Here in Silicon Valley we have been dealing with heat and drought conditions for several years but this has helped us to improve our operations strategy, building design and construction methods, increasing our energy efficiency.  Thus, our focus on keeping costs low is a year-round focus that works well for our hot summers too.
Data Center Cooling in Summer Months
At Vantage data centers, the concept of running hot plays well into dealing with the increased temperatures of summer and we are not the only ones who are doing this.  According to Jeff Klaus, general manager for data center solutions, Intel DCM: "Contrary to what most hardware protocols denote, data centers can actually be kept at higher temperatures even during peak workloads. In fact, one of Intel's customers is planning to bring the data center temperature to 80-82F when most operate at 70 degrees or below. With each degree raised in the data center, a two percent savings is realized on each power bill – a significant year-over-year savings."1
There has been a strong focus in the data center industry for many years now on energy efficiency.  Not necessarily on reducing the energy being used, but doing more with that energy.  According to a US Dept of Energy study released in July 2016 which examined the power usage in 2014, data centers account for about 2% of the country's energy usage.    While this sounds like a lot of energy – the rate of consumption growth has slowed enormously since 2000 according to the same study:
| | |
| --- | --- |
| Year | Data Center Energy Growth |
| 2000-2004 | ~90% |
| 2005-2009 | 24% |
| 2010-2014 | 5% |
Of course, running higher indoor temperatures requires the necessary tool and monitoring for control.  Inside our centers we're monitoring temperature, humidity, and electrical power consumption. Much of this monitoring is automated including processes for:
Temperature – Adaptive temperature reset to economize more frequently
Humidity – When humidity increases the outside air is automatically shut off
Cold aisle temperature – if temp deviates the control automatically adjusts
There can be upwards of 80 – 100 sensors per data hall and each of our buildings is hooked up to its own weather station for monitoring the outside air and adjusting accordingly to local conditions.  In addition to our environmental sensors and monitoring careful monitoring of server and storage temperatures helps to manage cooling requirements and costs.
So far 2016 has been a pretty warm summer.  Regardless of the outside temperatures, we work to keep our indoor temperatures under control and our clients' systems operating properly. By managing our response to the local weather conditions, hot and humid or when the temperatures cool off we keep our data centers cool even in the heat of the summer.
1 5 August 2015 www.datacenterdynamics.com  Warming up to summer in the data center by Bill Boyle
Chris Yetman
Chief Operating Officer

As chief operating officer at Vantage Data Centers, Chris Yetman leads operations, security, construction, design, engineering and IT.

With more than 30 years of experience, Yetman approaches strategy and decision-making from the customers' viewpoint. In partnership with Vantage's leadership team, he develops the company's strategy and evangelizes it throughout the organization. Yetman has been instrumental in accelerating Vantage's growth from a regional data center provider in the United States to a fast-growing global operator.

Yetman received his Bachelor of Science in computer engineering from Northeastern University.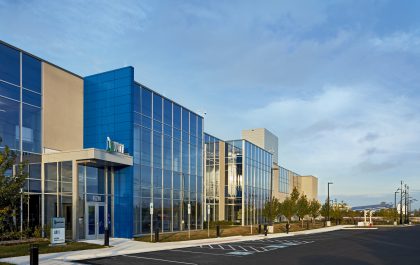 The Innovative Green Features of Vantage's VA1 Campus
In late October, Data Center Frontier kicked off a new content series called, "Greener Data," which is intended to explore the progress that data center...