Just when you thought we could not pack any more space into our footprint, Vantage's growth in Silicon Valley is actually far from over. It's been a long planning process, but we've finally announced our latest expansion, a new nine acre campus approximately 2 miles away from our current site, that will add 51MW to the supply starved Silicon Valley market.
New Vantage Data Center Extension
2016 has been the year of expansion for Vantage. We first announced our V5 and V6 21MW expansion in May to be completed in phases beginning in 2017. V5 will be built on Vantage's existing Santa Clara campus and V6 on newly acquired property that is across the street. Now we're poised to build an additional 51MW, bringing our expansion total to 72MW.
We'll be starting construction on the new campus in 2017 featuring four separate data center structures – a mix of two and four story data centers – and an onsite substation to supply the necessary power. In searching for a second campus we wanted access to power, requisite zoning and everything we needed to operate a scaled business with at least 35MW.
It hasn't been easy. Acquiring space is tricky in Santa Clara (aka the second highest demand data center market in the world). There is no undeveloped land in the area so we are forced to rebuild from the ground up. On top of that, there can be a number of other issues involving zoning, flood zones, lease and owner restrictions and unplanned expenses to name a few.
At this point you may ask, why go through all the trouble? Why not look for land in a different market? It's for the benefit of our customers. Demand from enterprise companies and cloud providers who operate in the Bay Area continues to grow, with many preferring a data center in close proximity to their day to day operations.
Jabez Tan, Research Director, Data Centre Infrastructure at Structure Research said, "Demand fundamentals still remain strong in the Bay Area and the outlook remains bullish for uptake of data center capacity with cloud providers being the primary customers. Location and proximity to end users is a characteristic that continues to drive growth in one of the top data center markets in the US."
Demand in this market averaged 30-40MW over the past three years. The market would be higher if not for supply constraints, and these additions are our way of addressing that issue and giving our customers comfort in our and their continued growth.
It takes approximately three years to deliver capacity on a large scale campus. Getting ahead of the demand is the reason we're pursuing this now. We're determined to create a steady drumbeat for a long term growth trajectory. Delivering this large scale solution for our customers to satisfy demand in a supply starved market is our priority, and we're excited for our first phase to come online late next year. Stay tuned!
Justin Thomas
Justin Thomas serves as Chief Technology Officer where he is responsible for data center pre-development and engineering efforts across the company's portfolio. Justin is focused on accelerating time to market and driving industry-leading build costs while delivering a differentiated customer experience. He also has a key role in evaluating new markets and build-to-suit opportunities.

Prior to his current role, Justin served as Senior Vice President, Engineering and Construction, where he led the team to deliver new builds and expansions at scale across all of Vantage's markets in North America.

As lead of innovative design and long-term engineering strategy development, Justin has helped build enterprise style facilities that achieved PUEs as low as 1.15. He is also the creator of the electrical guide specifications at Vantage and has participated in the certification of four LEED platinum facilities, as well as one Uptime Tier III certified facility.

Justin is a licensed PE and LEED accredited professional. Prior to Vantage, Justin was a member of the Mission Critical Design Team at Rosendin Electric. He holds a BS in Electrical Engineering from Cal Poly in San Luis Obispo.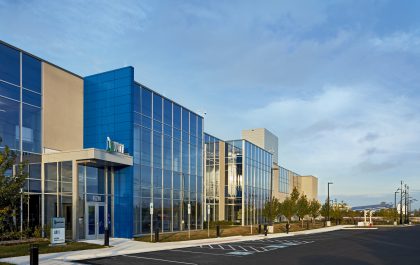 The Innovative Green Features of Vantage's VA1 Campus
In late October, Data Center Frontier kicked off a new content series called, "Greener Data," which is intended to explore the progress that data center...