Considering that cooling might be one of the largest expenses for data centers, you'd expect that popular data center markets would be in places with cold, cool or even moderate temperatures. The last place you'd expect data centers to be built would be in a city with temperatures that frequently enter the triple digits.
Benefits of Phoenix for data centers
So, it may come as a surprise to some that Phoenix, Arizona, is a burgeoning data center market. In fact, according to the Data Center Coalition's study, "The Impact of Data Centers on the Arizona Economy," the city's data center capacity has grown by 170 percent since 2015, putting it behind only Northern Virginia's Data Center Alley as the primary data center market with the most growth over the past half-decade.
But climate is only one of many things that data center owners and operators look for when going through the site selection process. If there were no other important criteria that weighed into data center location decisions, there would hardly be any American data centers outside of Minnesota or Wisconsin. And there are many things that make the Phoenix area stand out, even if its climate may not seem the best for data centers – at least on paper.
Today, there is more than 24MW of new data center construction happening in Phoenix – with another 250MW planned, per the economic impact study referenced above. And that number is expected to increase as demand for digital and cloud services remains strong through 2021. Let's look at why.
Safe space
One of the often-overlooked aspects of a data center market is the safety and security of the location. Data center consumers need high availability and uptime. This is especially the case with hyperscale data center customers. That's because the servers and other equipment housed in a hyperscale data center could be running essential applications, e-commerce sites or other workloads that – should they go down or otherwise be unavailable – could result in millions in lost revenue or productivity hours.
What can happen if the data centers in an area go down? The result would probably be much like what happened recently when a fiber line was cut in Brooklyn. Distance learning was compromised, and essential productivity solutions and applications were taken offline. It effectively plunged a number of companies and individuals into chaos on the east coast for at least one afternoon.
And that was just the result of a cut fiber line in Brooklyn – imagine what would happen if a major hurricane, earthquake or other natural disaster took down physical data centers in a region.
For this reason, data center site selectors and end users look for places that don't generally experience many natural disasters. And Phoenix certainly fits the bill.
Data centers in Phoenix are located close enough to many major urban centers – including the country's second-largest city, Los Angeles – to deliver services to those areas without significant latency. However, unlike Los Angeles, San Francisco and other west coast cities in California, Oregon and Washington, Phoenix experiences very few natural disasters. The most common natural disaster that the city experiences is either extreme heat or drought, neither of which are going to result in damage to physical data centers or the infrastructure that powers and connects them.
When looking for data center space that can service customers in America's southwest or west coast, Phoenix is a safe option that can certainly do the job.
More power to you
Another aspect that data center site selectors take into consideration is ample availability and cost of power.
The Phoenix area offers a reliable energy grid much like the rest of the U.S. However, the competition between a local, publicly-owned energy provider and another private energy provider helps to keep energy costs down in the region.
According to the U.S. Energy Information Association (EIA), the cost for energy in Arizona was approximately 6.28 cents per kilowatt hour in 2019. That makes the cost of energy in Arizona well under the national average, and cheaper than many of the other states with large data center markets – including Virginia (6.85), California (13.4) and Illinois (6.52).
Even more exciting, those hot days that we've talked about come with a fringe benefit – the ample sunshine that bakes Arizona also helps to provide clean, renewable solar energy. And when the sun isn't shining, the cool nights help to reduce overall cooling costs for data centers.
What does all this mean? Arizona has a reliable power grid that will give data center owners and operators the consistency and reliability they need, without breaking the bank. The presence of renewables like solar also help data center operators and users who are looking to get greener and meet sustainability goals.
Connectivity, economy and costs
Aside from power, connectivity is another essential consideration for those looking for a home for their IT assets. After all, a data center is only useful if it be connected to the fiber networks that will connect it to the rest of the world.
Luckily, connectivity is more than adequate in Phoenix. The city is serviced by many fiber and dark fiber providers. A list of providers was recently included in the Data Center Frontier Arizona Special Report including, CenturyLink, Electric Lightwave/Integra, Level 3, Sprint, XO, and Zayo.
Another important factor is demand. If there is no demand for hyperscale services in a region – or the area immediately around a region – then there is ultimately no reason to build or operate a data center there. This is why many of the world's largest data center markets are near urban centers with large, thriving economies.
Arizona is no different. In 2020, the State Policy Reports (S/P/R) Index of State Economic Momentum ranked the Arizona economy as having the third highest momentum among U.S. economies. According to S/P/R, "The Index of State Economic Momentum ranks states based on their most recent performance on three key measures of economic vitality: personal income growth, employment growth, and population growth…"
Finally, there's operating costs to consider. Data center providers, operators and users will ultimately want to keep their operating expenses to a minimum and locations with tax and other incentives will help to keep expenses down. This is very much the case with Arizona, which, according to Data Center Frontier, "…offers a 10-year waiver on state, county, and local sales taxes on both equipment purchases and labor services for data centers."
The scorching desert sun isn't the only reason why Phoenix is heating up as a data center market. As a location close to areas where IT services are in high demand, where natural disasters are uncommon and where operating and energy costs are low, the Phoenix region is an ideal place for hyperscalers, cloud providers and large enterprises looking for digital infrastructure on the west coast.
To learn more about Vantage Data Centers' 160MW campus being developed in Goodyear just outside of Phoenix, please click here.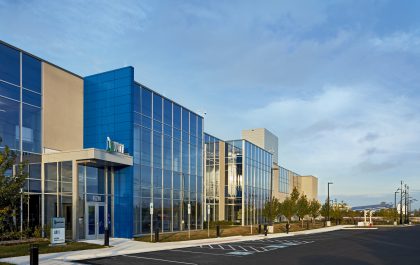 The Innovative Green Features of Vantage's VA1 Campus
In late October, Data Center Frontier kicked off a new content series called, "Greener Data," which is intended to explore the progress that data center...