Today's modern data centers are more than large buildings with the reliable, redundant power and cooling needed to operate racks upon racks of network devices and servers. They're the backbone of the digital economy. They are making the digital transformation within companies, organizations and government agencies possible. And they're powering the next generation digital solutions and applications that have helped people around the world connect, learn and work even during a global pandemic.
Artistically capturing the future of data centers
While it's easy to look at a data center and see four walls, a roof and room after room of servers and equipment, the humanity that the data center serves – the applications it powers that make life and work easier – can often be forgotten. Unless you're walking into the Vantage QC22 data center in Quebec City, where a vivid reminder of how data centers are empowering us today – and into the future – is now front-and-center.
Working with muralist Zek One, from the artist collective ASHOP Productions, Vantage has turned a previously-blank space in its atrium into a vibrant reflection of the role that data centers – and the services they enable – play in today's society, and the role that technology will continue to play in our more connected, data-enabled future.
"Every aspect of this mural is based on technology and data," Zek explained. "For the human face…I choose to go with this woman…she looks up, toward the future. The wheels represent modern thinking [and] evolution. The electronic circuits and data icons refer to people linking together. The constellation is the world where everyone is connected…"
A mural that depicts a connected, hopeful future has an even more profound meaning in the QC22 data center. While the facility is part of Vantage's 10-acre data center campus in the providence's capital, and offers 21MW of critical load, it's what the facility doesn't have that makes it truly standout – a large carbon footprint. The QC22 data center is powered almost exclusively with clean, renewable hydroelectric power – which helps ensure a brighter, cleaner future for generations to come.
And while the mural functions to provide important context and perspective to the machines and employees operating the data center, it also serves another purpose – providing an object of beauty for both employees and the larger community to enjoy.
As Maxime (Max) Guévin, vice president and general manager for Vantage Data Centers in Canada, recently told the Quebec City-based publication, Le Soleil, "This is the key element of a new atrium built for our employees, on a wall that can also be seen from the outside through the large windows. We wanted to paint something beautiful that reflects our company's mission…"
And that's a sentiment that Max shares with the mural's creator, who noted, "The mural gives the place an identity – a soul – which every employee or person that passes by can relate to. This will become an icon."
And we agree.
To watch a short interview with Zek One and get a glimpse behind the scenes of the mural painting, click below.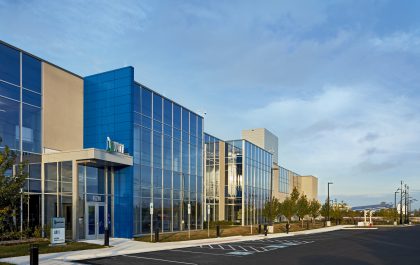 The Innovative Green Features of Vantage's VA1 Campus
In late October, Data Center Frontier kicked off a new content series called, "Greener Data," which is intended to explore the progress that data center...