When we started to craft our eBook What High Density Means Today we had the opportunity to connect with Harmail Chatha, Director of Global Data Centers for Groupon on how he and his team are shaking up the standard model of how a data center operates through better programming efficiency. We also spoke with Cole Crawford, CEO of Vapor IO about the concept of open space through the creation of new products that maximize  data center space.
Trends Driving High Density
We recognize that building a data center for high density computing is not for everyone. That for some, the debate rages on (or doesn't). What we do understand is that data ingest from companies in the IoT, IOE and IT is driving an increase in global data consumption, and about one-third of data — 3.5 ZBs or so — will be IoT-generated data within three years (per Cisco study). Some of these businesses are now feeling the resulting demand on their IT resources and are faced with the challenge of addressing how to assess whether high density is the solution for their business to meet these demands. Others view it from a real estate perspective, maximizing the dollar value by making the data center as dense as possible, which means talking about the evolution of and trends for high density, including:
Assessing whether running high density is more efficient, with maximum ROI
Improving cooling and air flow management and footprint
Optimizing for virtualizaiton and cloud dense workloads
Assessing a High Density Data Center and Technology
Data centers are all about cooling and power. High density is about maximizing these two elements while increasing the power draw per rack (square foot) so that you use fewer machines and run them at a higher utilization percentage. The definition of high density today ranges from 10-12kW per rack compared to 2-4kW per rack less than a decade ago. This means considerations required to prepare for moving to a high density and a HD data center include evaluations of:
Maximizing your virtualization setup
Accommodating for higher density with heavier cabinets
Optimizing airflow to manage the temperature of your data center
Enabling your data center floor to run higher voltages
Designing for High Density
This brings us to some of the main factors in designing for high density — they are not only dependent upon innovations in technology and managing space but on taking an innovative look at cooling and heat management. The efficient high density data center requires counter intuitive thinking of running your servers at hotter temperatures, which is beneficial to airflow resulting in more efficient heat management. In contrast, less dense environments contain more openings for air contamination that can reduce a data center's ΔT and CRAH efficiency. This leads to additional cooling, and increasing data center power costs. Thus designing a data center for high density requires new thinking around:
Use of outside air to cool instead of AC
Containment to separate cold and hot air
Smart automated systems for operational efficiency
New rack, floor and server designs
For a more comprehensive view point and overview of the evolution of high density computing download What High Density Means Today here.
We'd like to thank Cole Crawford, CEO of Vapor IO and Harmail Chatha, Director of Global Data Center Operations at Groupon for providing their insights in helping to paint a fuller picture on how high density can benefit both your business and your customers.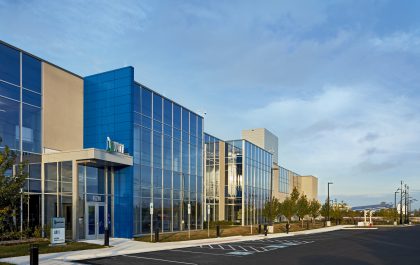 The Innovative Green Features of Vantage's VA1 Campus
In late October, Data Center Frontier kicked off a new content series called, "Greener Data," which is intended to explore the progress that data center…