In our previous segments, we've discussed when public cloud and retail colocation fit the bill for your organization's needs. In the third part of our series, we'll introduce the idea of wholesale and explain when it's right for you. Wholesale colocation is typically defined as a fully-built data center space leased to a business—that includes space, power and cooling.
Part III: The Long-Term Lease – Wholesale
Expanding from retail colocation into wholesale is a big jump—the retail colocation space has traditionally cornered the lower-capacity end of the market, and wholesale the higher-capacity end of the market. Wholesale is right for those who have used retail or public cloud solutions in the past, but their larger scale has forced them to be more concerned with cost of ownership, security, and control benefits of moving into their own data center environment. Wholesale is essentially running your own data center without the upfront capital investment or the hassle of basic data center management, like cooling, security and maintenance.
When wholesale works: A good fit for companies with more scale, wholesale customers lease a larger data center footprint (typically hundreds of racks), and in turn get lower base rents and pass-through power rates. In wholesale, customers typically lease a fully-built data center space offering at least 500kW of power capacity, with room for expansion at the same facility. Wholesale data center space offers control benefits above and beyond what colocation can offer, and maintains strict regulations for safety and power. Customers can design their own IT architecture and control their infrastructure, and typically do not share their allotted space with other customers, creating an additional layer of security. Wholesale offers longer term benefits, as the cost of supplies, service and lease will balance out over time. Wholesale is ideal for companies consolidating multiple data centers or running large server fleets who need to be cost conscious. A company running three megawatts, for example, could save hundreds of thousands of dollars a year in power cost alone compared to retail and public cloud. An organization with scattered labs not purpose-built for data center use will benefit from consolidating to wholesale, as the cost of running a lab environment—from power rate to rent to operations—in a commercial office space is astronomical compared to a wholesale environment. And wholesale is the only option outside of build-your-own in which you have the flexibility and redundancy of a purpose-built space.
Challenges of Wholesale: Electing to lease a wholesale space and furnish it yourself may require greater upfront costs than choosing services managed through a colocation retailer. Total cost of ownership may give some customers sticker shock if they are not accustomed to managing, growing and investing the time and resources necessary for wholesale. Organizations without predictability may not be the best fit for a wholesale environment, as scaling up or down quickly is limited. Compared to public cloud—which is available with the swipe of a credit card—a wholesale solution takes longer to set up and deploy. (However, it's still much faster than building your own data center.)
How to use wholesale: Wholesale data center space is the closest you can come to building your dream house without actually breaking ground. For those who desire still more customization and the ultimate in control, there's just one option left: build your own data center.
Sureel Choksi
President, Chief Executive Officer

Serving as President and Chief Executive Officer, Sureel has over 19 years of experience as an executive in the Internet infrastructure industry. He is also a member of Vantage's board of directors. Sureel was previously an Operating Executive at Silver Lake Partners, and prior to that Chief Executive Officer of Elevation Data Centers, a private-equity backed roll-up vehicle. Sureel previously held several executive roles with Level 3 Communications, including Chief Marketing Officer, President of Wholesale Markets, Executive Vice President of Services, Chief Financial Officer, Group Vice President of Corporate Development and Treasurer. Before Level 3, Sureel worked in venture capital at TeleSoft Partners and investment banking at Gleacher & Company.

Sureel received a B.S. in Economics from the Wharton School with concentrations in Finance, Accounting and Entrepreneurial Management, and a B.A.S. from the School of Engineering and Applied Science, both from the University of Pennsylvania.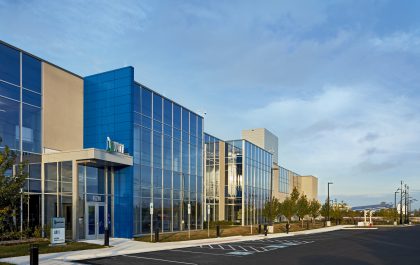 The Innovative Green Features of Vantage's VA1 Campus
In late October, Data Center Frontier kicked off a new content series called, "Greener Data," which is intended to explore the progress that data center...