Last week we introduced the notion that your data center needs are analogous to your health care regimen: Explore your options and find the prescription that fits your specific situation. In our last segment, we explored the right circumstance for public cloud. This week, we'll investigate retail colocation: a data center facility in which a business can rent space for servers that includes cooling, power, bandwidth and physical security. The lease holder typically brings their own servers and storage to the space.
You're growing steadily and your data center needs are expanding with you. While you're still a bit uncertain about your needs because they vary so widely, demand for your offering has become more predictable and the pay-as-you-go cloud model is no longer cost-effective for all elements of your business. Shifting some or all of your infrastructure from cloud to colocation is a big jump. For the first time, you've got physical infrastructure to manage, and you may not be exactly sure how to do that. But you need to get costs contained and give yourself more control over your environment. Furthermore, where your data physically resides might be something that is a concern—because of security or even specific requirements about data integrity around the globe.
Part II: Investigating Retail Colocation
When retail colocation works: Retail colocation offers small units of data center infrastructure for short-term rental—on average 100kW to 300W. Units as small as a portion of a rack can be rented, sometimes even by the month. The facility will provide space, power, cooling and physical security for the server, storage and networking equipment, while connecting them to a variety of telecommunications and network service providers. Colocation providers also have networking services on-site to help with basic network issues—allowing you to manage without being on-site 100 percent of the time. The value of interconnection and proximity is useful and unique to retail colocation. One of the biggest draws of retail colo is interconnection and network density, which allows users to spread their assets around the world and plug into thousands of different networks without being forced to use public internet. Being in multiple locations enables you to tap directly into that network channel, providing significant performance improvement. And moving your assets closer to the end user, whether that be customer or employee, is the best option when speed and performance are important.
When it doesn't: Although retail colocation is cheaper than letting your public cloud costs spiral out of control, it can be relatively expensive in the grand scheme. Colo customers typically pay a higher rate for their space, and they pay a fixed price for power that is not necessarily consumed. Retail colocation also tends to offer limited room for growth within the space. Think of it like a storage unit—once your unit is full, your on-site expansion strategy is unpredictable. You're basically counting on blind luck to be able to tack on additional space in the next unit over, or even in the same contiguous space. Connecting all of these various networks also creates a monthly charge for each cross-connect—a common pain point for organizations outgrowing retail colo.
How to use retail colocation: Retail colocation is yet another step in building a combined public cloud/data center solution. Colo makes sense when you require some access and a little bit of control, but don't have the ability in-house or the resources to manage your own physical infrastructure. Retail colo gives you the chance to get your costs contained and gain more control without having to take up expensive real estate in your own facility. Retail colocation is an ideal solution for companies that are distributed around the globe, or serve a globally diverse customer base. These solutions allow customers to create a distributed network close to end-users that enable them to maintain performance at the highest levels in conjunction with access to a vast array of network carriers within these data centers.  Finally, many retail colocation providers are creating "cloud exchanges" where you can access cloud service using interconnections in the facility to improve access, performance and integration of your cloud services with your data center assets housed in colo.
You may not be able to predict your future growth yet, and that's just fine. This is the time when looking into colocation makes the most sense—when you need network access and distributed performance. You may still be paying a slight mark-up, but that's to be expected in retail—and it's still less costly than sticking solely with public cloud as your processing needs swell in size. However, retail colocation is not a standalone solution; many organizations use public cloud and retail together as a panacea for their specific quandary. Until now, we've primarily discussed edge solutions. At some point, your core data center will grow into a large footprint—and most large companies that have been around for any substantial amount of time likely have legacy data centers built in their offices or as standalone facilities. In today's world, a select few companies are still building out their own data centers. Many are looking at wholesale to manage their large footprint compute needs.
Sureel Choksi
President, Chief Executive Officer

Serving as President and Chief Executive Officer, Sureel has over 19 years of experience as an executive in the Internet infrastructure industry. He is also a member of Vantage's board of directors. Sureel was previously an Operating Executive at Silver Lake Partners, and prior to that Chief Executive Officer of Elevation Data Centers, a private-equity backed roll-up vehicle. Sureel previously held several executive roles with Level 3 Communications, including Chief Marketing Officer, President of Wholesale Markets, Executive Vice President of Services, Chief Financial Officer, Group Vice President of Corporate Development and Treasurer. Before Level 3, Sureel worked in venture capital at TeleSoft Partners and investment banking at Gleacher & Company.

Sureel received a B.S. in Economics from the Wharton School with concentrations in Finance, Accounting and Entrepreneurial Management, and a B.A.S. from the School of Engineering and Applied Science, both from the University of Pennsylvania.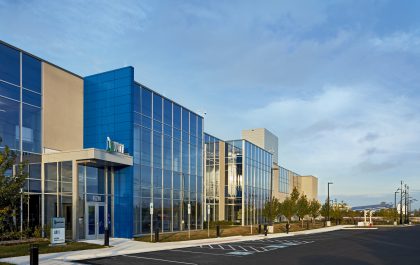 The Innovative Green Features of Vantage's VA1 Campus
In late October, Data Center Frontier kicked off a new content series called, "Greener Data," which is intended to explore the progress that data center…