According to the NASA, approximately 97 percent of climate scientists agree that human activity has driven an increase in global climates over the past century. With the earth beginning to see the negative consequences of climate change – from warming sea temperatures to more frequent and violent natural disasters – governments, individuals and companies are increasingly mobilizing to make behavioral and operational changes that will help to mitigate the causes. We're even seeing future generations – spearheaded by young climate activist Greta Thunberg – demonstrating and protesting in an effort to get more people to go green and pay attention to the problem at hand.

Many scientists agree that the burning of fossil fuels for energy is among the largest contributors of the greenhouse gases that are perpetuating and exasperating the climate crisis. As a result, many companies – including such large, recognizable global brands as IKEA and Patagonia – are working to go green and become carbon neutral. The news is filled with companies that are looking to make positive change, from Ben & Jerry's implementing programs to reduce single-use plastics, to clothing giant Gap switching to LED lighting in all of its 1000-plus stores.

But what about data centers? Are data center providers also looking to go green? The answer is very much, "yes."

Data center providers and large technology firms understand the global crisis that climate change poses and are taking action to put programs in place to help make a difference as they deliver the digital infrastructure that consumers demand to support their increasing use of the internet. But it's certainly more complicated for organizations that operate or rely on data centers to be green. Let's look at why…

The data center energy conundrum

Analysts forecast that 14 million square feet of data center capacity will be added in 2019. The same report also claims that an additional 4.5 million square feet has been announced for the first half of 2020. Why is so much data center space needed in our society? Because we're generating 2.5 quintillion bytes of data each day – a number that will only increase exponentially as Internet of Things (IoT) and digital transformation initiatives continue to expand to enhance our lives. Further, the end user of all this data is largely consumers, and consumers want 24×7 access to their data and applications.

Regardless of whether this data center capacity is being built by large technology firms or service providers who specialize in this type of facility, it all has two things in common – it needs to be powered and cooled with high reliability.

For a data center to be an effective and reliable facility in which to operate the essential compute, network and storage resources that companies and consumers require, it needs steady, consistent and reliable power. All of those computers generate a lot of heat, so a data center also needs the ability to cool extremely dense configurations of servers and other networking infrastructure. These factors drive the growing amount of energy that data centers utilize every day.

With reliable power as the cornerstone of what enables a data center to operate 24×7, how can technology giants and data center providers who are building these facilities decrease their carbon emissions, reduce their carbon footprint and implement initiatives that can make them more environmentally conscious? Ultimately, it comes down to making a substantial investment whenever and wherever possible, offsetting carbon emissions with renewable energy initiatives and adopting "green" across every part of their organization.


Do what you can, where you can

Just like consumers at home or work, data centers require reliable energy. Data center operators work with their local energy utilities to ensure that power is available to the facilities. The energy that the power generators deliver will most likely be a mixture of various sources such as fossil fuels, nuclear energy and some renewable energy if it's available in the area. All of these forms of energy (including renewables) have a carbon footprint. And that's most likely not going to change anytime soon. But there are other things in and around a data center campus that require energy, but don't have the same requirements for reliability that the servers supporting your online banking, child's homework, rideshare app or social media channels do.

As a rule, data center operators are conscientious about energy consumption, and, in many cases they constantly evaluate where alternative and renewable energy resources are able to be deployed in both critical and non-critical areas to reduce carbon footprints. Examples of non-critical sources of power consumption are the security lights on the exteriors of the building and the street lights in parking lots. Independent charging stations for smartphones/mobile devices or electric vehicles are another such source.

This is something that Lee Kestler, chief commercial officer at Vantage Data Centers, says has become a high priority across the company's data center portfolio. According to Lee, "…if we can improve how we generate energy on site without impacting the efficiency and reliability of the grid, we're going to lean in to make it happen. In the biggest data center market in the world, Northern Virginia, Vantage was the first provider to invest heavily in on-site renewable energy generation infrastructure. Our solar/wind lights, solar EV charging stations and large solar tree are direct evidence of our commitment to do more whenever we are able.

But finding ways to implement and utilize alternative energy is just one of the ways Lee says data centers can be designed and operated more efficiently. While all data centers rely on electricity, some require large amounts of water (at times thousands of gallons per day) for cooling systems. Vantage Data Centers is no different but focuses on using reclaimed water or very little water depending on the geography.

"On our Virginia data center campus, we opted to deploy air-cooled, electric chillers. We're committed to using a negligible amount of water and 'free air cooling' when conditions are right," Lee explained. "Our team wanted our buildings to be flexible and use as little energy as possible, limiting our dependency on water."
Small behavioral changes across a data center can also have a big impact over time and in the aggregate. Hence, Vantage has doubled down on recycling, working to ensure that all packaging materials that accompany delivered equipment and devices are recycled. The company has prioritized recycling and the elimination of waste across its organization – encouraging employees to recycle whenever possible and even eschewing printed agendas and reports for digital materials in its meetings – including board meetings.


Offsetting the carbon footprint of computing

One of the ways that larger companies across a range of industries are fighting to become more carbon neutral is by investing in programs that are working to battle climate change. And this is no different across the data center industry. Many times, this means purchasing clean or renewable energy and investing in programs – such as solar and wind farms – that will work to supplement the electrical grid as coal plants are decommissioned.

In 2017, Google announced that it had purchased enough wind and other renewable energy to offset every watt of power it had utilized in its data centers, making it completely carbon neutral. Microsoft claims that it will be running on 60 percent renewable energy by 2020 and eyes cutting its carbon emissions by 75 percent by 2030. Trendy technology behemoth Apple claims to be running on 100 percent renewable energy and is now encouraging its suppliers, vendors and partners to do the same.

This is a plan that Lee says data center providers are embracing as well:

"Where appropriate, we're working with our energy providers to understand where we can make contributions to renewables to help power their grids. These providers must maintain a certain flow of energy, and it becomes very complex to maintain that harmonic flow when they utilize a mix of different generation sources. That is a big task and better left to the professionals operating the grid. But, if we can contribute to [the adoption of renewables] and work alongside our utility partners to forecast steady base load consumption, we want to do that. That's why we offer carbon offset options to our customers as a part of their investment. We don't make any profit on that – it's just Vantage leaning in to participate in a program that enables customers to pay a little bit extra per kilowatt to the utility to subsidize renewables."
Unfortunately, for the companies that partner with data center providers, knowing and understanding which of the providers are working to make green a priority across their organization can be challenging. As Lee explains, "There's no one symbol or designation that gives the whole picture on which data center provider is doing the right thing. There's no symbol or logo that you'll see on their website."

Instead, for companies that want to go green, make a positive impact on the environment, and value working with companies that do the same, Lee says the best way to be sure is to ask. "The most important thing is for companies to ask that question in their discovery process," Lee said. "Ask the direct and difficult questions and then make your vendor selection with as much information as possible, including their alignment with your corporate sustainability goals."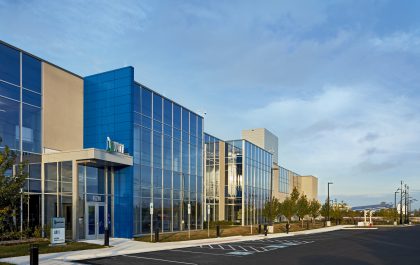 The Innovative Green Features of Vantage's VA1 Campus
In late October, Data Center Frontier kicked off a new content series called, "Greener Data," which is intended to explore the progress that data center...